Tipping in France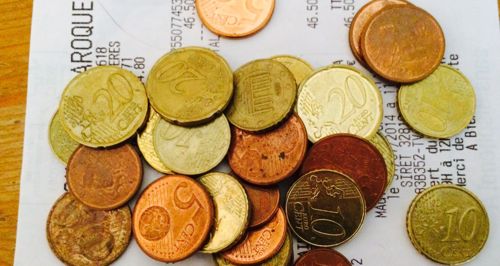 The English word 'tip' was originally an acronym for 'To Insure Promptness.' Innkeepers would write this on a box by the door, later simplified to 'T.I.P.', to enable customers to show their appreciation of good service. The French word 'pourboire' means 'in order to drink', as the original intention was of course for the 'tippee' to have a drink on the 'tipper'.
In France, bars and restaurant are required by law to include and display the service/cover charge. Tipping is strictly optional as 'service compris' (SC) , 'service et taxe compris' (STC) or 'prix nets/toutes taxes comprises' (TTC) all mean that the service charges (usually 15%, even 20% of the price of the meal) are included. In fact, when you leave a tip, you are really paying twice for your service.
Of course it is customary to reward good service, but when questioned, French people in the region recongised that their practices were not the same as in English-speaking countries, and that the dreaded C-word had impacted tipping too!
What the tippers say…..
Christian, retired garage owner
"Le service est très important. Pour un bon accueil, je donnerais deux à trois euros. Dix pour cent, ça fait beaucoup trop ! »
Eve, housewife
"Je donne aussi des pourboires au plombier (plumber), livreur (deliveryman), déménageur (removal man)…. s'ils ont été efficaces"
Bruno, financial director
"En France avec la généralisation du paiement par CB tu as plus de monnaie dans la poche car même pour payer le parking c'est par CB. Après ça reste exceptionnel le pourboire en France; il faut vraiment un serveur attentionné. Dans les pays anglophones, ça me choque pas de donner 10 a 20 % de pourboire selon la qualité du serveur"
Isabelle, teacher
"On ne donne pas suffisamment de pourboires en général, même si l'excuse est que les pourboires sont comptés dans l'addition. Par comparaison aux USA, on laisse 15 à 20% de l'addition en plus en pourboires. C'est comme ça que les serveurs sont (mieux) rémunérés. On devrait suivre ce modèle en France et alors peut-être que les patrons auraient moins de problèmes pour recruter ?"
Useful vocab
un bon accueil – a warm welcome
efficaces = efficient/effective
CB = carte bleue = credit/debit card
plus de monnaie = no change
exceptionnel = rare
même si = even if
on devrait suivre ce modèle = we should follow this example
auraient moins de problème = would have fewer problems
What the tippees say…..
Céline (restaurant owner)
C'est vrai que ça fait plaisir mais ce n'est pas du tout obligatoire. On ne doit pas se sentir obligé de donner un pourboire – on donne ou on ne donne pas. »
Christine (hairdresser)
« Bien sûr les pourboires ne sont pas obligatoires mais si un client ne donne rien, peut être qu'il n'est pas content. Nous, on met une boite à coté de la porte. Un à deux euros suffit. Les pourboires vont toujours aux employés, pas au propriétaire ».
Hélène (taxi firm owner)
Les Anglais trouvent que c'est cher de prendre un taxi en France mais c'est l'état qui décide la tarification, pas nous. Recevoir un pourboire est toujours agréable. Combien? Ah, ce n'est pas important – c'est le geste que compte !
David (builder)
"Dans le département c'est très rare. Les sommes vont de 5€ et encore plus rarement 20€ à 50€. Mais effectivement, bien sûr, on aimerait que ce soit plus courant parce que les clients demandent régulièrement des "petits services" qui sortent du cadre des travaux chiffrés. Du genre, "Puisque vous êtes là, pouvez-vous juste…" En plus, on bosse souvent dans des conditions difficiles- la Tramontane ou la canicule!"
ça fait plaisir = it's nice
on ne doit pas se sentir = you shouldn't feel
ne donne rien = gives nothing
on met = we put
l'état = state
la tarification = the pricing
c'est le geste qui compte = it's the thought that counts
on aimerait = we would like
plus courant = more common
petits services = small favours
puisque vous êtes là, pouvez-vous juste… = as your here, could you just…
on bosse = we work
Of course, Christmas tipping for the postman, (facteur) rubbish collectors (éboueurs) and firemen (sapeurs-pompiers) when they come round with their Christmas calendars, is always advisable to ensure smooth post delivery, rubbish collection or house-fire help. A contribution of €5 to €15 euros is much appreciated, and probably a worthwhile investment on your part!