Sam Laidlow ETU
(EUROPEAN TRIATHLON UNION)
Triathlon Junior European Cup
Despite a tricky winter's training programme, hindered in no small way by some ankle ligament damage, and juggling studying for his Bac S (French A-levels), on Sunday 22nd May 2016 our very own home grown Sam Laidlow won the ETU Junior European Cup at l'Aiguillon-sur-Mer. It is his greatest achievement to date. To say we are all extremely proud would be a major understatement! This event was a Sprint Distance Triathlon involving a 750m swim, 20km bike and a 5km run.
Sam is the son of Triathlon Coaches Richard and Michelle Laidlow who run the successful International Triathlon Training Business "Sancture Sportifs" in Amelie les Bains (since 2004). A member of the Pôle Triathlon Montpellier and now part of the renowned Poissy Triathlon club, Sam has a first major win under his belt. One of many we are sure.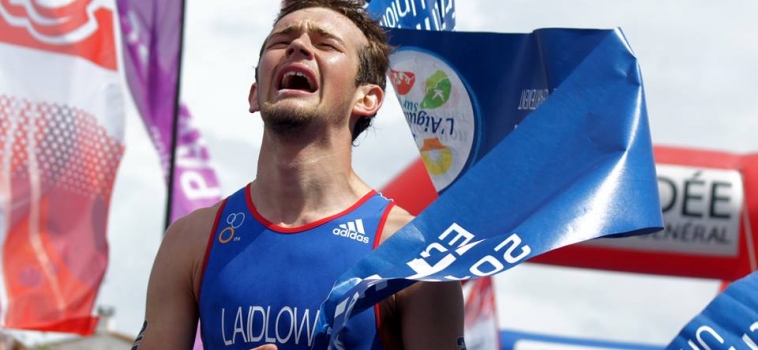 Sam's Post Race Thoughts
"I am over the moon, I rarely find that much confidence in myself during a race!
I felt that I was far from being the best athlete on the start line, but I just focused on one thing at a time all the way to the finish line, which obviously paid off!
I had a great start but literally got drowned in the first 50m of the swim, proper leg pulling, dunking incident, so it took me a while to swim back up to 8th.
Before hand I was planning on attacking on the bike, but I wanted to test my running (my weakness), so I set out really fast from T2 and somehow gained a good 50m, then quite simply I didn't look back … A strategy which clearly for this race paid off. Certainly for my 2nd ever EU cup, I couldn't be happier.
I have worked very hard all winter and have had ankle ligament problems stopping me from running, but it's slowly and surely getting stronger and my running form is coming back. This victory is after all just another step to my dream.
I am very lucky to train with incredible athletes in Montpellier, and to have an incredibly supportive club (Poissy) and a lovely girlfriend, but I also want to thank more then anyone else, my parents (dad is Triathlon Coach Richard Laidlow ) and my little brother who are genuinely an inspiration to me.
Time to head back to training now so hopefully I can be on a few more ETU start lines in the future!"
Michelle Laidlow
Présidente Comité Départemental de Triathlon des Pyrénées Orientales.
www.facebook.com/triathlon.training.camps.coaching.plans
Email: sancture.sportifs@wanadoo.fr
Phone: +33 629671697