USAP Sublime
USAP Perpignan 26 – Castres Olympique 23
by Mike Thomas, Sorede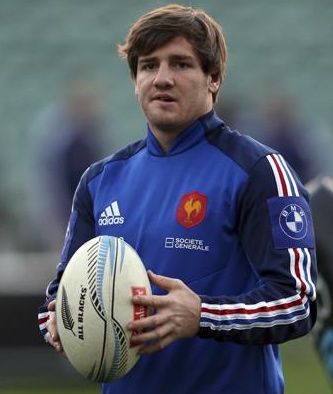 With only three minutes to go and four points to the good it looked like French Champions Castres were about to beat USAP for the third game in succession, but then enter stage left USAP's talented young outside half Camille Lopez.
With a shimmy, a dummy, a hand-off and a burst of pace he brilliantly took the Champions defence apart to score under the posts.
Hook converted. End of story. Wonderful start for the Catalans. A great season beckons.
Over 14,000 spectators at the Aime' Giral stadium (Perpignan) watched a fascinating, high tempo match where the advantage switched from side to side with extraordinary and unpredictable regularity. To quote a USAP fan on his way out of the ground'' l'ambiance était électrique''. There is nowhere like the AG on a great rugby night.
Within 10 minutes the visitors were 10 points up through a try by Garvey and a conversion and penalty by the South African, Kockott. Hook brought USAP into match with a penalty before the brilliant Lopez dropped a goal. He enhanced his credentials with the USAP faithful by creating a try for winger Guitone with a pin point accurate cross field kick. Hook converted from the touchline. Kockott then kicked a penalty to make the half time score 13 points each. Phew! Get down to that bar for a glass of beer to help keep the nerves under control.
After a short lull at the beginning of the second half the match erupted again. Two long range penalties by Hook to Kockotts one gave USAP a 19-16 advantage. The Catalan bands with their big base drums were in full swing and the roof was virtually coming off the stadium. Then, almost completely against the run of play, Castres scored a converted try to set up the brilliant finale for young Monsieur Lopez to win the game for USAP. He rightly won the man of the match award. He has massive potential.
Lopez was not the only star for the Perpignan outfit. Hook was accomplished and assured at full back. His goal kicking was'' impeccable'' – quote L'independent. Guiry, the captain, was intelligent and worked tirelessly. Strokosch and Terrain brought muscularity to the contest that frequently caused problems to the opposition. The front row were magnificent and it was wonderful to witness such a dominant scrummage. I also thought that Mafi looked dangerous when he replaced Marty.
Stade Francais (Paris) are the next visitors to the Aime'Giral on the 24th of August. Kick-off is 18.30.