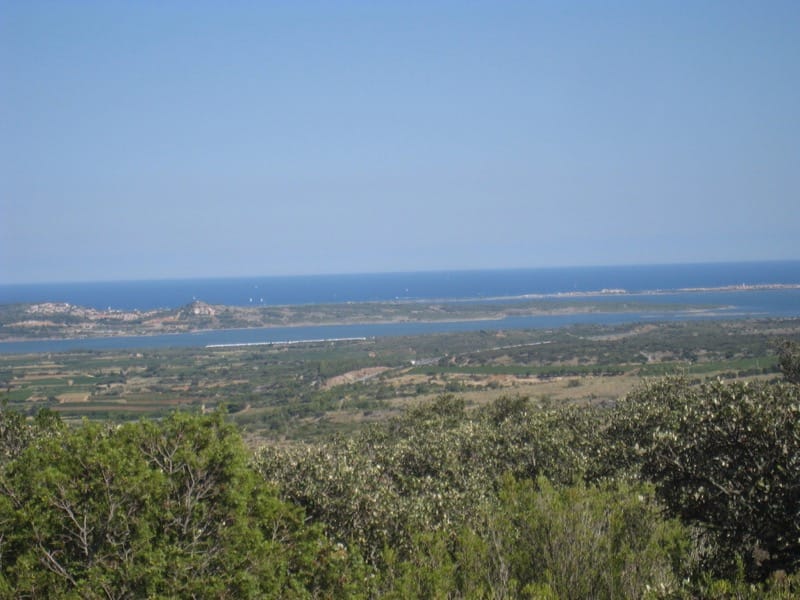 La garrigue de Caves
Exploring the rocky plateaux of the Corbières at Caves
A circular walk at low level with 200m of gentle ascent on rocky paths. A nice easy walk of approximately two and a half hours in the hills above Caves. The walk is scattered with reminders of the agricultural past of the area and offers great views of the hills and deep valleys in the Corbières and of the coastal plain with its Etangs and oyster beds.
Access: map IGN 1:25000 Durban Corbieres 2547 OT

Start
The village of Caves is signed off the N9 north of Fitou. Plenty of parking in a large car park next to the Mairie.
Note: in front of the Mairie the reproduction of a military boundary marker from Roman times discovered in 1949 at Pont de Treilles. It is a marker for the Via Domitia, the old Roman road leading to Spain, designed in 121 BC by Gneus Domitius Ahenobarbus, proconsul of Narbonne.
The walk
At the car park there is a board giving details of several local routes. Our circular route is waymarked in yellow, with a red marker also for the first half of the route up to Combe de Mauqilles – the red then continues to Feuilla. Yellow waymarks are on telegraph poles, footpath edges etc to take you out of the village.
Join street left of the Mairie, go left at crossroads, right at the Boulangerie, across a small car park into a street, then right at T junction onto rue de l'Aire and continue into rue Grange Rouge (modern lotissement). At the end of the road take the right fork and go under a tunnel under the A9.
Turn left, and after 120m turn right onto a vineyard track (all well signed). When you meet the yellow gas line posts turn left for 50m, then right. On your right is a very deep well.
Continue to climb gently to a road, and turn right. After a short walk cut the corner following a track lined with 2 dry stone walls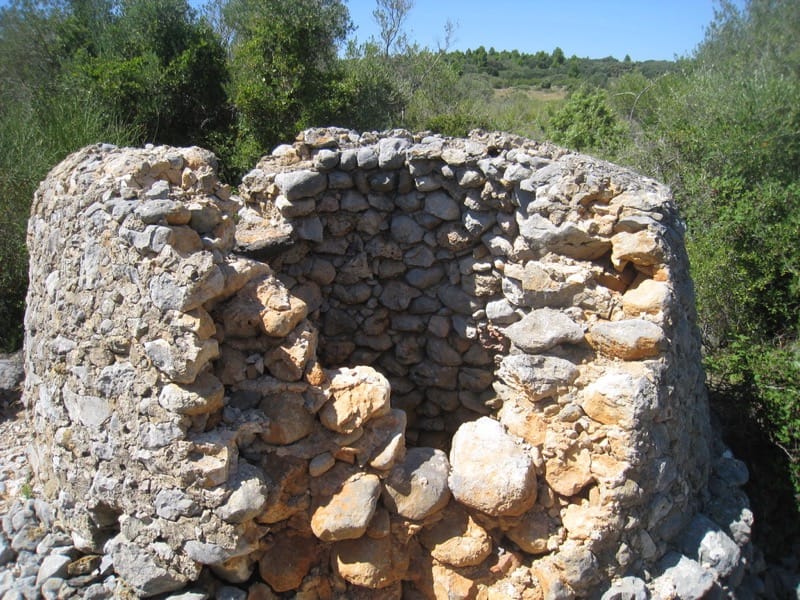 Come out of the path onto a broad track and continue upwards to the right to another junction. Turn left, and after 20metres take the broad path on the right.
A little higher up leave the broad track to take a footpath into the woods, starting as a very short steep slope on your left at a bend.
Come out of the wood onto a broad track and turn right for 20metres. (Variation is signed here – continue straight on to take a short cut and look out over the Etangs.) Our route takes a left, however across the top of the plateau for a kilometre to reach the Combe de Mauquilles.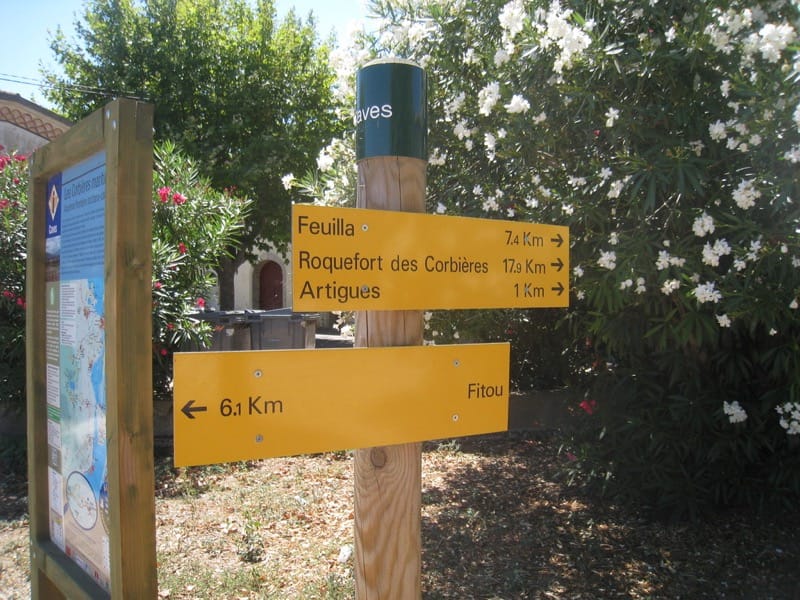 Take a right here down the old Chemin Muletier which linked Feuilla to the Etangs. Look out for evidence of erosion of the rocks by carts trundling down over the years.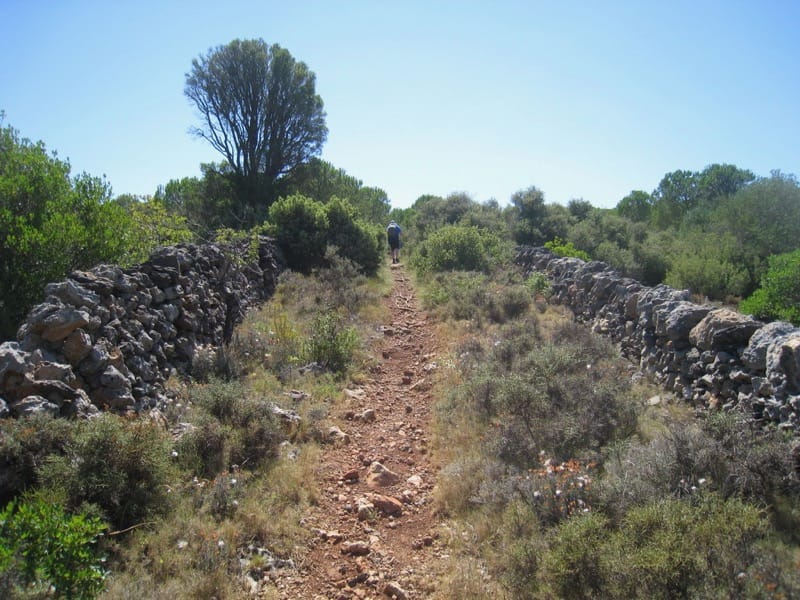 Continue downhill, ignoring tracks to the right and following river valley on your left. Track bends right eventually and you see a large waymarked post indicating right turn.
Follow to a broad track; turn right to pass 2 restored bergeries. On arriving at a green water tank turn left. After 5 mins reach a sign to "Capitelle" on your right. The 100metre path takes you to this interesting stone structure built of dry stones.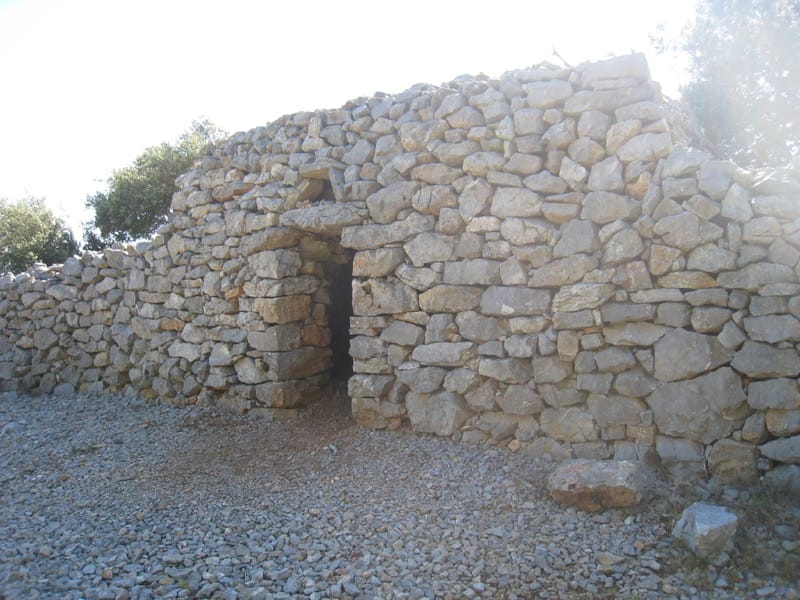 Return to main track, continue descent, cross the gas line route and turn right on the lane to go under the A9 and back to the village.