OPENING SATURDAY 8TH MAY
Ecozonia: An exciting new wildlife park for the Pyrénées-Orientales
How do you fancy sleeping amongst some of the most ferocious predators on our planet? Eagles, panthers, tigers, lynxes… sounds a purrrrrfectly pawsome experience, non? Well soon, you will be able to, right here in the Pyrénées-Orientales!
Ecozonia is a brand new wildlife park in Cases-de-Pène, dedicated to the conservation of predators and scheduled to open in February 2021, COVID permitting.
The park, set over 26 hectares in the Agly valley is unique to Europe and will house sixteen species of predator from four natural ecozones with temperatures and landscapes similar to the Mediterranean climate.
On site eco-lodges will give visitors the chance to sleep in the midst of the park's predatory residents and eat food prepared by Michelin-starred chef, Laurent Lamal.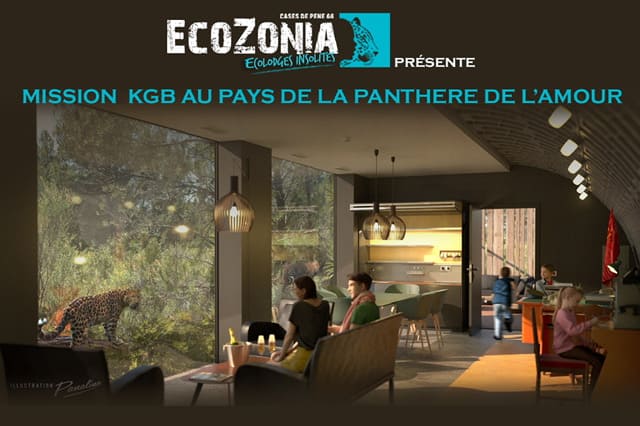 The project leader of the park, Cyril Vaccaro, former deputy director of Sanary Zoo in the Var, explained that the aim of the concept is '…to take visitors on a journey of discovery through the fascinating world of predators. As a conservation, research and awareness centre, EcoZonia's vision is that of a world in which humans respect other predators, as symbols of the natural world.'

Ecozonia is the first project to be financed by the Fonds Tourisme Occitanie, a fund aimed at private and public tourism companies in Occitanie and created by the Region with the support of the European Investment Bank and Crédit Agricole regional banks. They have contributed €1.4 million to the eye-watering overall budget of €9.2million. The balance will come from a private investor, the Banque Du Territoire and three network banks: Caisse d'Epargne Languedoc Roussillon, Banque Populaire du Sud and CIC SO.
The Occitanie Region is commited to development of sustainable and responsible tourism and hopes the park will be the first of many projects which aim to deliver on that goal.
Eat your heart out Tiger King! Watch this space for more details and opening dates.