Over the next few editions, Tony Goodman will be visiting regional wine producers, chatting to the vignerons and recommending a few wines that have inspired him. A bit of poetic licence will allow you to enjoy some fun observations from this talented amateur wine taster.
He starts off the series at four fabulous domaines; Domaine de la Perdrix, Chateau de Corneilla, Arnaud de Villeneuve and Dom Brial.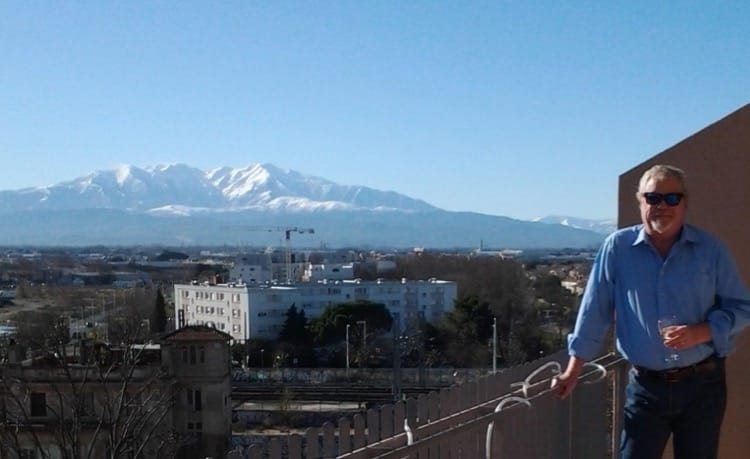 Hearts, hands and feet firmly embedded in the local terroir, passionate and determined winemakers were producing wine in the PO before the Roman's arrived. They sold Vin Blanc to the Phoenicians and Vin Rouge to the Visigoths. They watched over their vines as France and Spain volleyed the frontier back and forth and Hannibal's elephants lumbered past their cellar doors.
Wars, revolutions, blistering heat in summer, a chilly Tramontane sent down by old man Canigou since the end of the last ice age…… To have survived all of this suggests the local winemakers know their trade.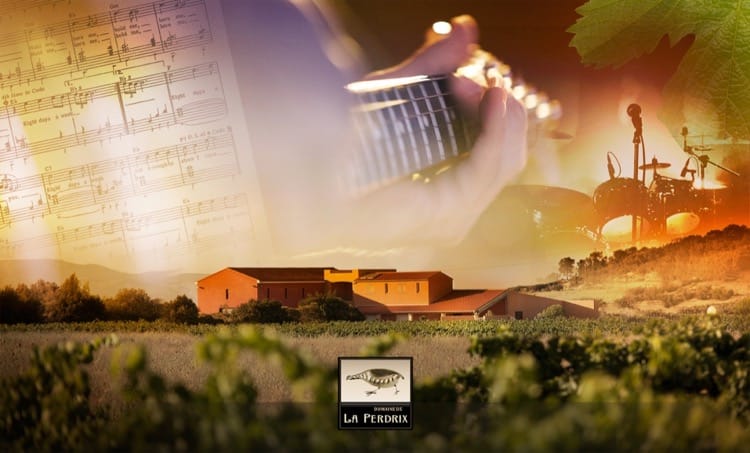 YOUR VISIT
Perdrix wines are complex, thought provoking yet approachable. Discover them in a comfortable, well equipped tasting room surrounded by vines. Nicholas is passionate about his wines – and the blues! At our tasting session, the great John Lee Hoooker quietly plied his trade in the background. Generous samples, easy to find, ample parking, picnic tables. Definitely worth a visit.
Vin Blanc « Ceux qui rêvent le jour » 12.5%Vol Grenache/Rousanne
Rousanne is a grape variety normally found in the upper Rhone valley, one of only six varieties allowed to be blended with Syrah to produce the world's best wines. The blending here, with Grenache, produces a superb wine for grilled fish and Fruits de Mer. Keep a couple of bottles on standby in the wine fridge for when friends drop in unannounced. Serve chilled 8 – 10C
Rosé « Ceux qui rêvent le jour » 12.5%Vol Syrah/Grenache.
Forget what you think you know about Rosé. This is not a bland pink bargain-shelf-quaffer. It has depth, style and glorious colour. Close to perfect blend will get even better if you can resist drinking for two years. Perfect with grilled Mackerel or summer sweet Charantais melon wrapped in wisps of air-dried aged Catalan ham. Served chilled 10C
Rouge 'Le Charakter', Syrah /Grenache
An enormous red with plenty of Syrah panache. A superb match for any meat and game with a rich sauce. It would not be out of place on Rules of London's wine menu, and the Xmas turkey will thank you. Perfectly drinkable now or can be laid down for 5 – 10 years.
TRAVERSE DE THUIR
TROUILLAS
TEL: 04 68 53 12 74
contact@domaine-perdrix.com
—————————————————————————————-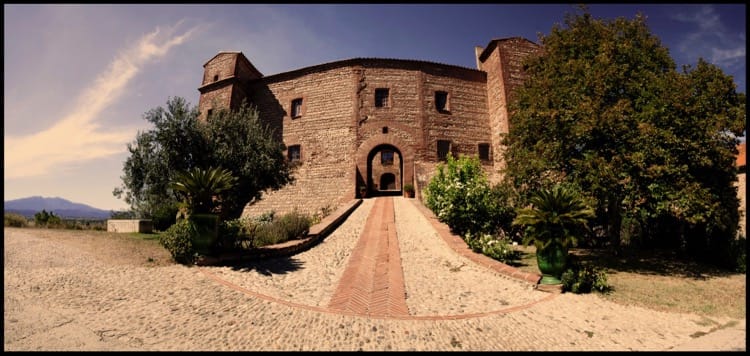 YOUR VISIT
Between Saint Cyprien and Villeneuve de la Raho, the Jonqueres d'Oriola family have been making wines for twenty-seven proud generations. Mt Canigou's seasonal rhythms has been their timepiece, the green shades of the Albères Mountains their weather gauge. Well signposted, easy-to-find location 15 minutes from Perpignan, pop in for a warm welcome. Plenty of parking. Bright well-appointed and airy tasting room. Max, with his excellent English, steered us through their range of wine.
Collioure Blanc 2016 14%Vol Grenache Gris, Grenache Blanc, Rousanne
Blended with traditional local grapes, it adds a sharp elegance. Its abundant honeysuckle and tea aroma shouts out quite loudly "Bouillabaisse" or baked fish with rich cream sauce, or a plump poulet jaune spit roasted with butter and tarragon. Drinkable now at around 10C, it has the capacity to develop over the next 3 – 5 years.
La Canaille Rouge 2015 13%Vol Mourvèdre, Grenache Noir, Syrah
A delightful easy drinking red, a classic example of what you will find as you explore the local wineries. Plenty of red fruit, plenty of colour and generous aromas. The blend of grape types and skill of the winemaker have produced a red that would work equally well with a nice steak or grilled Tuna with a crisp fennel, sweet red apple and walnut salad. Best served at 14C – 15C. It will reward you if you can put it aside for 3 to 5 years.
3 RUE DU CHÂTEAU, CORNEILLA DEL VERCOL
TEL: 04 68 22 73 22
chateaudecorneilla@hotmail.com
———————————————————————————————————-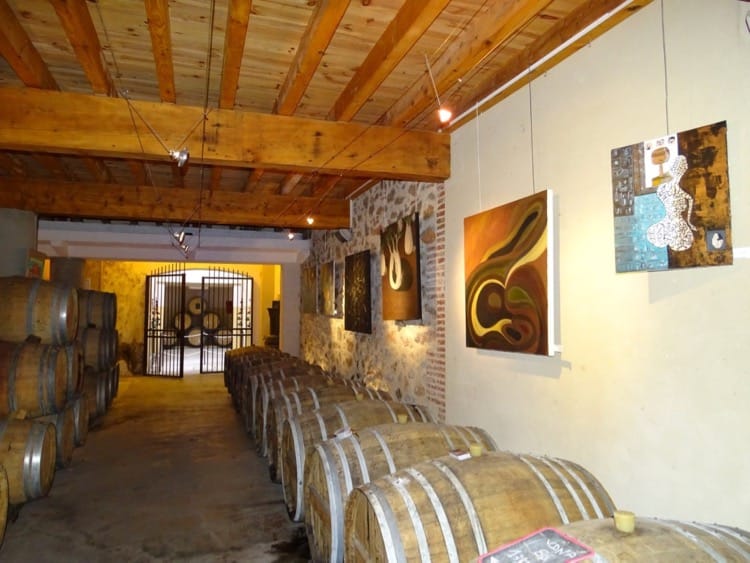 YOUR VISIT
Rivesaltes is a global centre of gravity for 'vin doux naturel' production. Arnaud de Villeneuve, located in the very heart of Rivesaltes, has been a recognised core producer since the turn of last century, producing award winning wines for all palettes and pockets. Ample parking at their historic tasting rooms, or a short level amble from the station. The decor and ambiance of the tasting rooms themselves alone are worth a visit. Open and attentive staff will make every effort to make your visit enjoyable.
Rivesaltes Ambré 20 aged 16%Vol Grenache blanc, Grenache gris, Macabeu
Crafted with fruit from old vines, which have won the right to extract the very best from the region's sometimes harsh, red-soiled, limestone-strewn terroir. Aroma is floral without being florid. Rich, with seductive dry vanilla, caramel and just a hint of lightly toasted peppery Blue Mountain coffee. Certainly serve as an apero, however, to take advantage of its lovely lingering nature it will be at its best on the balcony or terrace beneath a harvest moon with sweet fresh fruit and hard cheese. Lightly chilled only please.
Rivesaltes Ambré 1985 Granache Blanc, Granache Gris, Macabeu, Muscat d'Alexandrie
Aged in oak for over 30 years, this is an elegant silken Belle Epoque ballgown, Victor Mature in a tuxedo. The floral aromas, with hints of Tahitian lime, are powerful without being overwhelming. A soothingly caramel, jasmine, sweet nutmeg island of a wine. It connects on a personal level. Serve at not less than 15C.
AVENUE LEDRU ROLLIN, RIVESALTES
TEL: 04 68 64 79 34
——————————————————————————————–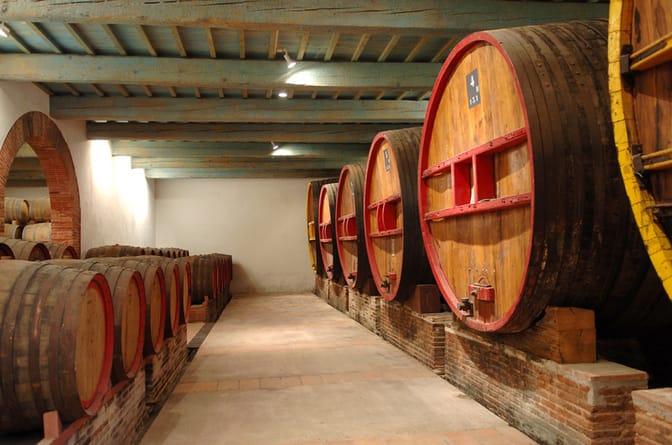 YOUR VISIT
Flavoursome wines packaged in a tasteful contemporary style, representing excellent value for money for top quality wine, the cooperative cave of Baixas is impressively well equipped with underground cellar housing French oak barrels. Dom Brial himself was a priest from Baixas, confessor to Marie Antoinette, who introduced the wines from his village to the royal court. Enjoy a guided trip around the well-groomed vines, followed by a dégustation in their pleasant tasting rooms.
Chateau Les Pins Blanc 2013 14.5%Vol Grenache, Malvoisie, Rousanne
If wine was rugby and Bernard Laporte could have included this wine in his run on side for the final match of the 1999 world cup, his political aspirations may not have stalled at ministerial level. The light-footed and lithe Rousanne calls out for moules marinière, like Serge Blanco calling for the ball as he headed for the goal posts. The Grenach and Malvoise provide a solid prop forward base. Grilled chicken with lime and coriander is another option. Chilled to around 10C. It certainly has the strength and potential to age for 3 years if you are so inclined.
Chateau Les Pins Rouge 2012 14%Vol Syrah, Mouvérde, Grenache
This wine will make your heart sing if on the wine list. Order it, and the sommelier will give you a nod of approval. The Syrah gives it a peppery bounce, the Mourvède and Grenanche a solid bass line. Select the Cassoulet or Jugged Hare, Coq au Vin or Quail from the Menu à la Carte. Around 15C – 16C, however, no need to be fussy. Set aside for 3 years, perhaps a little longer if you have cellar space.
VIGNOBLES DOM BRIAL
BAIXAS
Tel: 04 68 64 22 37