Saturday 3rd December 2011
"Salon de Thé Britanique" Maureillas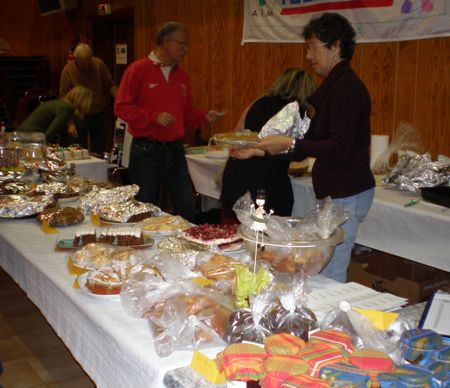 In late 2003, Françoise Mansuy, who was then the co-ordinator for the Telethon in Maureillas, asked Barbara Darwent and Lynn and Colin Heafield if they could make and sell a few British cakes. With the help of British friends, enough cakes were made to sell from a small table in the village hall on the Friday evening of Telethon. We also did a fund raising favourite in Britain, "guess the weight", and in this case it was a traditional British Christmas cake, with the cake as the prize. That first year it was won by the then secretary to the mayor, or rather her husband.
The following year Françoise decided that she would rather like us to do it again, but this time have a "Salon de Thé Britanique" where on sale would be cakes and teas. A change was made in the programme of events and the Salon de Thé Britanique was moved to the Saturday afternoon. Apart from asking British friends to contribute cakes to sell, they were also asked for help on the day and the response was amazing.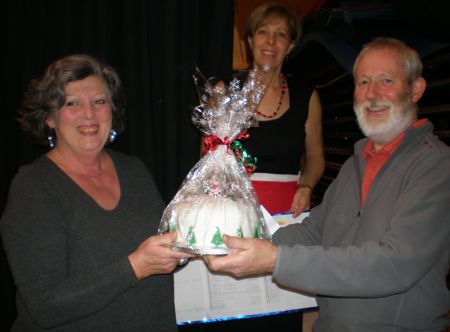 In 2005 it was decided not to have a "guess the weight" competition and this proved to be a big mistake. The competition was a popular feature with the French people in the village so it was reinstated the following year. To date it has not been won by a British person.
In 2006 a small organising group consisting of Barbara, Lynn, Colin and Jo Brace was formed. As well as the usual cakes and teas it was decided to sell mini Christmas cakes. This proved very popular and they were all sold at the beginning of the afternoon. Each year since then there has been a need to increase the number of cakes made.
Telethon 2011 events taking place in Maureillas Foyer Municipal:
Soiree Musicale by Musiques à Maureillas on Saturday evening 19 November
Salon de Thé Britanique on Saturday afternoon 3 December