Artist residency in Arles-sur-Tech

Arles-sur-Tech is situated in the last valley of the Pyrenées Orientales in France, along the border with Spain, overlooked by the famous Canigou mountains. It has a long memory of culture and of enterprising spirits, stimulated by an exceptional climate. The ancient language of Catalan is still spoken widely here.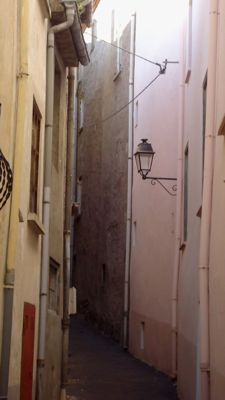 The roman city with its medieval streets, sunny squares, VIII century abbey and XIII church with a magnificent organ has also a past as a rich industrial center with Batère iron mines, a weaving atelier and a chocolate factory…
An unfortunate inundation of the river Tech in 1940 was the beginning of the end for these different industries, where the buildings are now empty warehouses.
The Mayor of Arles-sur-Tech, M. René Bantoure and artists Teresa Wennberg and Pierre Lobstein have therefore initiated an Artist-in-Residence program in the village, creating an opportunity for artists of all ages to come and spend time here and use their creative energy. Since 2010, the association "Art sur Tech" is part of the programme.
The artist is offered free living quarters: a three-room apartment with bathroom and kitchen, in the centre of the village during the residency, plus a studio to work in. The time of the residency is set to 3 – 8 weeks, according to the particular needs of each person.
This is an occasion for any artist who wants peace of mind to concentrate on a project or simply to meditate. The grand surroundings with its refined light and very pure air make Arles-sur-Tech a particularly attractive place for visual artists, who have come to this region since generations.
The project was initiated in May 2009.
Visiting artists up to November 2011
Mariyo Yagi, Sculptor – Japan
Yuna Yagi, Photographer – Japan
Adrianne Wortzel, Visual artist – USA
Angela Fremont, Painter, Educator – USA
Louise Fenger-Krog, Painter – Sweden
Hanne Cretskens, Poet – Belgium
Sara von Ehrenheim, Designer – Sweden
Jasmine Guffond/Theresa Stroetges, Sound artists – Australia, Germany
Sakuya Sekido, Organist – Japan
Andreas Orsini-Rosenberg, Visual artist- Austria
Sandra F.W.Beaty, Visual artist – USA
Jane Robbins, Sculptor – England
Cynthia Beth Rubin, Computer artist – USA
Maja Braun, Painter – Sweden
Dorothea Seror, Performance artist – Germany
Hitomi Uchikura, Sculptor – Japan
Lotta Barlach, Designer – Sweden
Art-project "Trout-espadrillos" – Sara von Ehrenheim, Sweden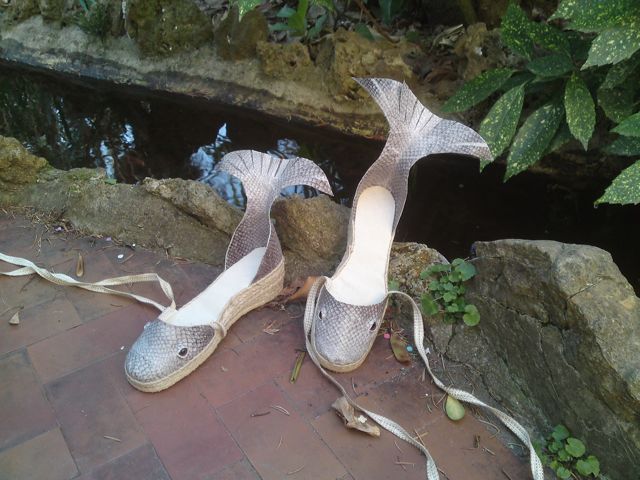 The shoes are made of trout-skin, the trouts of our rivers and mountains and are elaborated with the eyes and the tail of this fish, which gives magic and a proper life to the way we walk…"
Art-project: "Catalan benches" – Sandra Beaty, USA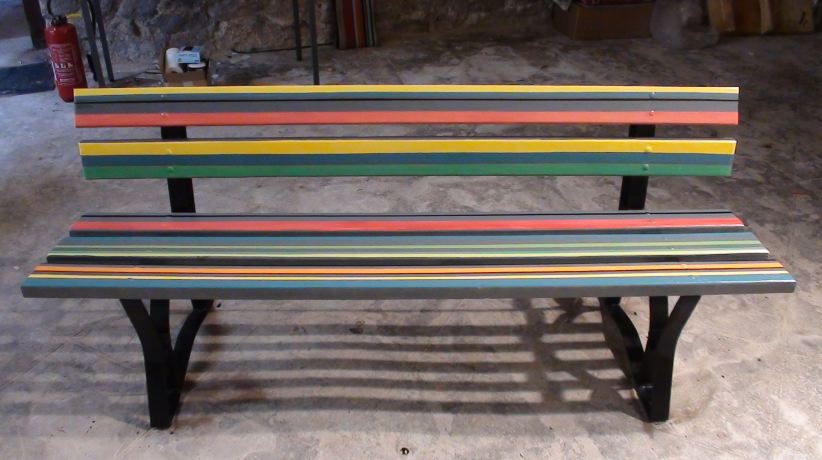 The darkred benches of Arles-sur-Tech were ,ransformed into colourful hand painted interpretations of the typical catalan patterns.
Art-project "Intervention Lavoir" – Teresa Wennberg, Sweden and Andreas Rosenberg, Austria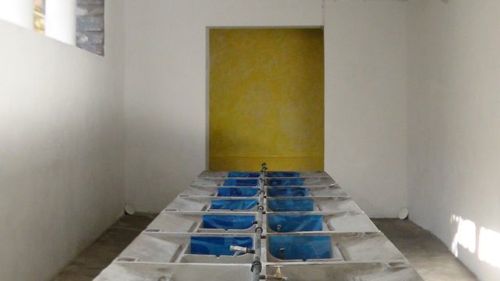 (photo to follow)
The old decrepit washingplace of the village , cleaned, restored and transformed into a site for meditatiopn – Work-in-progress.