By Ellen Turner Hall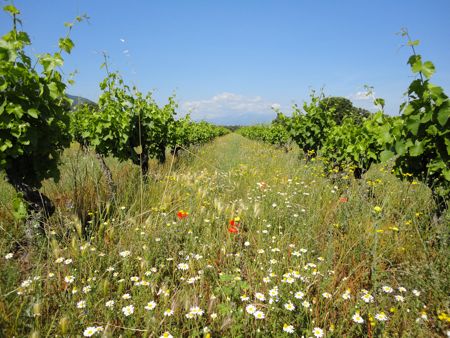 "Le Temps Retrouvé" identifies not only the domain, but also the philosophy of Michael Georget, winemaker at Laroque des Alberes.
Nothing is lost. Vines, flowers, insects and soil form a single ecosystem. Based on an astronomical calendar and biodynamic practices, this is organic farming as your grandparents probably knew it: completely self-sustainable.
Michael uses no artificial pesticides or herbicides. Instead chamomile and nettles are dug back into the earth as natural fertilizers. At a more arcane level, manure-filled cow horns are buried to reinvigorate the soil.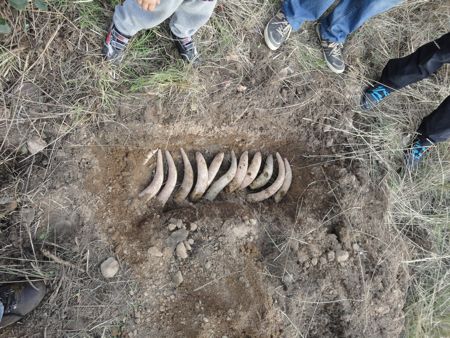 Inspired by a deep personal relationship with the land, on his ten hectares at Laroque Michael Georget cultivates several varieties of grapes to produce a "vin naturel" which has its own distinctive character.
The recipe: "respect for the grape from the vine to the bottle". This requires a lot of time, especially as Michael does everything by hand, his only helper an enormous horse named Goliath.
Michael Georget's fascination with wine-growing started at age eleven helping a winemaker friend of his parents.
He acquired professional skills in an apprentice programme working in vineyards in Chinon and Alsace before arriving in the PO in 2009.
Seeking the ideal combination of vines, a wine cellar and pasture for a horse, Michael discovered the domain at Laroque in 2012. His state of the art material co-exists alongside the original oak barrels, left intact "to not forget" the past – in perfect harmony with his philosophy.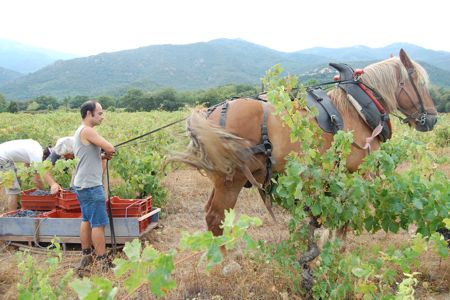 I asked Michael to explain the meaning of "Artiste Vigneron" on his business card.
"An artist creates something with passion, feeling, and philosophy."
Michael Georget paints the landscape with poppies and sculpts it with schist walls, working with nature to preserve the spirit of the place and enhance its innate beauty.
At Le Temps Retrouvé you can rediscover a bit of the past, including a demonstration of working the vines with a horse, a visit to the wine cellar and a "dégustation" of Michael Georget's wine, as well as games for children.
Rendez-vous 9h00 at Mas Rancoure. Contact: 06.62.80.62.60