THE ASSOCIATION FRANCE – GRANDE – BRETAGNE P.O. CELEBRATES ITS 30TH ANNIVERSARY THIS YEAR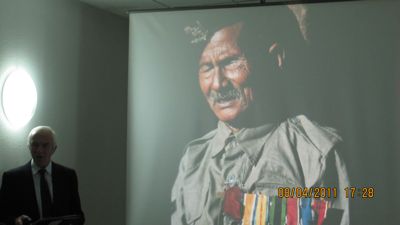 PHOTO
France-Grande Bretagne member, Lieutenant Colonel Richard Eyers giving a talk about his career in the Gurkhas.

The dynamic association FRANCE – GRANDE – BRETAGNE has existed in the P.O. since 1981 and is affiliated to the National Association which was started during the first World War in 1916 as the result of the Entente Cordiale signed in 1904.
The aim of the association is to develop and promote good relations between the people from English speaking countries especially the British with the French. Currently, in France there are 30 branches including the one in the P.O.
The English and French speaking club in Perpignan has been running continuously since its foundation 30 years ago. In fact, this year in December its members are going to celebrate its 30th anniversary. For its 10th anniversary in 1991, Anthony Meyer MP came to give a talk on the "Mésentente Cordiale" followed by dinner at The Palais des Congrès Perpignan.
In 2001, for the 20th anniversary, the guest of honour was the British Consul General Simon Taylor followed by an evening of Scottish dancing and a buffet. In 2004, the Association celebrated the 100th anniversary of the Entente Cordiale in Vernet Les Bains with Denis Mc Shane, the British Minister for Europe.
A full programme of activities has always been organized by the Association, its members are regularly informed by a newsletter sent several times a year. The Association's base is in Perpignan 6, Rue de la Main de Fer where there is an English library, regular conversation lessons are given,conferences and wine and cheese parties are organized.
In the last few years the Association has organized a variety of activities and outings for its members, for example: classical music evenings and Christmas carols singing followed by eats and drinks take place annually.
In 2011, cultural outings to the Maternity Hospital in Elne, a guided tour of the Fauvist Trail at Collioure, a day in Vernet les Bains to celebrate the Kipling centenary were on the agenda.
In the coming months, the Association has invited the British Society of Catalunya based in Spain to participate in a meal at the Mas Rombeau preceded by a guided visit of the Rivesaltes Prison Camp. A guided tour of the Site de Paulilles (Former Dynamite factory) followed by a meal in a local restaurant is also programmed together with a guided visit of the Bardou Collection at The Musée Rigaud in Perpignan.
The Association's aim is to improve and develop Anglo-French relations through conviviality and regular get-togethers and outings.