Saturday 2nd August
And bam! It's August! How did that happen then eh? Feel like I want to keep pedaling backwards to try and slow life down a little – but of course, I can't and it keeps on hurtling forwards, forcing me to run to catch up – and I'm still not thin!
Talking of which, my husband can eat half a bar of chocolate, and leave the other half in the fridge for later. What's the point of that? If a job's worth doing, it's worth doing right. Finish the whole bloody thing off, or I'll 'ave it!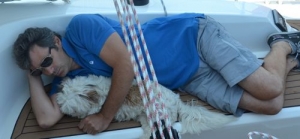 Startling storm yesterday with firecracker displays of thunder and lightening, which started nicely in time for us arriving late afternoon at our boat in St Cyprien, having a nap as you do after a hard day's work (see Olivier and Poppet, unperturbed by the approaching storms) preparing the sails…. Then tucking everything back in and heading for a telly evening at home, which was just as good in its own way but less healthy (Evidence 1: half bar of chocolate in the fridge. Evidence 2: Full box of Efter Eight and one full bar of Cadbury's chocolate missing, last seen heading towards my mouth). Today is a bit of a 'triste' grey day, still warm but heavy and humid – the kind of day to consider a walk but not actually get round to it.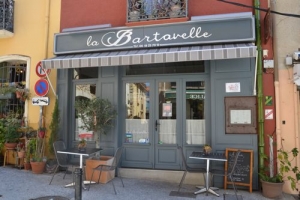 Had lunch in Argelés village on Thursday at La Bartavelle, run by Stéphanie and Thibault. It's in the Rue de la Republique opposite the church, on the same side as the Noisette café. There is only one lunchtime menu (15€ for 2 courses and 19€ for 3 courses), and no choice of dishes at all which is quite awkward in theory, cos if you don't like what's on offer, you're b-ggared! However, the menu changes daily, alternating between fish and meat, is clearly given a lot of thought, and Stephanie told me that they are happy to make up something else if there is really nothing to suit on that day. Ring in advance, and they will also prepare veggie options.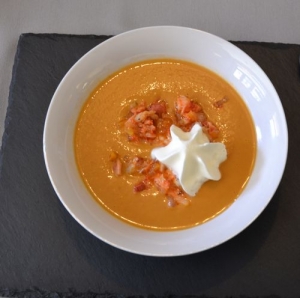 Soooooo, back to lunch. It was EXCELLENT, an absolutely delicious creamy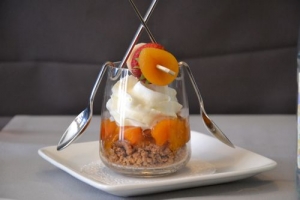 reduction of lobster bisque with bits of lobster sprinkled on top and throughout, followed by filet mignon of pork with lemon thym reduction, mange tout and haricots verts. I'm not a big pork fan, but this was verrrrrry tender and tasty. I'm not much of a trifle gal either, but the 'trifle' on this menu was like one I've never had before, with crunchy white chocolate crumble, stewed apricots (giving an astonishing fresh ginger taste) and rosemary whipped cream, topped off with strawberry and ice cream on a stick! Have to say, it leapt right to the top of my favourite all time desserts list. It's all beautifully presented, 'nouvelle cuisine' style, maybe not to be recommended for big hefty eaters, but we found the lunch time portions spot on for two hungry ladies-who-lunch.
A strong, local wine list had been picked with care, but the reasonably priced 'vin maison', from Mas Christine between Argelès and Collioure, changed regularly, was just what the doctor ordered, and we looked no further.
Evening menus are from 28€ to 37€, with more choice, including dishes such as 'stuffed squid with pork as a tournedos and mussel cream' or 'roasted lamb loin on vine shoots'.
There's no outside space for those who enjoy dining al fresco, but the interior is cool and pleasant. One of the 'must visit' small restaurants of the P-O in my opinion. Very small tho', so would certainly advise booking both in and out of season.
I often look at these restaurants and wonder how they cope. Too small to ever make a fortune,even though the food is worthy of a high class establishment, husband and wife team who work six days a week til late evening and probably go shopping on their days off, a cute and well behaved four year old daughter sitting on the stairs waiting for lunch to be over so she can spend some time with Mum and Dad….. How long can a couple keep this up before they snap? I have great admiration for people who jump on that hamster wheel and make a success of it. Hope the future brings them good things.
Thursday 14 August
Well, summer so far has been startlingly underwhelming – moody and changeable, several days of storms, some corking downpours…..heavy and humid much of the time. At the moment, it's warm, dry and dull – rather pleasant but no good at all for sunseekers trying to top up their tans.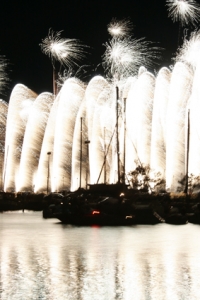 Confused looking families can be seen wandering around deserted beaches, wondering what on earth to do with the kids. Not the fairground AGAIN surely?
Tomorrow is August 15th, big firework evening on the French calendar, a 'jour férié' (public holiday) throughout France. Many shops will be closed, although most large supermarkets and several small shops around here remain open in the morning, and there will be festivities throughout France.
The feast of L'Assomption is celebrated by Catholics throughout France, and commemorates the departure of Mary from this life and the assumption of her body into heaven. Regardless of religious orientation, the day is observed as a national holiday during which many shops and businesses may be closed. Many people go to church on this day, have family meals, outings, and celebrations in the evening. That's where the fireworks come in. I want to put my hand over my mouth and not say this…..but…..is it really right that communes spend ten of thousands of euros every year in putting on these (admittedly beautiful) displays of pyromagic, when people are homeless, starving, charities are begging for funds…..? Don't want to sound like a grouchy old party pooper but really? Do they literally have the money to burn?
Having said that, we will be watching the display up close and personal, as our mooring in Saint Cyprien is very close to where they set off the fireworks, so, hypocrite that I am, I will enjoy the display from the comfort of the boat, while having a good moan about the cost at the same time.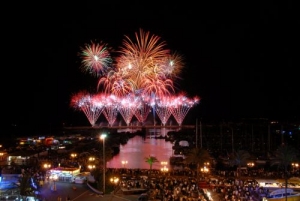 The Saint Cyprien display is actually one of the most talked about firework displays in the region, with the 'setting alight' of the port and the firework extravaganza preceded at 19h by a 'sardinade' when local fishermen share their sardine catch in this traditional Catalan feast of grilled sardines, bread and aioli (garlic dip). Very generous of them, tho' of course it's not free!
The display starts at 22h30 and lasts for 20 minutes – a good evening to leave the dogs at home I would think! Parking is difficult and be prepared for long queues when leaving – but the firework display is well worth the hassle – once you get over the amount of money that Saint Cyp tax payers are burning! (mutter, moan, mither….)
The display starts at 22h30 and lasts for 20 minutes – a good evening to leave the dogs at home I would think!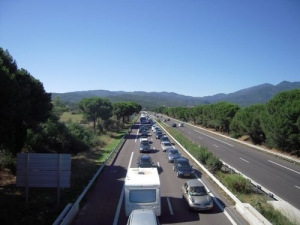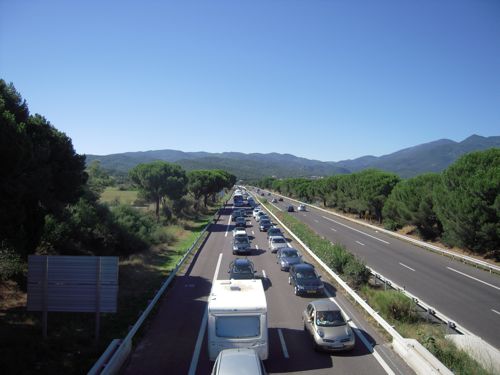 And tallking of traffic, the whole area was at a standstill on Wednesday when the local fruit producers blocked the A9, the main artery into and out of Spain, protesting about Spanish lorries bringing cheap fruit over the border and bringing down the prices of local fruit. "Nous réclamons que la France porte plainte conre l'Espagne pour dumping économique".
Hmmmm, I do kind of see the point, but I'm not sure that the best way to get people's support is to block them into their cars in temperatures of 31°, creating jams and tailbacks of up to 714 km in the early afternoon! Not the best way to start your holiday!
Wednesday 27th August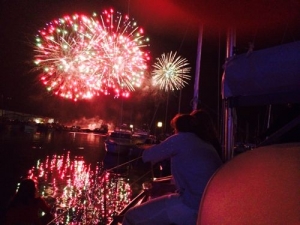 Sneeze and August has gone! Or that's how it feels. A strange month weather wise but a fabulous one for getting out and about. And dare I say that it has been rather nice to NOT have to sleep with the air con on every night, or go through the usual tug of war with Olivier? I turn it up – I'm hot. He turns it down – he's cold. I turn it back up – I'm boiling. He puts his fleece on!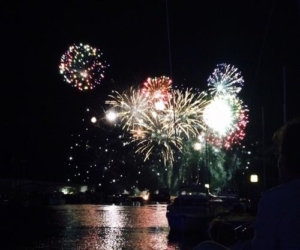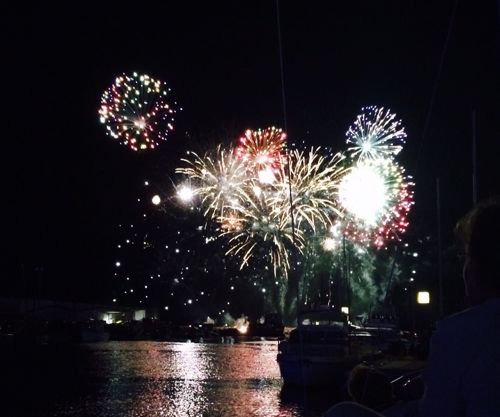 August 15th was spent on our boat in St Cyprien, first a boat warming party with our 'pontoon' neighbours, which involved much drinking of champagne, and a superb view of the fireworks that I keep complaining about. The sky and waters of the port were alight with explosions of every colour of the rainbow – beautiful and kind of awe inspiring, bringing a smile to the sternest and most disapproving faces.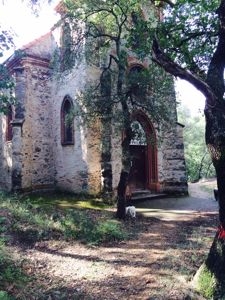 Yesterday, in very hot sunshine, we took the kids for a walk in the Thermes of Le Boulou, one of my favourite, close-by and easy walks, as hot dogs need shade, and there is shade-a-plenty at this delightful spot.
This water therapy centre is an oasis of calm, repose and fizzy water, with massive grounds that are part manicure and part wild and accessible to all, with plentiful, easy parking.
The medicinal and healing qualities of the waters are recognised far and wide, and did you know that if your doctor recommends a spa treatment which would be beneficial for your health, the cost is reimbursed by the state? Mini cures for weight loss, back problems, help with stopping smoking, are available as well as mornings of pampering for male and female from only 55 euros, including mud bath, water massage… hmmmmmmm, nice, although these are most definitely not reimbursed!
The 'station thermale' at Le Boulou used to cater only for medical problems, but is heading more and more towards becoming more of a centre offering leisure and relaxation, as well as medicinal benefits.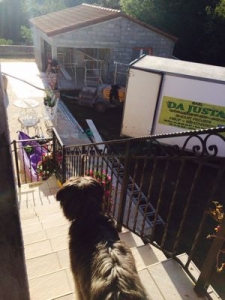 The waters are slightly fizzy (pétillante) and rich in minerals and carbs, and used particularly to treat digestive and cardio-arterial conditions. I am a total cynic about waters, and incantations and the placing on of hands, but am beginning to wonder if I've got it wrong as so many people swear by it.
Anyway, the grounds are beautiful. Take a walk. There is a pretty little chapel, and lots of benches to sit and just 'be' and a general air of 'wholesomeness'. Around the building itself, the walk is flat and easy, but from the car park upwards, a little more effort is needed.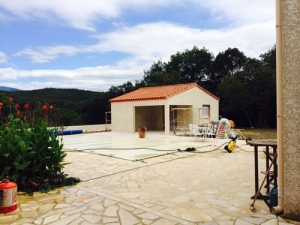 Oh yes, big excitement! We are finally having our 'casot' crepied. Its only been five years since we had it built, no sorry, eight years, so it's not before time! Here's a before and after. What a difference. I feel like it's been lying naked in our garden and has just been given its first suit of clothes!!
Evenings are still infinitely sit-outable, despite the unsummery weather that August has produced. Olivier, who has never been a big drinker of alcoholic beverages, mostly content to sip one beer and watch me grow louder with every glass, has discovered champagne! Two, three and even four glasses have him giggling like a puppy! Not a cheap date, but worth every penny!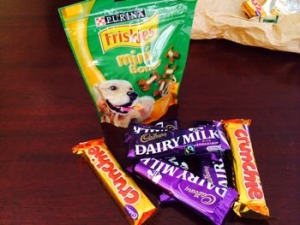 We had a really nice, relaxed, champagne soaked evening with friends this weekend. Seeing them was a highlight, but an even higher light was my present of crunchies and cadbury's choc, including a bag of sweeties for the kids. I have never lost my obsession for Cadbury's – feed the fire, that's what I say, and save the double chin wailing and self flagulation for tomorrow!