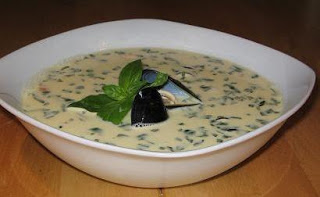 Have you ever tasted Billi bi?
You probably have, but just didn't know it as I haven't actually seen this soup of mussel stock, white wine, and cream on local menus by this name.
It was originally created by chef Louis Barthe at Maxim's in Paris, and named after regular customer William "Billy" Brand.
Billi bi became a signature dish at the three Michelin starred restaurant around the 1930s, a controversial dish at a time when mussels were nowt but a working class sea front snack. Great word non?
Ingredients
2 lb (1 kg) mussels
2 shallots, chopped
2 small onions, quartered
2 sprigs parsley
1 pinch cayenne pepper
1 cup (250 ml) dry white wine
2 tbsp (30 ml) butter
1⁄2 bay leaf
1⁄2 tsp (2 ml) thyme
2 cup (500 ml) cream
1 egg yolk, lightly beaten
1 pinch salt and freshly ground black pepper, to taste
Place mussels in a large pot with the shallots, onion, parsley, salt, pepper, cayenne pepper, wine, butter, bay leaf and thyme.
Cover and bring to a boil.
Simmer 5-10 minutes, or until the fresh blue mussels have opened.
Reserve mussels for another use, or remove them from shells to use as a garnish.
Strain the liquid through a double thickness of cheesecloth.
Bring liquid to a boil, and add cream. Return to boil, and remove from heat.