Friday 8th January 2021 – Gifi Carpark, Mas Guerido, Perpignan. 11.00-11.30
Friday 8th January 2021 – Domain Treloar, Trouillas, 12.00 – 12.30
---
SAUSAGE PRICE LIST –
ALL 6 €
Sausages – 6€
All handmade sausages are in packs of 6.
Breakfast
These smooth textured sausages are mixed with a tasty blend of seasonings, including sage and thyme. Perfect for the great "British Breakfast"
Traditional
These "Old Fashioned" sausages have lovely English herbs and ground spices mixed through, including ground mace and nutmeg, which creates their distinctive taste.
Cumberland
An " All time classic" sausage, the combination of the special blend of traditional herbs and spices creates its own unique flavour. Yum !
Pork & Leek
A NEW SAUSAGE for a New Year and a new sausage for me. Meaty and juicy with tasty leek added to the mix. Great with Mustard mash and homemade gravy!
Bacon & Sausage Meat – 6€
Dry Cured Bacon
6 rashers of hand rubbed and long cured bacon for a real old fashioned taste. This lean bacon is just great in a buttie!
Sausage Meat
Packs of 450g, perfect for stuffing, meat balls, sausage rolls, scotch eggs, patties………………. Oh the list is endless!

HOW TO ORDER
Orders can be made in one of the following ways:
Email corinnecarroll2@hotmail.com
Call or text +33 (0)7 68 41 26 89
Send a private message on Facebook
Please ensure you include your contact number, date and location of delivery when placing your order.
---
PICK UP POINT AND DATE in P-O
Friday 8th January 2021
Perpignan
Please place your orders at least one week before delivery date (before the end of Friday 1st January)
11am – 11.30am
Gifi Carpark, Mas Guerido
12pm – 12.30pm
Domain Treloar, Trouillas
OTHER PICK UP POINTS OUT OF THE P-O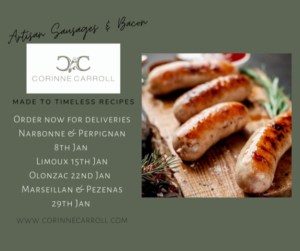 ---
PRE-ORDERS OF SAUSAGES ONLY!
Please tell your friends and family.