So Véret Céret…
Opened in 1927 as a 'cooperative' by local workers, Le France is very much an institution in Céret.
Many of us have whiled away a pleasant hour beneath the shady platanes of the terrace in summertime, nursing a cold beer and watching the world go by, but did you know that there is a fabulous restaurant upstairs for the winter months?
Warm and welcoming, serving up quality fare at very reasonable prices for the high standard of cuisine, (17€ for three delicious and beautifully presented courses + well priced à la carte + excellent pichet wine – prices 2014) the decor combines all things Céret.
Lovingly designed and personally renovated and decorated by local artists Alias & Alias, the salle à manger boasts a bar that is a hand crafted mosaic of cherries, snails, 'porrons', and pebbles from the River Tech, the floor has been stripped back to its original tiles, the colourful walls are adorned with painted swirls of 'feuilles d'acanthe' and mirrors made up of hundreds of splinters of broken mirror.
Think Gaudi, think Klimt…..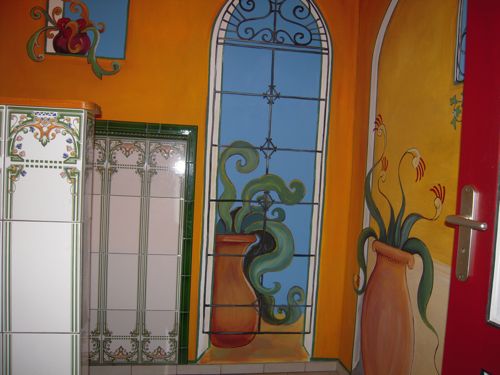 And don't we all know that you can judge a restaurant by its loos?
Whether you want to spend a penny (10 centimes?) or not, it is worth a trip to this fabulous 'petit coin' for the artwork alone!
Bon appétit!
Café Le France


35 Boulevard Joffre
Tel: 04 68 87 11 27