The Little House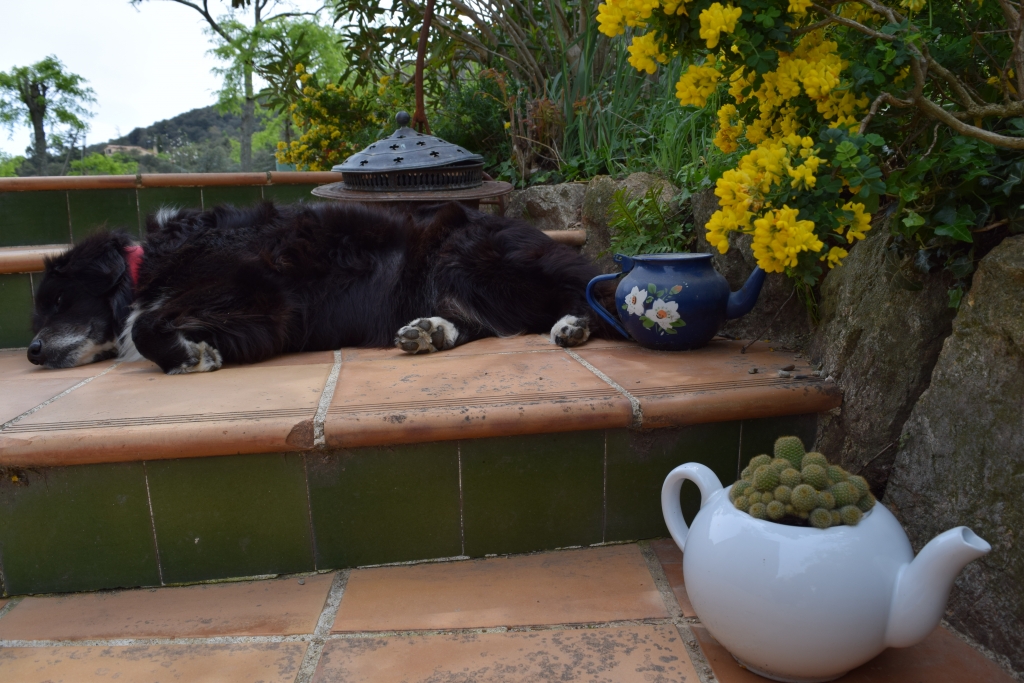 I was out when the Man from Orange reappeared at hubby's new gate, specially designed to protect the garden from the neighbour's sheep who roam at will around the area. Hubby couldn't understand exactly what Man from Orange was saying but inferred from the body language that he was required to switch off the electric fence so the Man from Orange could do some testing or repair work. He hurried away to switch it off, and on his return thought he would impress the kind engineer who, a couple of years previously, had jumped down into a hole of water to reconnect our internet supply.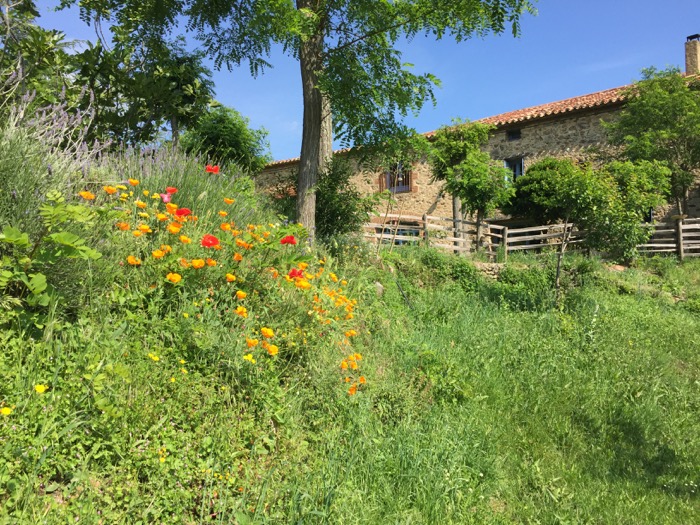 "C'est bon. La voiture est bon," he said.
The Man from Orange looked from hubby to our dog, Gyp, who was seated at hubby's feet, staring intently at the possibly unwelcome intruder.
"C'est bon. La voiture est bon," hubby repeated, a little louder this time. The man looked back at hubby and back again at Gyp, who still hadn't made his mind up.
Without a word, the Man from Orange turned his back and walked to his van. Hubby felt pleased with his new communication skills and went indoors to make himself a cup of tea. As he entered the house it suddenly struck him that he had confused 'cloture' with 'voiture' and had told the man that the car was good. Hubby ran outside, but the Man from Orange had gone.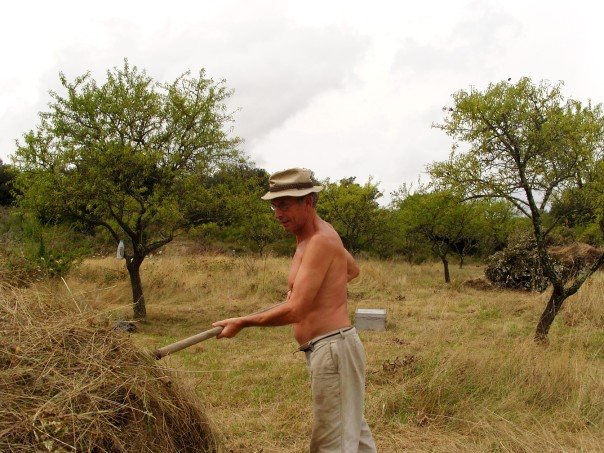 When we first moved to Mas Pallagourdi we'd been disappointed to see very few garden birds, but over time, as we hung out bird feeders and grew different plants in the garden, the birds began to arrive. Tits, tree creepers, nut hatches, hawfinches and a woodpecker now all come to call at the bird feeders and to build their nests around the garden. One spring day we were astonished to see an owl-like bird perched on a fir tree beyond the pond. The bird sat in the tree for about 30 minutes, enough time to fetch binoculars and to get up close. Luckily, we'd been having a cup of coffee with The Oracle and her husband at the time. Along with her encyclopedic knowledge of local life, The Oracle is a bird expert. She told us that the bird was a short-toed eagle.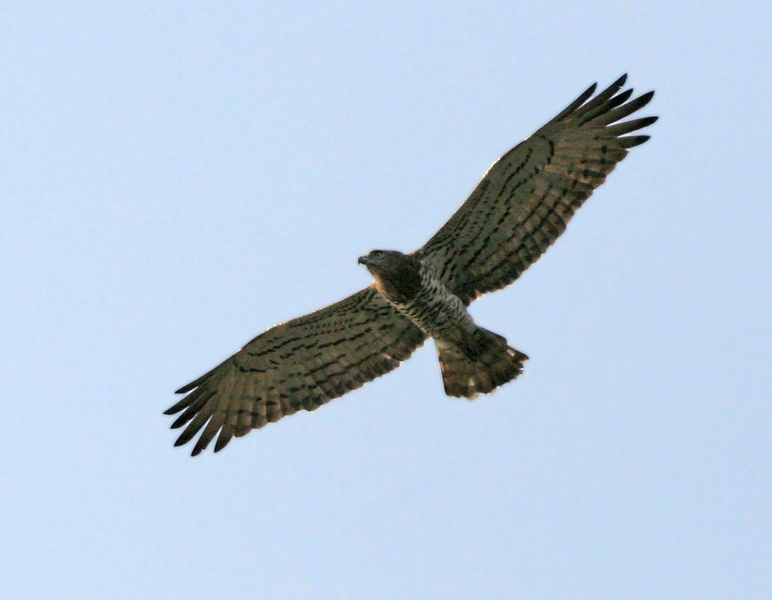 Short-toed eagles eat snakes, hence their alternative name – the snake eagle but they are not averse to a tasty snack of lizard or frog. Their main prey is the Montpellier snake, a species which tends to dominate the snake population. By preying mainly on this species the snake eagle helps to protect snake diversity but of course the eagle is in decline itself as snakes and habitat decline.
Our pond, with its abundance of wildlife, including snakes, may have been providing an important source of food for these beautiful birds of prey. During the spring and summer months we grew accustomed to seeing at least one of these magnificent creatures as they soared on the thermals high above Mas Pallagourdi. Then, in late August they would disappear, following their migration pathways to southern Spain or south of the Sahara.
While walking the llamas along the local roads we'd found a tiny mas at the end of a private driveway, almost buried in the oak forest. Slightly higher in elevation than our mas, from the garden one had almost 360 degree views, with the shimmering blue line of the Mediterranean to the north and the mountain of Canigou rising above the Roussillon plain to the west. Behind was the oak forest rising up to Fontfrede and Spain beyond. This little stone mas had the feel of being tucked away from the world, a secret place.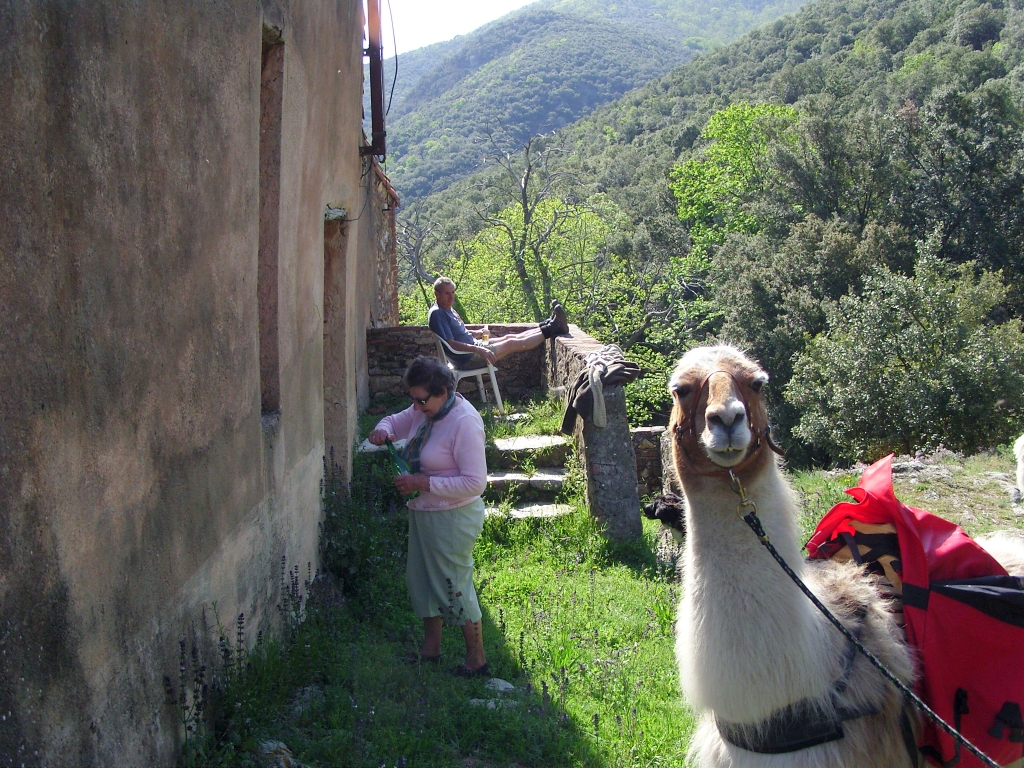 What a great find, we thought to ourselves, as we peered through the shutters and had a good nose around. It was clear that someone had been in residence in the not-too-distant past but the living conditions must have been basic to say the least. Near the main house was another tiny stone building which may have been an outside toilet and perched on the wall next to this was a glass bottle holding a few paintbrushes. The wall itself had the tell-tale daubs of someone washing off his or her brushes.
"This is my dream house. It's where I want to live," hubby declared as we walked home along the Balcon Road. "Let's sell our place and buy this one. Put a note through the door, Marian."
I had visions of trying to buy another house with no money and Mas Pallagourdi still to look after. This one needed a lot of TLC to bring it up to scratch and I was not feeling energetic. Despite hubby's nagging, I never did put the note through the door, and I listened with only half an ear when we next saw the estate agent who'd sold us Mas Pallagourdi. Hubby told her that he would love to buy the little house, and if it ever came on the market, she should give him the thumbs up.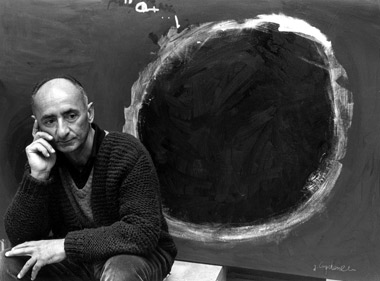 "That place will never, ever come onto the market," she said. "It belongs to a famous painter, Jean Capdeville, and it will get passed down in the family. Just forget it."
A couple of years passed and one day we heard the sound of heavy, earth-moving machinery up at the Little House. Someone had bought it and hubby was none too pleased.
"I told you. You should have put a note through the door," he said in his best grumpy voice.
Two weeks before Easter we were startled to see our neighbour and his girlfriend, both red-faced and sweaty, pushing a motorbike down our drive. It seemed it had broken down and they'd had to push it up the hill. Lucky that he was a strapping ex-rugby player, as his diminutive girlfriend was thin in the way that only French women can be. They asked if they could leave the machine there until they could get it fixed.
At the same time, they asked us to lunch on Easter Sunday. Our neighbour made us write the day and time on a bit of paper and, this time, we must have understood correctly (it had only taken three attempts). As we crossed the field between our houses on Easter Monday we could see a flurry of activity was in progress chez our neighbours. A barbecue was smoking gently, with an array of onions laid out on a table ready for cooking. These were the special calcots — a Catalan speciality.
Calcots look more like small leeks than onions and are roasted on the barbecue with their long green stems intact. When cooked the outer leaves become charcoal black, leaving the insides soft and sweet. The idea is that you dunk the onion into a specially prepared sauce, tip your head back and, trying to avoid getting burnt fingers and spilling the brightly coloured sauce all down yourself, drop the whole thing into your mouth. They were delicious.
We sat around a table on the grass outside the mas with our neighbours, including the new arrivals at the Little House. They were such a charming couple we forgave them the fact that they'd been lucky enough to snap up the Little House the same day it came onto the market.
The talk around the table turned to matters of the heart: each couple had to tell the story of how they had met. I panicked, wondering how to translate into French the complicated story of how I had met hubby. But our new neighbours were smiling and were ready to spill the beans. In their earlier lives, Jean had been an astrologer and Sandrine, an acupuncturist. They had met a few years previously in Paris when she'd gone to him for an astrology reading. The reading Jean produced was that she would meet a man….just like him. At that moment, he said, he knew she was the woman for him.
Jean asked Sandrine to marry him but she refused, although they continued to meet up as friends and one day they were walking through Paris when they took a street they had never been down before. An old house stood in front of them, looking slightly derelict, behind some rusting iron gates. They climbed the railings and peered through the windows. "This is perfect," Delphine said. "A consulting room for you on this side, and one for me, this side."
"And then you can marry me," he replied. Not for the first time since coming to live in France I had the strange feeling that I was inside an Alain Fournier novel.
Jean and I made a deal. I would teach him yoga in exchange for an astrology reading.
While we all sat around the rickety table digesting our enormous lunch, the talk meandered from this to that, and onto the local Catalan theatre company. Our neighbour and his girlfriend were both members. "Do you speak Catalan?" I asked.
"Of course," he answered, pointing a thumb in the direction of the Catalan flag that was flying from the roof of the house. As we looked up, a magnificent bird soared overhead.
"That's the vulture that ate six of my chickens," he said, jumping up and squinting into the cloudless blue sky.
"No, that's the snake eagle," I said.
"Ulture," he replied emphatically. "I'm going to shoot it."
I couldn't sleep that night, visions of my eagle fluttering to earth, dead as the proverbial dodo. "Perhaps I can offer to buy him some new chickens," I suggested to hubby the next morning.
"You can try, but don't worry, he'll never manage to shoot it. And, Marian," he continued, "write that note and put it through the door of the Little House."
I still haven't written that note, and still not had my astrology reading — a load of codswallop according to my more rational daughter. But I've never been rational in my life and have no intention of starting now. Perhaps I will write that note.