The wedding
Mid-August brings crowds of serious-eyed people to Ceret: they can be spotted walking through town carrying deckchairs and mysterious leather bags.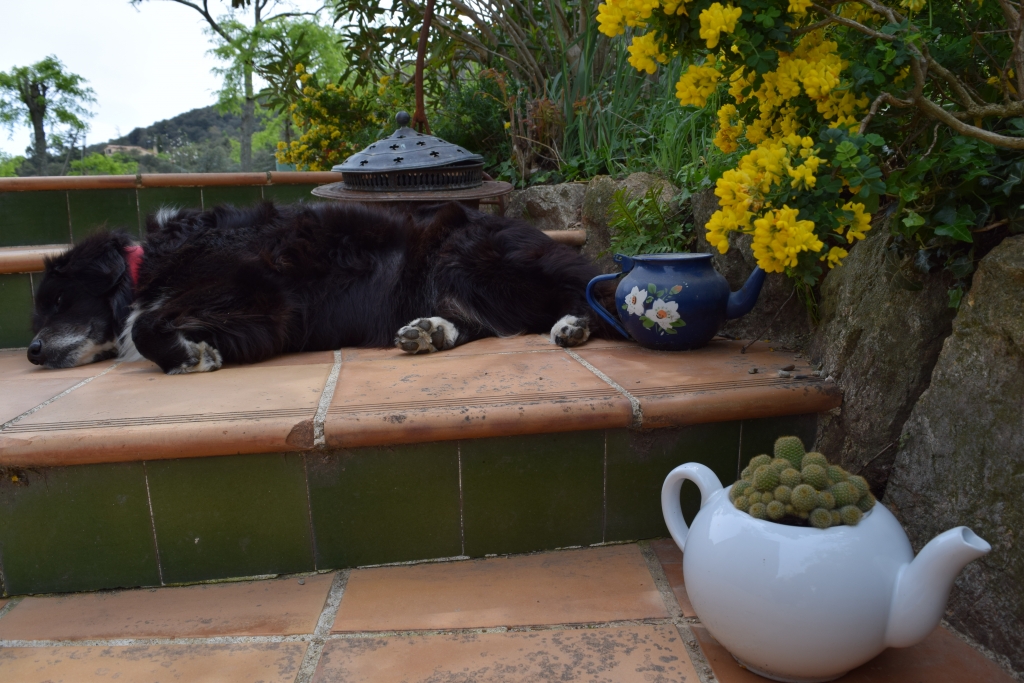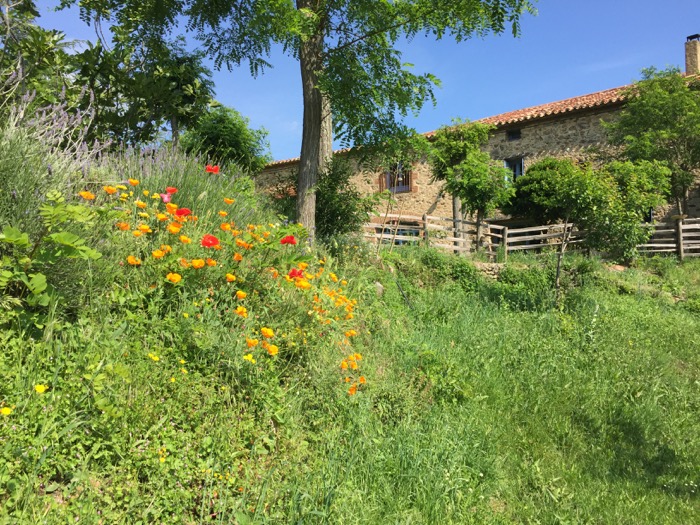 The crowds around the boules court next to the Bureau de Poste gives the game away. This humble setting becomes the scene for high drama over the following few days, while the National Petanque competition is in progress. The car park opposite is also pressed into service. Parking in the town over this weekend becomes a rather fraught affair.
We found somewhere to park (while in Rome do as the Romans do — park any-old-how on a nearby roundabout) and idled past, watching the faces of the watchers, listening to clink of the metal balls, the oohs and oh la las. That evening on our customary walk along the Route de Balcon, we spied our neighbour's car with the little Catalan flag attached to the aerial, parked at the bottom of his driveway, where there's a turning place. Our neighbour and his new girlfriend were playing petanque. Catching sight of us he grinned broadly, kissed hubby on the top of his head and kissed me.
"Ave you seen my sign?" he said in English as he gestured to a small wooden sign which had appeared in recent days, saying 'Placa Paix Catalan'.
"He's had a few drinks," hubby commented as we walked on.
"How can you tell?" I asked.
"It's only after he's had a few that he kisses me on the head."
In September 2015 we rented the entire house out for a wedding party. This was to be a normal rental for us, and clearly bargain for our clients in terms of wedding venues. To save money they would be organising the whole thing themselves from the UK, and although we had no obligation to become involved, I offered to help out where I could.
The couple would be putting up their nearest and dearest in the house and planned to hold the wedding ceremony in our field. Then there would be a reception on the lawn (or in the Dining hall if wet) for sixty people. They visited a couple of times and asked our advice on the subject of catering.
The Oracle had recently visited a new restaurant in town and had been impressed so I readily recommended it. The couple had a meal there themselves and thought the food was lovely, and went back to the UK happy. A few months later I was talking to The Oracle again and, thinking she would be pleased, I told her that I had passed on her recommendation.
"Oh no! That's awful," she said.
"Why?" I asked.
"We went back and had to wait three hours for our food and it was horrible this time."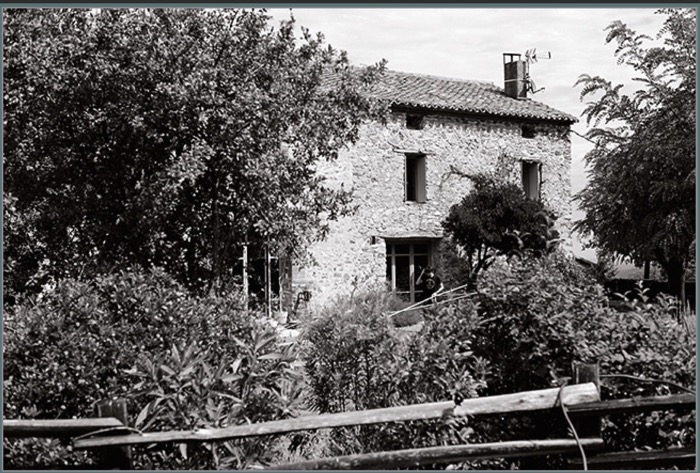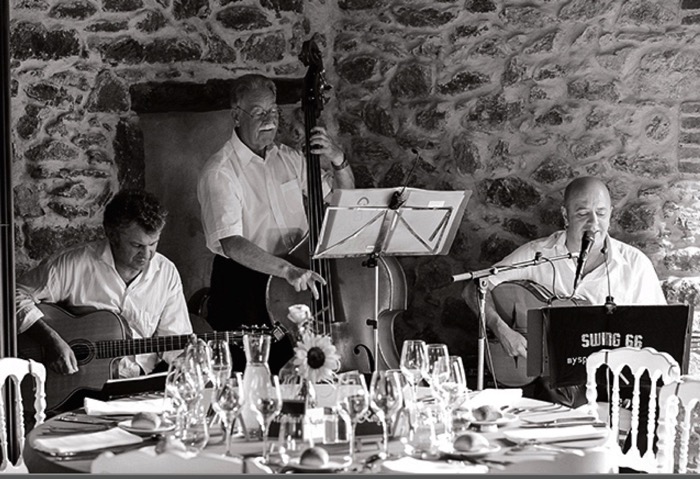 Oh la la! By now, the couple had hired the restaurant people to do the catering and a lot more besides, I couldn't say anything now, could I?
The next request from the happy-couple-to-be was to find someone who could play the accordion for an hour or so while guests arrived. My mind turned to the accordion player who frequents Ceret market. Although he can often be heard serenading holidaymakers with "Roll out the Barrel" and he seems to make more money by being paid to go away, I thought he would fit the bill perfectly. The following Saturday I approached him and tried to explain his role. Little euro signs appeared in his eyes and he grinned.
"But Madame, we need to discuss the disco," he said.
"No," I replied, as firmly as I could. "It's just for an hour or so, they want a few French tunes please."
"Ah, but it is more complicated than that," he replied, 'there are a lot of things to discuss."
In the end I gave up and asked a friend, fluent in French, to deal with him for me. Even she said he was hard work.
We discussed the arrangements with some English friends who had experience of this kind of thing. "Haven't you hired a chaperone?" they asked. We hadn't thought that such a thing would be necessary and mentioned that the couple were both police officers. "Hah! They're the worst!" the friend exclaimed. "The combination of booze, drunk relatives and a swimming pool is a recipe for disaster. I'd hang around if I were you." Hubby and I looked at each other anxiously, this booking was turning into a bit of a nightmare.
The week before the wedding hubby moved the sheep to a different pasture and mowed the field. We were a little worried by the fact that it was covered in sheep poo but there wasn't much we could do about that.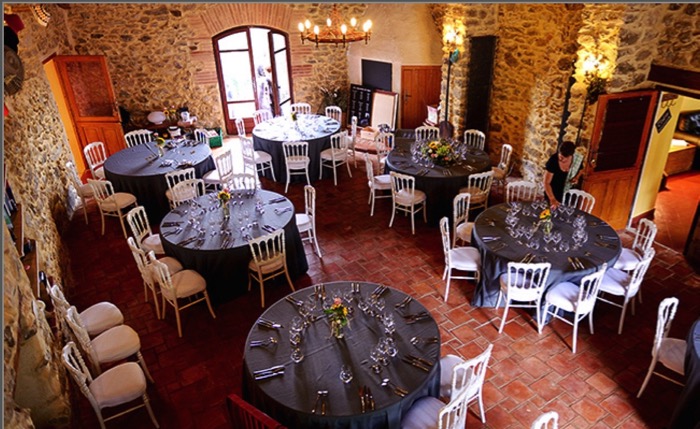 Then our guests began to arrive in cars packed to the gunnels with dresses and other paraphernalia. Hubby and I had been studying the weather forecast and were distressed to see that rain was forecast for the entire week. We retreated to the yurt and laid down on the bed.
A little while later we were startled to hear footsteps through the wood and a knock on our hobbit door.
"Bill! Marian! Where are the hairdryers?"
An hour later: "Bill! Marian! Where are the pegs for the line?"
An hour later: "Bill! Marian! Can you erect a bower in the field?"
After hubby had spent several hours making a wooden archway and hammering it into the parched earth, we decided it would be prudent to leave our guests to it. I spent some time on the internet and announced to a surprised hubby that we were going to Monte Carlo.
We threw some clean clothes into the car, drove down to Spain and checked into the rather seedy but more than adequate Hotel Monte Carlo at Llafranc. Fifty euros a night, including breakfast. Perfect!
From the beach we continued to watch the weather forecast and a friend sent us hourly updates. At 1 o'clock it was raining cats and dogs, or, as they say in these parts, pissing like a Spanish cow. At 2 o'clock she reported that the sun had come out, great! At 2.30 it was clouding over. I turned my phone off.
I also hoped nobody would get drunk and drown in the pool, that the water system and fosse septique would stand up to 15 house guests and 60 dining guests, and that the catering company would serve sixty meals on the same night.
"This just isn't worth it," hubby said. "We're not doing this again!"
Miraculously, at 3 pm precisely, the skies cleared and the ceremony went ahead in the field as planned, although the food was served indoors. As we had expected, the chef and his partner took several hours to get the food on the table.
I'm sure that everyone we knew expected the whole thing to be an unmitigated disaster, but in the end our guests returned home more than happy. We were telling the tale to some other friends when one of them said that we should count ourselves lucky. Our friend had lent a hand at another local wedding and had been required to sing one of the hymns so that the French organist could get the tune. Hubby and I are both completely tuneless, as our long-suffering family will testify, so perhaps it was our guests who'd had the lucky escape.