Zip up your leather jacket, roll down the car windows, turn up the volume and rock 'n roll your way to Collioure's Musée d'Art Moderne for a joyous take on the music of the 80s. In "La filosofia del plat combinat" (The philosophy of the combination plate) musician and artist Pascal Comelade creates an exhibition full of fun, nostalgia and provocation.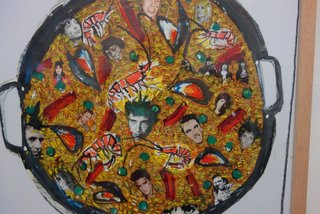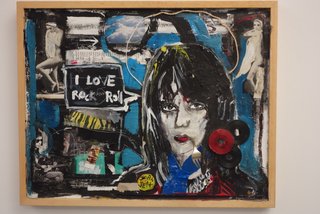 Starting with the exhibition poster – a paella with the heads of James Brown, Elvis, Dylan and other pop heroes surrounded by shrimp and sausages – Comelade offers the public a playful voyage of discovery. At the opening, I noticed people approaching a work with curiosity and then breaking into a smile.
Many of the exuberant canvasses are covered with ironic comments on the images. For instance, the wall-long horizontal "Comarcal 66 Revisited: La primera ascensio al Canigo en Bicicleta" (the first ascent of Canigou by bike) is a simple flat line. Plays on words abound. "Can I go to Canigo?" is an image- and message-packed canvas.
On the other end of the emotional scale, is the touching "Sardana dels desemparats" (Sardane of the disappeared), the traditional dance circle composed with a single pair of red shoes and black footprints.
Comelade is famous as a musician whose band plays on miniature plastic instruments, so it is only natural that music references are everywhere. Redrawn 33rpm record covers – the Ramones, The Byrds, Pink Floyd- fill a wall above a well-worn pair of rockers' boots, a turntable and an empty bottle. The 80's in a glass case?
For provocation, Comelade has constructed two traditional Catalan crosses, replacing the instruments of torture with broken 33rpms, plastic trumpets and paint brushes.
Don't miss the big yellow portrait of this year's Nobel literature prize-winner before you rev up and peel out.
The exhibition runs from 29 October to 19 February. Open every day except Tuesday 10h00 to 12h00 and 14h00 to 18h00.