The Spring exhibition at the Musée d'art moderne of Collioure, "L'eau à la bouche" ( mouth-watering, a delicious prospect), explores the theme of water in works from the museum's permanent collection.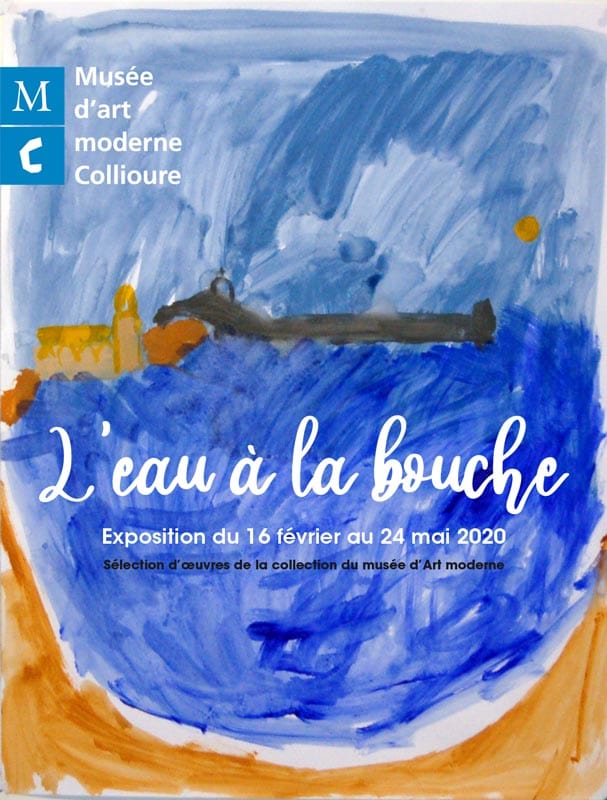 Throughout its evolution from medieval commercial port to traditional fishing village to lively tourist mecca, Collioure's fortune has been linked to water. The iconic importance of water is set by Amadine Artaud's installation of a long bar full of glasses brimming with salt water. Claude Viallat evokes Collioure's fishing past in a series of colourful works on paper with patterns of nets impressed on the page.
Augustin Hanicotte's monumental "La grande plage" (1925-1935) is an ode to every aspect of the vibrant fishing village gathered on Boramar beach to buy and sell sardines, bargain, gossip, flirt and mend the nets laid out to dry on the sand under the lofty silhouette of the chateau.
Of Henri Matisse, who arrived in 1905 and with Derain invented the extravagant exaggerations in colour and shape of Fauvism, three works on paper are witness to his fascination with Catalan fishing boats and their lateen sails. One with sketches of chickens in the foreground demonstrates his mastery of line and perspective. And a hint at his sense of humour?
While you are there don't miss a walk through the terraced olive grove up to the mill and the fabulous view of the bay – enough to make your mouth water.