22 June to 29 September 2013
Contemporary Art with a Smile
By Ellen Turner Hall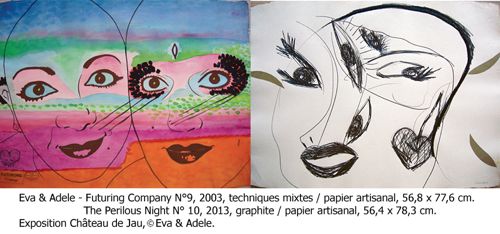 The summer exhibition "Jamais 2 sans toi" at the Château de Jau is given over to couples: Ida Tursic & Wilfried Mille, Anne Colomes & Laurent Le Deunff and Eva & Adèle. The first couple do paintings which exploit 3-D techniques (glasses provided), the second do sculptures of imaginary landscapes and Eva&Adele do themselves.
With their identical shaven heads, in matching makeup and elaborate outfits , Eva&Adele's public appearances are performances, as if to say life is art, as if to ask aren't we all adorable and ridiculous at the same time?
Kitschy? Yes. Colourful? Check. Self- referential? That's exactly the point. But is it art? Their economy of line and joyful application of colour is reminiscent of Matisse. On the same canvas Eva&Adele confound landscape with portraiture, just as their couple blurs the definition of gender. Here are two artists working as one, themselves unable to tell where one's work ends and the other's begins. "It's a mystery," they say in unison.
Their two heads make a heart: printed, embossed, engraved or painted on each of their works. Eva&Adele turn the usual obscurities and difficulties of contemporary art into images that amaze and delight. Go -in 2s – and see for yourselves.
"Jamais 2 sans toi" from 22 June to 29 September.