Débroussaillement (for property owners)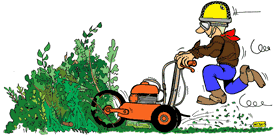 According to the 'code forestier' and 'arrêté prefectoral' of 18/13/2004, if you are the owner of land which is less than 200 metres from woodland, brush land or moors, it is your legal responsibility to limit fire risk by clearing and cutting back all undergrowth within 50 metres of your property.
This should be completed by the end of April, after which the ONF (Forestry Commission) can and will start imposing fines on everyone who has not cleaned and strimmed around their properties.
The land should really be 'débroussaillé' or cut away as follows:
♣ 50 m around any buildings
♣ 10 m deep on either side of private paths or roads leading to buildings (this is to enable the fire services to pass in safety)
In towns and on housing estates, (lotissements) it is the responsibility of the land owner to clear the land.
In rural areas, it is the responsibility of the person whose property may be at risk, even if he or she is not the landowner. (art L322-3 cf)
FAILURE TO OBSERVE THESE REGULATIONS COULD RESULT IN A FINE AND MAY AFFECT YOUR INSURANCE CLAIM AND PAYOUT IN CASE OF FIRE.
Test your French
Lisez le texte en Anglais et utilisez les mots en bas pour remplir les blancs (read the text in English and use the words below to fill in the blanks
What is 'débroussaillement/débroussaillage'?
♣ An efficient clearing of brushwood involves:
♣ Getting rid of all dead wood, brush and dry grasses
♣ Cutting down trees that are too near to houses, and shrubs beneath large trees
♣ Planting trees so that the branches do not touch each other
♣ Pruning low branches up to a minimum height of 2 metres
♣Throwing away all cut vegetation by shredding, taking to a tip, or turning into compost
In no circumstances does 'débroussailler' mean cutting down all the trees!
Qu'est-ce qu'un 'débroussaillage'?
Un débroussaillage_1___ sous-entend :
2___tous les bois__3__, les broussailles et les herbes  4___.
Couper les arbres trop 5___ des habitations et les 6 ____sous les grands arbres.
Espacer les arbres 7___ les branches ne se touchent pas.
8____les branches 9___jusqu'à une 10___minimum de 2 mètres.
11____des végétaux coupés par 12__, par évacuation en 13___ou en les compostant.
14____ débroussailler ne signifie 15__tous les arbres !
|a) en aucun cas |b) se débarrasser |c) hauteur| |d) éliminer |e) couper |f) efficace| |g) élaguer |h) afin que |i) arbustes| |j) près |k) sèches |l) morts| |m) broyage |n) déchetterie |o) basses