L'Amphytrion, Collioure…..with Danièle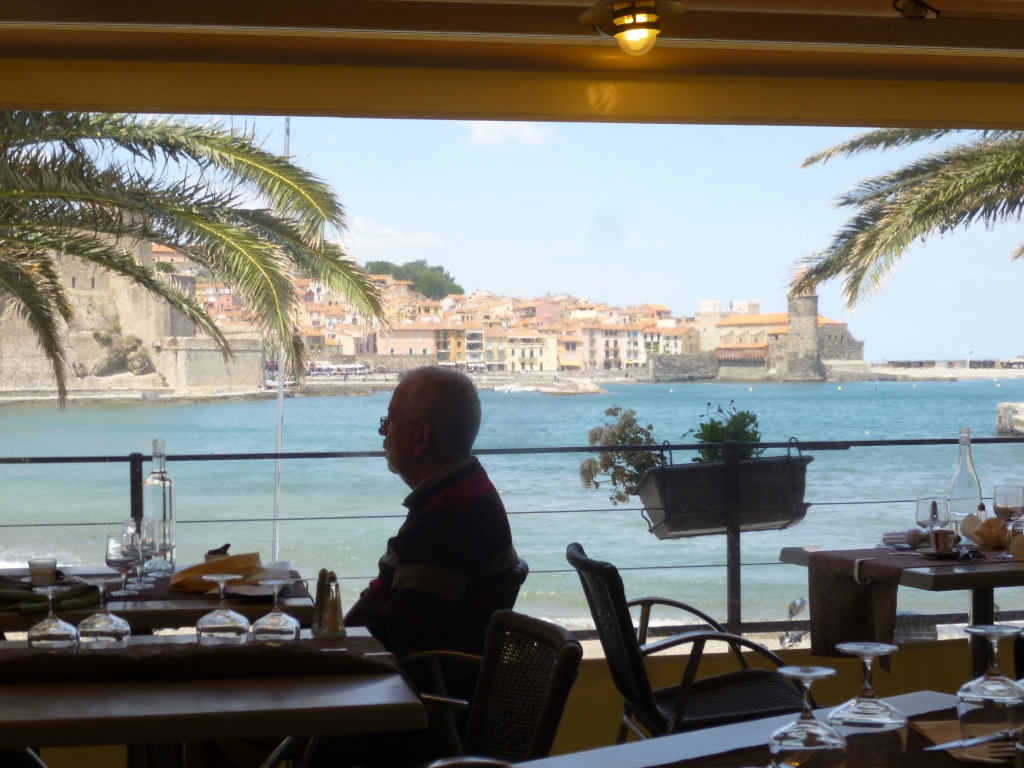 In March 2005 we celebrated a birthday with a meal at l'Amphytrion and I still have the bill from that occasion – 2 menus at 15€ each. There is still an excellent menu at this same price, and l'Amphytrion has remained one of our favourite haunts, with its great situation by the beach and the beautiful view. The 15€ menu is great value, offering a choice of 3 starters, 3 mains (sardines, salmon or parmentier de joues de porc), followed by crème catalane or ice cream. The main dishes come with potatoes (meat) or rice (fish) plus an interesting mix of various vegetables.
There is also a very good 23€ menu (and more expensive ones), and à la carte – on our last visit we splashed out a little and my husband had the most delicious and tender piece de boeuf (22€), and I enjoyed a creamy bourride of lotte and gambas (20€). Food always appears piping hot (and is served on very hot plates!). They have wine in carafes as well as bottles, and the service is attentive but not intrusive.
As dusk falls, diners have an uninterrupted view of the lights of Collioure twinkling across the bay. If you want to eat on the terrace, booking is probably necessary as it is very popular. In summer the restaurant is open 7 days a week, lunch and dinner, but unfortunately they close from the end of October until April, so if you do fancy trying it, go soon or you will have a bit of a wait!
L'Amphytrion,
rue Jean Bart,
Collioure
Tel: 04 68 82 36 00
La Tagliatella, La Jonquera….with Kate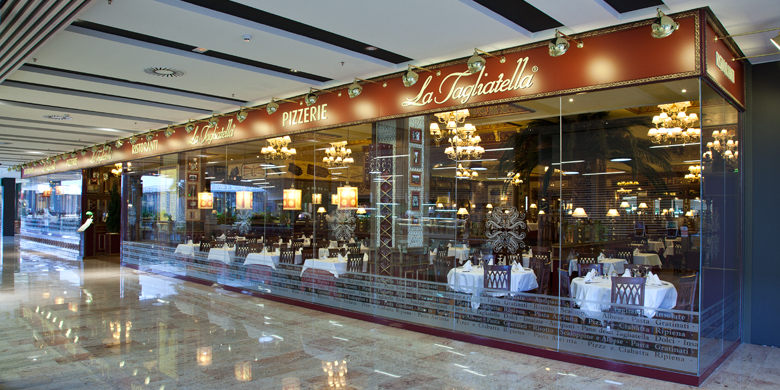 La Tagliatella, in the Gran Jonquera Shopping Centre on the Figueres side may not have sea or mountain views…. but it's a great place to lunch or dine after a bit of retail therapy.
Neither rain nor shine alter the atmosphere or temperature in this clean and spacious Italian-inspired restaurant. Despite getting very busy in high season, the service is always impeccable.
Pizza and pasta fans in particular are spoilt for choice although there are steak alternatives. A wide range of enormous and delicious thin base Pizzas are prepared before your eyes and my Dad was delighted with his smoked salmon pizza. For 'pativores' (my made up word for pasta eaters), there are more than 400 combinations of pasta and sauces. I dithered between the pasta Calabrese with dried tomato, grana padano, toasted pine nuts, balsamic onions, garlic and basil and the 'Tagliatella' salad with boiled ham, king prawns, prawns, crab sticks, sweet corn, olives, cherry tomato, carrot, egg and artichokes. You can see the predicament can't you? I have since had both. Both delicious.
Portions are large and unlike many restaurants in France, they provide doggy bags with pleasure.
My Dad was happy with his house red, which he declared 'very pleasant' though I couldn't tell you what it was!
As for the desserts….wow! For a chocoholic like myself, the 'Croccantino', made up of crunchy biscuits with nuts, Rocher mousse, chocolate and ice cream was memorable, though several other worthy contenders brought out the ditherer in me once again.
Prices are reasonable, a typical main course costing from 12 to 15 euros. One of my favourite rainy day restaurants.
Open everyday from 11am to midnight
Centre Comercial Gran Jonquera,
17700, La Jonquera
Tel: 0034 972 55 68 07
La Voute Etoilee et Les Uns Vendables, Sorede….with Rose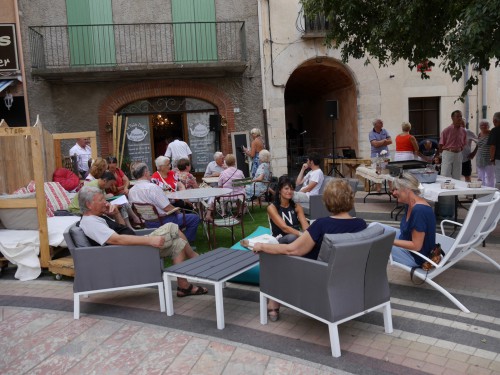 Here's something a little bit different in the Place de la Republique, Sorede. Just 13 euros for lunch at this quirky restaurant, with a menu that changes each day. Today, starters were a very light Tarte de Courgettes on a tomato and basil sauce or a crèpe with goats' cheese, followed by a main course of sardines, a tuna steak or souris d'agneau.
Dessert was Tarte d'abricots or ice cream, strawberries and chantilly cream.
Quirky because inside is also a brocante as well as various teas to buy and musical evenings once a week, and there is an odd collection of tables, one pink, one made from palettes…. They serve an artisan beer and a cafetière for coffee from which you can pour two good cups, as well as tea in assorted Limoges pottery cups, saucers and pots. They also have a collection of armchairs outside, such as you might have found in your granny's house. There were lovely glasses inside at 5 euros each and many knick knacks. Lovely, welcoming ladies.
Open 8h – 20h every day in season.
La voûte étoilée et les uns vendables
4 place de la république
Sorède
04 68 39 42 68