EATING OUT IN PERPIGNAN
reviewed by Louise Sayers
If you don't know where to look for good food in Perpignan, you can find yourself wandering the city and settling for some decidedly average fare. There has been a lot in the press recently about some food establishments sullying the reputation of French cuisine by serving frozen and microwaved dishes. The French Parliament is even discussing a proposed bill to force restaurants to declare such practices.
Two places that don't need to worry about the bill are these Perpignan eateries, which both pride themselves on using fresh produce and making everything in-house. As it should be!
Le 17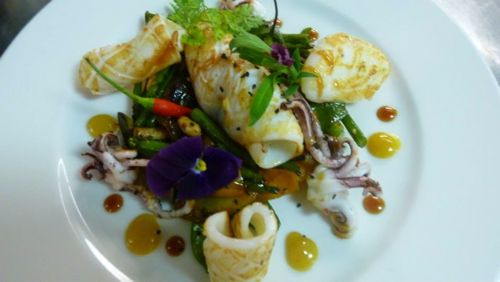 Rue de la Révolution Française is a quintessentially French pedestrianised street in the heart of Perpignan's historic centre lined with shuttered houses and a treasure trove of small, family-run restaurants. The best of these, in my opinion, is at the bottom of the road, overlooking the pretty Place de la Révolution Française and is called Le 17.
Since 2009, the restaurant has been run by brother and sister team Frédéric and Corinne Marchand who have built up a loyal following of locals, especially at lunchtime. They have coined the term "bistronomique" to describe the combination of a relaxed, convivial bistro ambience with a passion for cooking which produces dishes a cut above the norm for the city, both in terms of quality and presentation. Corinne is responsible for the friendly front-of-house vibe while Frédéric conjures up the magic in the kitchen using the finest fresh ingredients.
Fish, beautifully cooked, is the real star of the show at Le 17 and features daily in the lunchtime menu. The menu offers three courses for 19 euros, starter and main for 13 euros or main and dessert for 16 euros. The menu is different every day but today's tempting offering is fresh goat's cheese in pastry, swordfish steak with cuttlefish ink risotto and tomato coulis finished off with roasted peaches on a shortbread biscuit with vanilla cream. Mouth watering yet? If you really can't eat fish then Frédéric can substitute a magret de canard for the main course, but it's a shame to miss out on fish so well cooked unless it's going to kill you!
In the evening the restaurant offers an à la carte menu (you can also order from a limited à la carte menu at lunchtime). This changes with the seasons and includes fabulously creative meat and fish dishes originally presented. Take for example the rolled squid Thai style – how good does it look?
Le 17
17 rue de la Révolution Française
66000 Perpignan
Tel: 04 68 38 56 82
La Garriane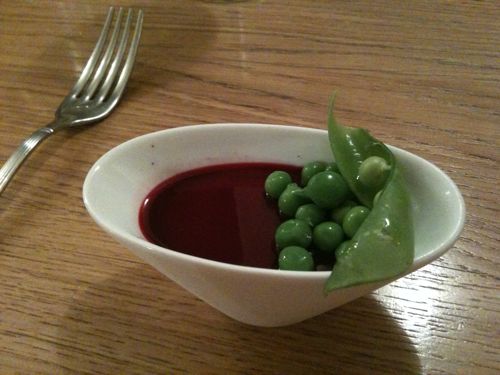 Hiding behind an unpromising exterior. La Garriane is possibly Perpignan's best kept culinary secret. Located near the station it looks so ordinary that we walked past it for years without giving it a second glance. Then someone in the know tipped us off and we gave it a go. OMG!!! It doesn't have a Michelin star but it really should.
Run by husband and wife team, Aussie chef, Garry, and French hostess extraordinaire, Ariane, the tiny and modestly decorated restaurant of perhaps 40 covers is always jam packed so booking is essential. The three course fixed lunchtime menu is phenomenal value at 16 euros and the food is inventive and, frankly, divine but if your budget can stretch to it, treat yourself to an evening at La Garriane. It will be a culinary experience to remember.
You won't have a choice in what you eat but your taste buds will be spoilt with a dégustation menu of 9 dishes for 35 euros (or skip the fish course and pay 29 euros). While this is not a cheap dinner, it is still excellent value for money considering the quality of the food.
Arians presents the dishes with little explanation so part of the fun is deciphering what delights have gone into them. It's a great way of eating which really makes you concentrate on the food, the flavours and how they are put together.
The menu is ever-changing – I've never eaten the same thing twice at La Garriane – but here's what we ate on our latest visit:
☛ Petit pot de Foie Gras
☛ Calamari on a sesame paste with buckwheat and a spring onion tempura
☛ Cheese biscuit topped with broad bean purée, asparagus, spring onion, radish, parmesan, pesto and thyme
☛ Hake in pea broth with ginger, lemongrass and ground fennel seeds
☛ Lamb on chick pea purée with cumin, carrot and coriander and carrot juice sauce
☛ Brebis d'Aveyron and gorgonzola with tomato, orange and star anis confit
☛ Coconut, white chocolate and passionfruit cream
☛ Rhubarb mousse with strawberry sorbet, fresh strawberry, cooked rhubarb and yoghurt mousse.
☛ Chestnut ice cream with smashed chocolate coated cocoa beans
I can guarantee that you won't regret pushing the boat out for a meal of this calibre.
La Garriane
15 rue Vallette
66000 Perpignan
Tel: 04 68 67 07 44
ALSO WORTH A VISIT……
Le Divil
9 rue Fabriques d'en Nabot
Three course lunch for 14 Euros
Only fresh, local produce.
Speciality grilled meats
Moules frites with REAL chips!
Tel 04 68 34 57 73
Bistrot Coté Cour
12 rue Pierre Rameil (opposite Archipel theatre)
Traditional French cuisine
Plat du Jour for 9 Euros
Three course lunch for 15 Euros
Only fresh, local produce.
04 68 51 71 29