English books, a smile and hot chocolate
By Ellen Turner Hall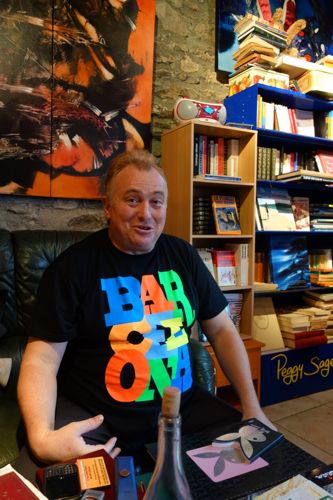 Do you remember the last time you stepped into an old-fashioned second-hand bookshop pleasure?
In this season when so many shops are closed, Lou Florian welcomes you into Les Joyeux Bouqinistes to browse to your heart's content. All the essentials of enjoyment are present: music, comfortable chairs, good conversation and expert advice. Lou may even offer you a cup of hot chocolate!
Artist, writer and philosopher, Lou has created a meeting place for a community of booklovers who drop by to browse or just say hello. Thanks to their generous donations of books, shelves, armchairs and chocolate, Les Joyeux Bouquinistes thrives.
The idea of opening a bookshop came to Lou through a series of happy coincidences. Two years ago, on a whim, Lou and his partner Sandrine bought out a bookseller's stock. Their purchases invaded every room and made moving around their flat impossible.
-Where's the salt?
-On top of André Breton!
A friend proposed they store the books in a space he owned in Collioure. In the spirit of "Pourquoi pas?" they took up the option for three months in order to see if anyone would come and buy. An enthusiastic stream of clients inspired Sandrine and Lou to stay open all year.
Readers arrive from all over the PO to take advantage of Lou's warm welcome, helpful advice and modest prices. With daily donations the stock is constantly renewed. If you are hunting for a specific book not on the shelves, Lou will try to find it for you if you leave your contact details in his little blue notebook.
The shelves house books in French, English, German, Russian and Catalan as well as records and disks. English books are by the door on the left as you enter. Noteworthy is a variety of titles by Patrick O'Brian whose 100th anniversary will be celebrated in 2014. The perfect gift for the master and commander on your shopping list?
Les Joyeux Bouqinistes is open throughout the winter from Thursday to Sunday from 15h30 to 20h00 at 5 Coma Cheric, in the Faubourg of Collioure.