Europe's largest solar power plant in the heart of Perpignan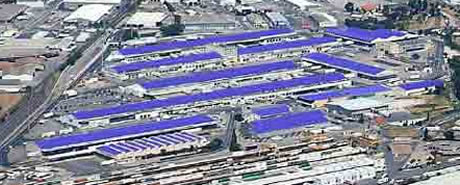 Saint-Charles International in Perpignan, the first European distributor of fruit and vegetables, is now a major producer of green energy.
Europe's largest solar power plant to be integrated into a building was opened on Thursday, October 13th at the international market of Saint-Charles in Perpignan, Europe's biggest distributor of fruits and vegetables.
Over two years, the asbestos cement sheets that covered the 11 buildings on the site have been replaced by 68 000m2 of 97,000 photovoltaic tiles. The installation of 8.8 MW will sell electricity to EDF, and produce the electricity for around 10% of the population of Perpignan. The project has been completed following an investment of 54 million euros.
Hundreds of refrigerated trucks, laden with vegetables from Spain and North Africa Market arrive every day in the loading docks and warehouses of Saint-Charles, generating large amounts of CO2 that the new roof should help offset – in part – through technical innovation, meaning that about 1560 tons of waste will be avoided annually.
With over 2,500 sunshine hours per year, the Languedoc-Roussillon is particularly conducive to the development of solar energy. The project could also proceed further with the installation, in 2015, of 250,000 square meters of photovoltaic tiles covering the entire area of Grand St. Charles, doubling or even tripling production!