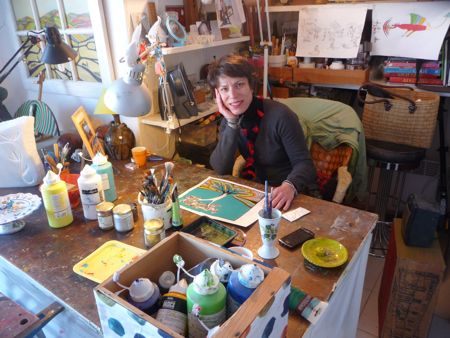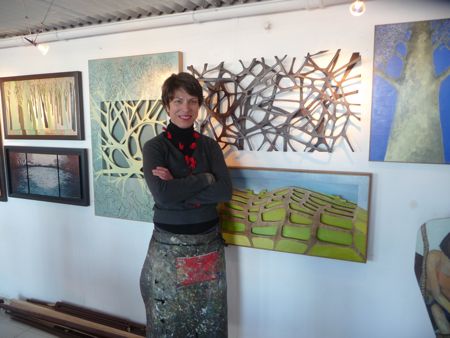 Fetiye Boudevin: A Sculptor's Eye in Banyuls-sur-Mer
by Ellen Hall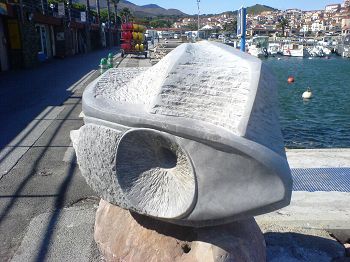 Keep your eyes open along the promenade behind Banyuls harbour and you will find a monumental eye staring back!
The marble sculpture is the work of Fetiye Boudevin. It marks the entrance to her all-white gallery. Spacious and full of light, it is the perfect exhibition space for her works in stone, wood and metal.
A group of painted wood figures seem to be dancing on thin metal legs in the middle of the gallery. The rear wall is covered with tree images inspired by walks in the Alberes Mountains. "I like to play with the light and the space between two planes."
A series of five identical relief carvings picture two women, painted in various costumes from bikini to bling. Is the plate of three lemons perched on the work table waiting to be immortalised in stone?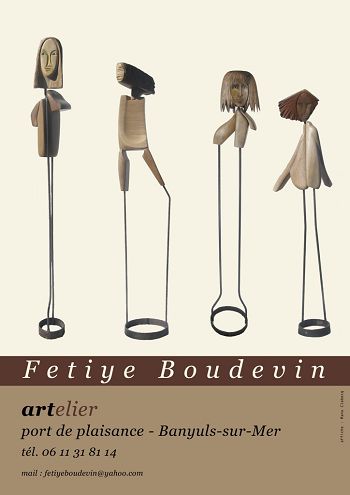 Fetiye's easy smile lights up her face, "Stone is a challenge. Sometimes it's hard, but sometimes it's soft."
She picks up a marble model of trees joined at the base, branching into painted gold leaves. "I like to experiment using different materials."
Although she admires many artists, Fetiye has no particular favourite.
Her heroes are rather the film directors Peter Greenaway and Derek Jarman.
How did this artist from Istanbul come to settle in Banyuls?
Sculpture studies at the Minar Sinan school of art, lead to work in Turkish Radio Television preparing art programs.
From 1992-95 her job involved interviewing international personalities in art, music, film and theatre. To improve her English, Fetiye went to study in London in 1996.
There she organised exhibitions in the East-West Gallery, while working towards a degree in web design at the Kensington and Chelsea College. Her marriage to a Frenchman brought her to Banyuls in 2001.
How does she deal with the transition from sophisticated metropolis to tiny port? Her work.
"I enjoy what I'm doing! This is my choice. Of course, if you live here, you need to travel and see other places." This realisation was the inspiration for a series of painted boule-size wooden globes called "Planet Banyuls-sur-Mer". "
People who live here sometimes think that this is all there is!" Her globes are painted with symbols of Banyuls: sardane dancers, Catalan boats, fish, waves and portraits of villagers.
Fetiye was inspired by her participation in an International sculpture symposium in Almeria, Spain, renowned for its white marble. In homage to Maillol ( Banyuls 1861-1944 ), but also "to leave something for the generation, like my 6-year-old son, growing up today",
Fetiye wants to create a sculpture park in Banyuls. The land, terraces of olive trees bordering the Baillaury River, has been purchased, but the project will perhaps take five years to complete.
You needn't wait that long to see Fetiye's work. Just walk along the Banyuls promenade until an eye compels you to look!