If you're over 18, resident in France and a bit of a softie (last part not a legal requirement) you can claim 20% off the cost of treating yourself to a 'vélo à assistance électrique', as long as the total price is not more than 200 €.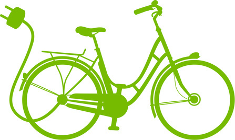 In order to receive your 20% grant, the bike must meet certain conditions:
It must …..
….be new
… not have a lead battery
…be equipped with an electric motor whose power is gradually reduced and finally cuts off when the bicycle reaches the speed of 25 km/h.
This 'grant' will either be deducted from the purchase price or refunded after purchase via the Agence de services et de paiement (ASP) (a dedicated phone line will soon be available on the Agency's website).
For further information, contact:
ASP
2 rue du Maupas
87040 Limoges Cedex 1
Phone: 05 55 12 00 00
Mail: info@asp-public.fr