Cassoulet
Originally the food of peasants, this classic dish from the Southwest of France is a great winter warmer.
Legend tells that the dish was born in the besieged town of Castelnaudary during the Hundred Years War. Indeed, the meal was so hearty and nutritious, local soldiers swiftly dispensed of their English invaders, saving the city from occupation. Hurrah!
Whipped up from whatever ingredients are in the larder at the time, the variations of this dish are as numerous as the towns and villages of the region. In Castelnaudary, your cassoulet will most likely contain duck and pork shoulder; in Carcassonne, they go for mutton and in Toulouse, of course, the Toulouse sausage, with a coating of breadcrumbs.
Even the beans are a point of contention! Our more northern neighbours tend to use flageolet beans but the southern cassoulet-connoisseurs prefer the coco-tarbais beans, first brought to Europe by Christopher Columbus and now abundant in the Pyrénéen foothills.
From such humble stew comes great rivalry, with every town claiming their version as the best. Cassoulet competitions are rife across the region, and there's even a Grande Confrerie du Cassoulet AND an Académie Universelle du Cassoulet, defending the dish's glorious reputation!
Are you brave enough to take on the tradition? Fortunately, Suzanne Dunaway is here to walk us through it!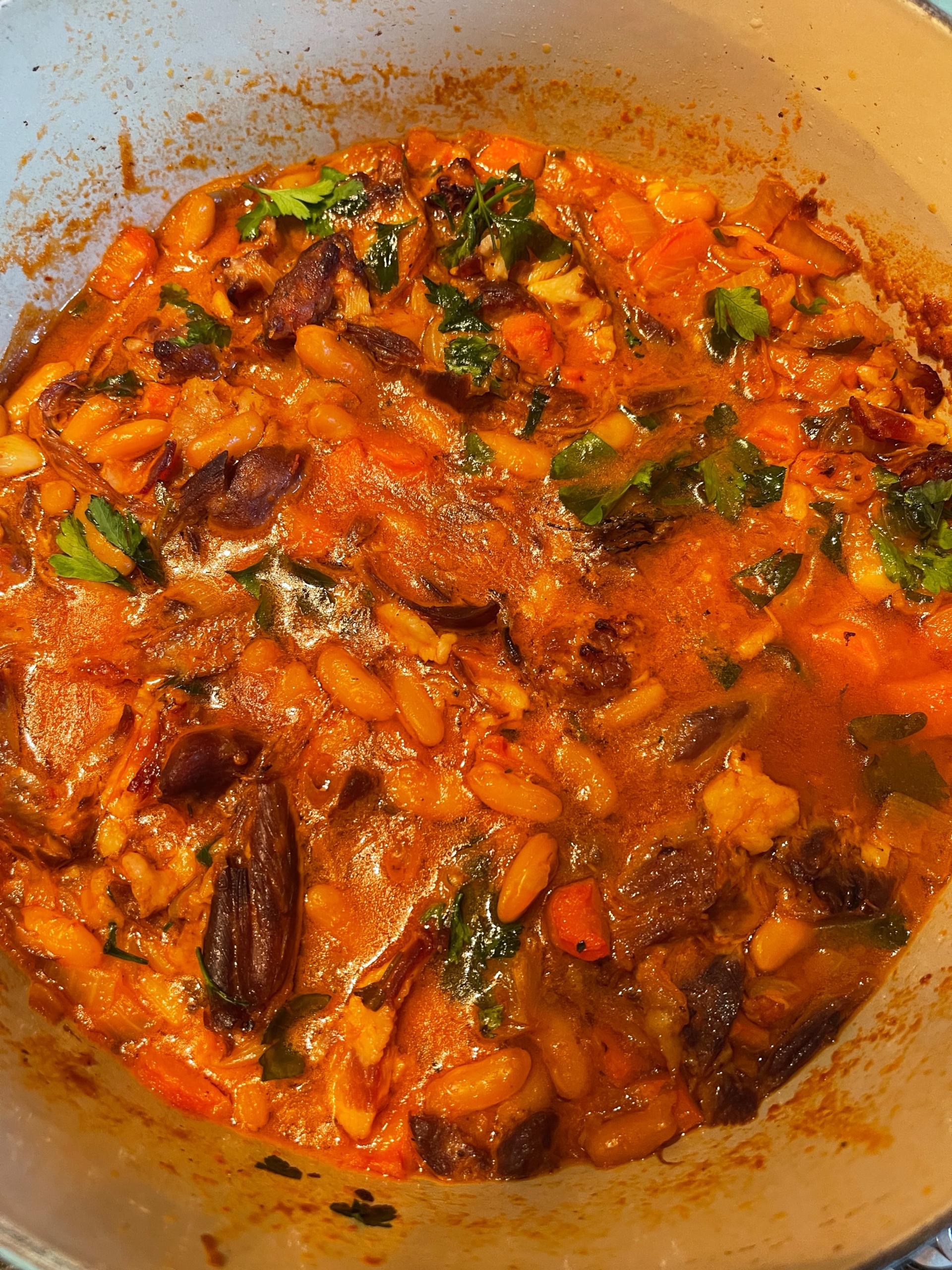 Recipe
Serves 6 – 8
Ingredients
1 pound dried white beans or fresh-shelled borlotti or cannellini beans from summer
8 tablespoons duck fat or half duck fat and half olive oil
6 cloves garlic, chopped fine
3 sweet onions, chopped fine
2 carrots, chopped fine
1 large ham hock
1 pound pork shoulder, cut into 1″cubes
1⁄2 pound pancetta, cubed
1 sprig thyme
1 cup whole peeled canned tomatoes, crushed
2 cups white wine
4 cups chicken broth
4 confit duck legs
1 pound pork sausages (in links, sautéed before adding
2 cups bread crumbs
(Optional: a roll of pork skin with small amount of fat attached to line the casserole before cooking. It must fit all around the sides of the casserole.)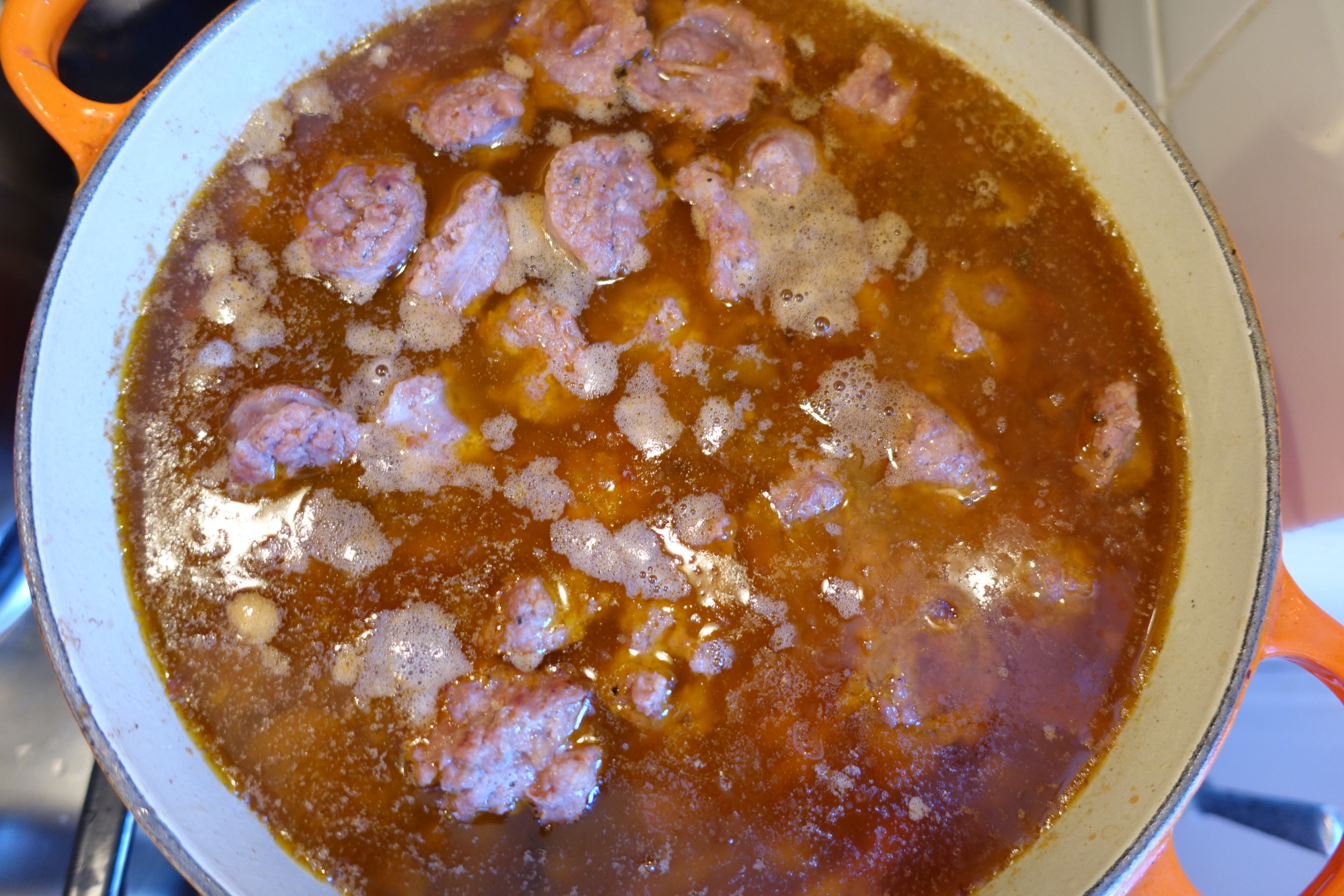 Method
If you are using dry beans, put them in a large pot and cover with cold water and bring to a boil. Immediately turn off heat, let cool and throw out the water.
Cover again with 1/2 water or chicken broth, and1/2 white wine, add 1 of the sweet onions, chopped fine and bring to a simmer. Cook, covered, until tender, about 1 1/2 hours.
Heat 4 tablespoons of duck fat in a 6-quart. pot over medium-high heat. Add the chopped garlic, onions, and carrots and cook until lightly browned, about 10 minutes.
Add ham hocks along with cooked beans and their water and simmer together for 10-15 minutes.
Take meat off ham hocks, discard skin, bone, and gristle. Chop meat; add to bean mixture. Set aside.
Heat 4 tablespoons duck fat in a cassoulet casserole over medium-high heat.
Add pork pieces and brown for 8 minutes. Add the pancetta cut in small pieces; cook for 5 minutes until browned, about 10 minutes. Add the fresh thyme and tomatoes and cook until liquid thickens, 8–10 minutes
Add the wine and broth.
Reduce heat to low; cook, uncovered, until liquid has thickened, about 1 hour.
Meanwhile take meat off of confit of duck legs.
Brown sausages, cut in rounds, in a little duck fat. Stir duck and sausages into the stew.
Heat oven to 300˚. Mix the beans and the stew in a large cassoulet earthenware casserole. Bake, covered, for 1 1/2 hours, then take off lid and continue baking at low heat until thick. Raise oven temperature to 500˚; Spread bread crumbs over top of cassoulet and bake just until crust is golden, about 5 minutes.