Food for Thought with Suzanne Dunaway
Rice to the occasion (stuffed tomatoes/pommodori al riso)
Well, with all of the incredibly beautiful tomatoes here in the P-O, I had to share this easy, delicious, great-for-a-picnic dish with you, even if it does have Italian origins.
There are many stuffed tomato recipes in many countries, but this one happens to be the easiest and so incredibly good as a luncheon dish or accompaniment to grilled meats that it is a staple in my summer menus here in France.
I use yellow, green, and/or red tomatoes. Simply pick out the prettiest ones you can find in a size that looks like a generous serving and go at it!
These are great for picnics, too, as they need no heating or special prep.
I make them simple and plain, but you can push a small piece of goat cheese or mozzarella down in the middle of each to doll them up.
These can also be made ahead of lunch or dinner and simply left in the turned-off oven to await their fate.
They will get even better…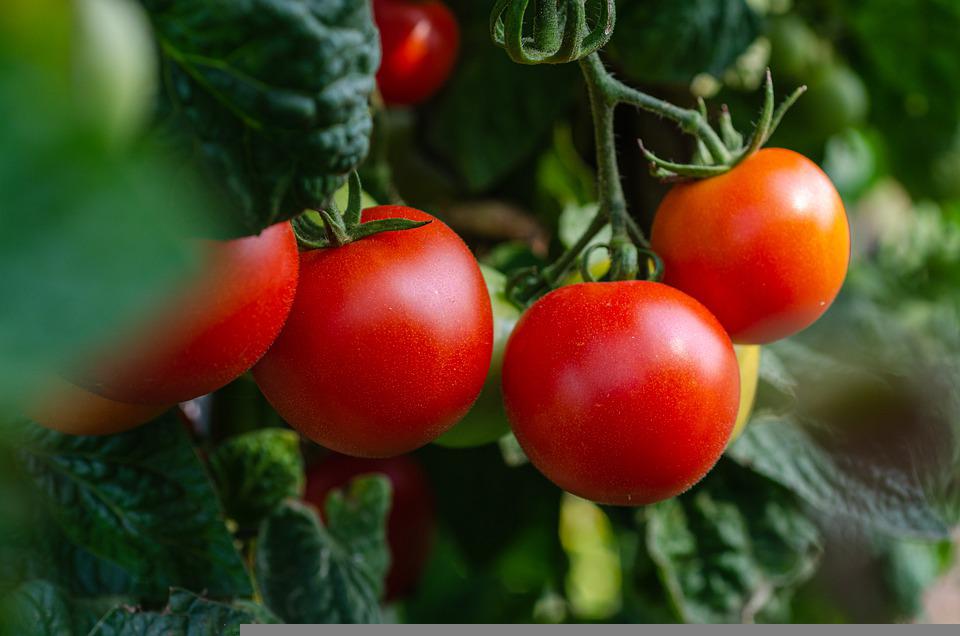 Recipe
Serves 4
Ingredients
4 lovely medium sized tomatoes, fairly firm but ripe
8 tablespoons extra virgin olive oil
4 generous tablespoons paella rice
6-8 fresh basil leaves
2 medium or 1 large peeled potato, cut into bite-sized cubes
Method
Heat the oven to 185°C/375°F.
Choose a baking dish that will hold the tomatoes upright and brush it with generous olive oil.
Cut off the tops of the tomatoes about ½-inch down the tomato and set aside.
Scoop out the tomato pulp carefully into a bowl (or the bowl of a food processor), leaving lovely shells ready for their filling. Place the shells in the baking dish, using some of the olive oil in each shell and a good shake of salt.
Scatter the cubed potatoes around the tomato shells, as they will help hold the tomatoes up during cooking.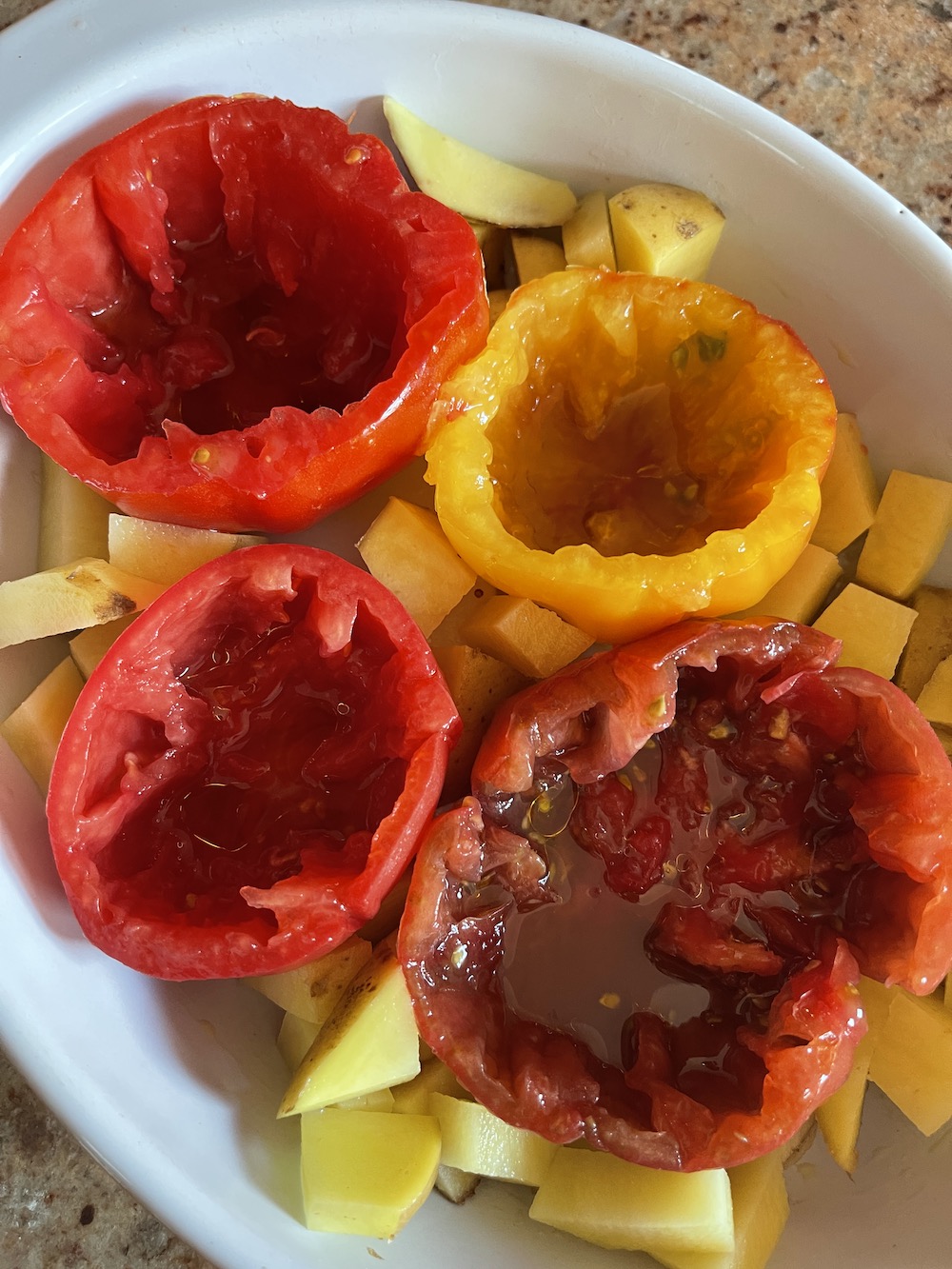 Add salt and pepper to the pulp, the basil leaves, and the large spoons of paella rice to the tomato pulp and pulse quickly just until all ingredients are mixed.
Pour the tomato mix evenly into each shell. If it runs over, don't worry, all is well.
Replace the matching tomato "lids" and pour the rest of the olive oil over the potatoes and tomatoes.
Bake for 50 minutes or until the tops of the tomatoes are nicely browned and caramelized.
Turn off the oven and leave the tomatoes to rest until serving.
If there is too much juice, as sometimes happens with tomatoes, spoon it out and use it for soups or pasta. Delicious.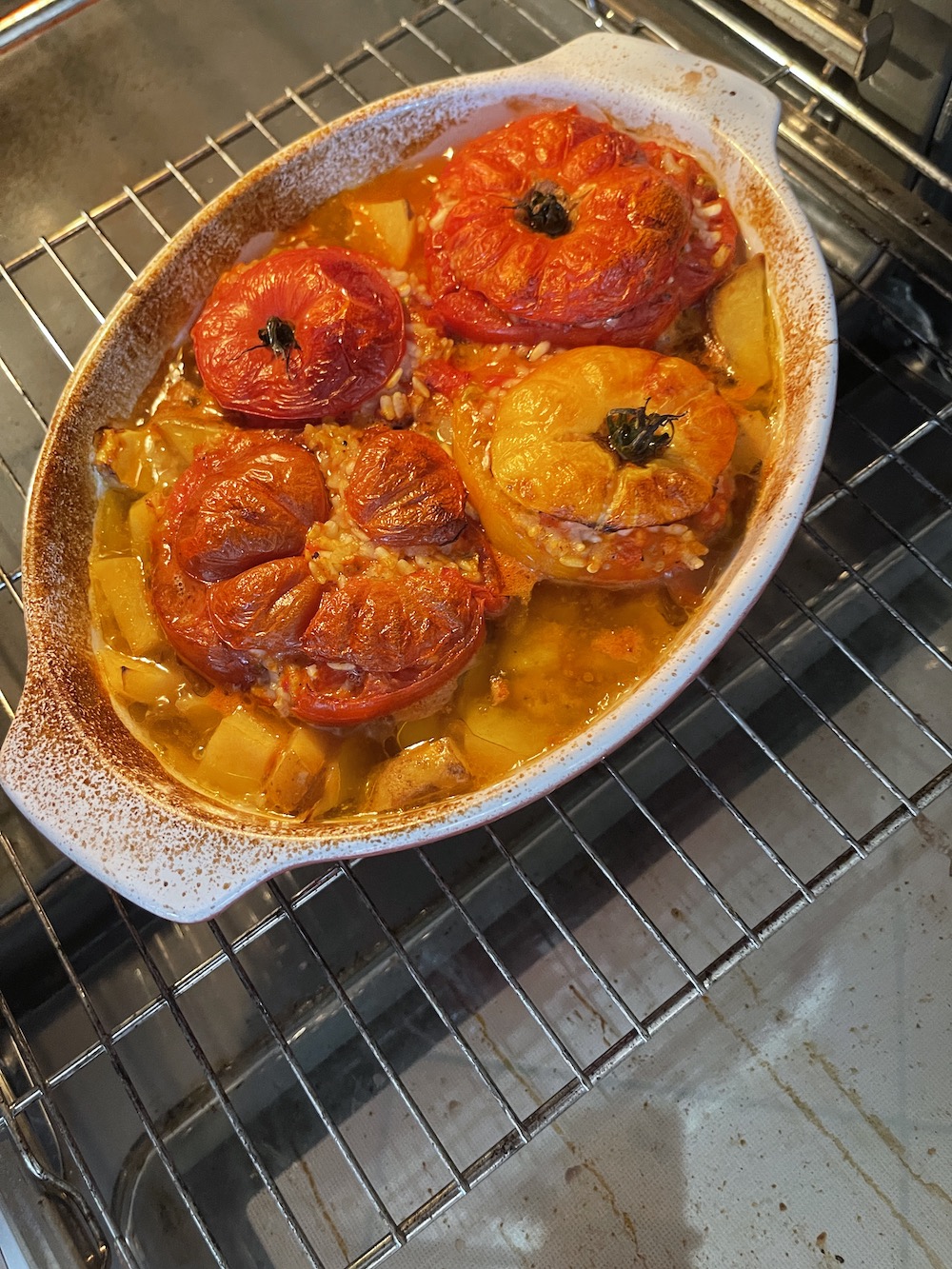 Meet the chef
P-O Life reader, Suzanne Dunaway, has cooked since she was 5 years old, when she made cinnamon pinwheels from her mother's pastry dough.
She LOVES to cook. Some might say she LIVES to cook. The smells, the tastes, the textures…
She is a firm believer in simplicity and creates her recipes in the ethos of 'anyone can cook'.
After years of experience in her own kitchen, cooking schools and private classes all over the world, in this weekly blog, Suzanne shares with us her PO-inspired creations.
All content and recipes are copyright of Suzanne Dunaway.