with Gill Storey
Autumn is the time for planting.
There is an old Provencal saying: "Plantez avant la Sainte Catherine et vous auriez de bonnes racines" – plant before 25 November to have good roots.
As sunlight lessens, the sugars in plants turn from leaf to root production, aided by moist damp soil, and a new plant is able to develop roots without demanding frequent watering.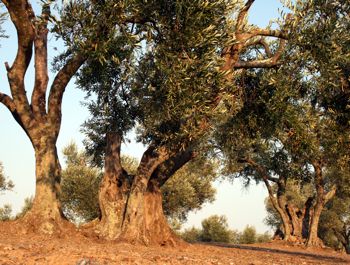 Bare-root plants, such as fruit trees and roses should go in now.
Autumn planting is best for container-grown plants too as the weather will probably keep them well watered. BUT, in a drought, watering must continue for newly introduced plants which have not had time to develop good root systems.
Rather than frequent top watering for new trees and shrubs, they should have deep watering every five days.
This encourages them to work hard for their water and develop deep root systems while top watering encourages shallow roots.
At planting time insert a tube into the ground up to a metre's depth to get water down to the root. Do not do this for olives which do not like watering.
Some suggestions for planting include:
Trees
Dracaena Indivisa – cordyline palm
Albizia Julibrissin "Ombrella" – Silk tree with pretty pink pompoms
Acacia Dealbata "Reve d'Or" – winter mimosa. Seen everywhere round here but still a marvellous source of early spring colour especially in larger gardens.
Acacia melanoxylon – the blackwood wattle – with dark leaves and white flowers.
Lagerstroemia Indica – the lilas des Indes – crape myrtle. Pink spires of flowers in midsummer and good autumn colour.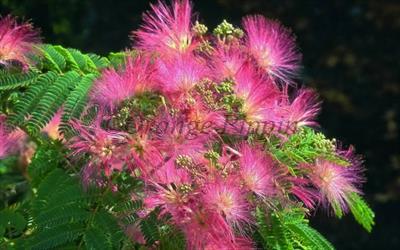 Others
Rosa Banksia alba – a climbing rose with abundant white flowers and violet scent
Mandevilla laxa – Chilean jasmine
Salvia divinorum – miniature meadow salvia (pale blue)
Salvia x Indigo Spire– blue spire sage
All these and many other plants may be found and illustrated on the RHS site , Wikipedia or by Googling.
Here in the south, on the plains we may not get frost at all, as in Cornwall or south-west Ireland, but up in the hills there is often a heavy frost at the beginning of November, so we need to prepare for it.

Towards the end of the month, think about protection, mulching up plants, covering seedlings with a cloche or tunnel, or wrapping shrubs in fleece or straw.
Have the equipment ready and then you cannot lose precious plants when the météo announces that frost is on its way. Some creatures also need protection, lizards and hedgehogs love piles of logs or vine souches so keep them safe to continue pest removal next year.
Frost can be a friend.
It kills off a lot of pests and others should be discouraged now with Bordeaux mixture, when fruits have been gathered. Some crops (like kakis – persimmon or Sharon fruit) are not ready until after the first frost and some such as garlic need frost to germinate well.
Your lawn may be looking scruffy and untidy after the dry summer.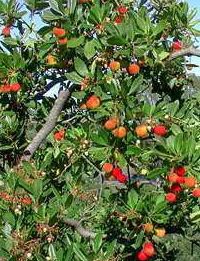 Remove the large weeds individually, or paint them with a mixture of wallpaper-paste powder and glysophate.
This means that you kill only the weeds. Scarify the grass: rake it with a spring rake, take up all the dead grass and moss which can accumulate around the base of the plants, scatter some soil and sand on the bare spots, and sprinkle grass seed where it is needed.
Give it a final cut with the blades set high – and then think about having the lawn mower serviced.
Flower Garden
1. As perennials die back, tidy away the dead stalks, remove rubbish from round the base, and mulch with compost.
2. Plant out spring bedding as the current plants die off.
3. In pots and baskets, as they need refreshing, remove the old plants and roots, put in fresh pot compost and plant with spring bulbs (crocus, muscari and ornithogale – Star of Bethlehem) and spring flowers such as pansies, primroses and trailing ivies.
4. Slip some bulbs into the lawn when it is tidy.
5. Keep up with garden hygiene. Sweep up dead leaves and protect any ponds with wire netting. Take away mildewed and mouldy leaves
6. Plant sweet peas for an early show in summer.
7. Plant any ornamental trees or shrubs. .
Vegetable Garden
1. Lift and divide rhubarb crowns.
2. Harvest potatoes, carrots and beet.
3. Take cuttings of currant bushes.
4. Later in the month plant broad beans and peas for early cropping.
5. Plant onion sets.
6. Split garlic corms into cloves and plant them.
7. Cut out fruited canes of raspberries etc
8. As you clear areas of the vegetable garden, cover with black plastic – well anchored. Old plastic sacks (for compost etc) will also do. Or old carpets. This keeps the light off the ground so that weeds cannot flourish.
9. Keep planting lettuces etc. but protect them with a tunnel.
10. Now that restrictions are over, enjoy a bonfire, but make sure that it is well covered. Do not let it flare up but close off all openings with weeds so that there is a continual slow combustion within, which is much more effective for killing seeds and bugs. The perfect bonfire shows practically no smoke.
END NOTE
The continuing dry weather has made cleaning up the vegetable plot more difficult because the ground is rock hard, but autumn is a time to enjoy with the different smells in the air, the colours of the vines and the deep hues of the remaining grapes.
The cooler air makes it enjoyable to work out of doors throughout the day. Fruits are still ripening and the hedgerows can help stock up for the winter with figs, wild apples, blackberries, sloes, walnuts, hazelnuts and fungi.
Now is the time to make sloe gin:
Fill a litre pot (bocal) a third way up with sloes, put in about 3 oz (75 gm) of sugar, top up with cheap gin to the brim, close the pot and stand in a dark place, turning the pot daily, until Christmas.
Then drink the lovely red result. Ideally you should make three pots (one for this Christmas, one for the coming year and the third to mature for next Christmas) and astonish your French neighbours.
© Gill Storey 2010