Catalan Cuisine
Catalan cuisine is based on the region's colourful historical background and reflects Spanish, Arab and Jewish influences. The traditional 'plat régional' varies from mountain to plain and according to the season, as the authentic dish tends to be dependant on local produce.
The Catalan tradition for an "-ada" (a collective meal for many, based around a single ingredient,) often creates some highly unusual, charming and community spirited festivals where the whole community meet up in the place. Some examples are bullinada, (fish stew) cargolada, (grilled snails) ollada, (a winter stew) escalivada, (grilled veggies) calçotada, (chargrilled onions)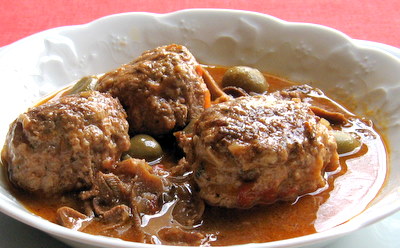 Try 'boles de picolat' (meatballs cooked with white beans in a spicy sauce with olives and mushrooms) or if you prefer fish ask for suquet (based on fish and shellfish and similar to a bouillabaisse.)
The more adventurous amongst you might wish to try boutifares blanques i negres (catalan black or white pudding) or other charcuterie such as mountain ham, dried sausage. Don't miss saucisse catalane, the traditional sausages of the region, paricularly nice barbequed and accompanied by aioli, (a tasty garlic dip or mayonnaise) and pà amb tomaquet (lightly grilled slices of bread rubbed with garlic and tomato with a trickle of olive oil.)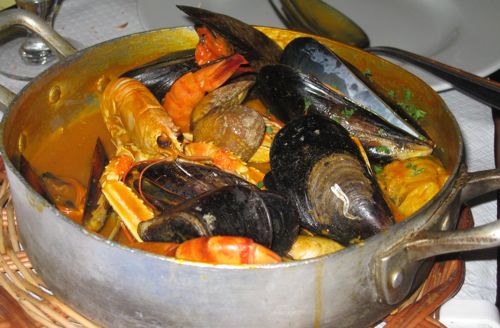 Another traditional dish is ollada (pork stew with an added touch of rancid lard!) based on cabbage, potatoes, white beans and, of course, pork. The dish is of peasant origin and used to be prepared at the beginning of the week and added to daily with whatever meat or vegetables going, hence many variations.
The return of the fine weather is traditionally celebrated with a cargolada (grilled snails, local sausage, black pudding and lamb chops grilled on vine twig embers). If you book an outside meal at one of the many fêtes or events in the region, this is fairly typical of the menu, with a good Roussillon wine to wash it down!
Why not try out a few Catalan recipes to give you a taste of the region?
Pa amb tomàquet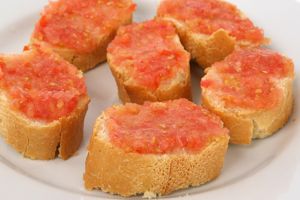 This is very simple and quick to make and will often be presented in a restaurant at the beginning of a meal.
Ingredients
thick bread (optionally toasted)
garlic
tomato
olive oil
salt
Peel the garlic, crush slightly and rub against the bread Cut the tomato in half and rub the tomato juice and flesh against the bread. Drizzle olive oil over it and season with salt to taste …..et voilà
Here are the links to some more Catalan recipes