[(I met Jenny Rhodes for the first time in 2008, in their deliciously cosy cottage in the heart of Les Angles, just a five minute walk from the ski slopes. Rosy, fun and delightfully chatty, she explained to me that she was in the middle of pickling everything that moved. I stood very still…. and asked her whether she would be interested in providing a 'gossip in the mountains' type of column for Anglophone-direct readers. She has never looked back!)]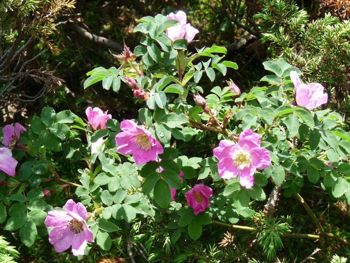 What a month it's been.
For weeks we have had batches of athletes training for Triathlons and other sporting events staying with us. And I am thrilled and delighted to say that Paula Findlay [one of our girls] has just won a big event in Kitzbuhl this afternoon. It certainly spices up a Sunday afternoon.
I have watched in awe as they plough their way through weird food. Soya this and soya that, no fat, loads of protein and tons of cereal. So focused are they that they really do deserve to do well. Last year I watched carefully what they ate and tried to follow, using smaller quantities. But I gave up after my willpower wobbled and failed.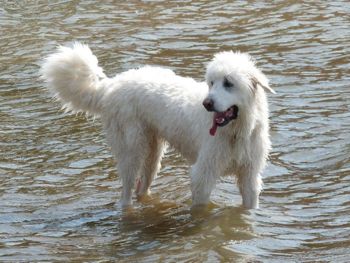 I would like to take this opportunity to thank Courtney O'brien Brown for the lovely article on Pyrenean Mountain dogs in the P-O Life newsletter. Our lovely dog Lili came from the Monastere des Ermites-de-Marie. We have always laughed at the fact that when our church bells ring their "flurries" Lil sings with them. She sits and looks longingly at the church tower and sings until the very last chime. We have always thought it was because she is waiting for her Mum to sing back. Now I know their dogs all respond to the bells. I do know that some of the Pyrenean dogs have had some bad publicity but I am sure that it is the way they are treated that makes them vicious. OK, I know Lil doesn't like someone trying to pinch her food but the rest of the time she is just a 55 kilo bundle of nonsense. And boy oh boy do we know what she weighs when she tries to jump on your knee when sitting on the settee. There is a flurry of white fur and an enormous sigh, the TV becomes a total blackout and the air is knocked out of your lungs. What a great way to spend an evening.
At last the weather has changed for the better. We seem to have low cloud for weeks with just breaks in the mornings when the sun has come out for a couple of hours and then without warning down comes the cloud. It has been more like October than June.
I am now on my fitness regime. I am walking down in the forest and across the reservoir wall and back. Slow progress I know but it's progress all the same. I will build up slowly to being able to walk round the lake. I don't feel quite up to riding a bike yet but my day will come and I can't think of anywhere nicer to do it. I know I harp on about the flowers but they are lovely. The rock roses are beautiful this year and the Forget Me Nots are in stunning clumps throughout the forest. It's a magical place now.
We have now a quiet spot in our calendar so it's time for some maintenance and painting. The gate needs painting and a fence needs a coat of something to preserve it. Why is French paint so awful ? It never lasts, flakes, peels off really quickly and costs a fortune. So it's brushes out and paint on.
I have never been one for technology and funky little machines or gadgets but I was given a Kindle for my birthday last month and I love it. I have always loved the feel of a good book and was a bit reluctant to try this flat thing without pages to turn. But I am a convert. I have read more books in this last month than I have read for ages. It is very tempting to go online and order half a dozen at a time. When would I ever have gone out and bought six books? Amazing. I still love a good book but this gadget is here to stay.
Well I feel a cuppa coming on and a flick through my Kindle so I'll close now.
'Til the next time.