AND HERE IS THE NEWS…
….

a quick glance at the latest local news with Caroline Manson
Gunshots in Perpignan
Several streets in the Bas-Vernet district were cordoned off last Sunday morning following a shooting. Apparently an 'altercation' broke out around 4am, culminating in the shooting 4 hours later. The victim was injured in the face and the leg, and an enquiry is underway.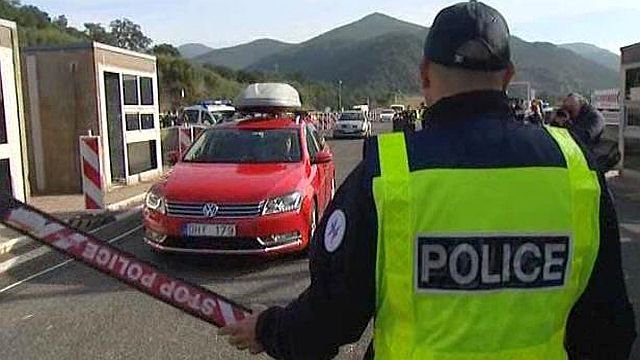 Prisoner hangs himself
An inmate was found hanging in his cell on Friday morning, having left a letter explaining his actions. Prison officials attempted to resuscitate him but to no avail. The 27 year old man had just started a long sentence.

RN116 to be closed for one week
Since late May, subsidence has been observed on the N116 – caused by leaks from the water reservoir in Villefranche-de-Conflent. Major underpinning works are required and the road will have to be completely closed to traffic for one week. The date has not yet been decided but the closure of this main road between Perpignan and the Ski-slopes is likely to be during the 'Toussaint' holiday period – later October/early November.
France/Andorra border dispute
Having been friendly 'neighbours' for centuries, the border between France and Andorra had never been officially delineated. Following a Treaty in 2012, the border posts have now been laid out in the Porta region – and the Mayor is furious. He has discovered that he has lost 25 hectares of land – which may not sound much but it is an area rich in water which the Andorran's will now use for the town of Pas-de-la-Cases. A Franco-Andorran ceremony to inaugurate the new border posts will take place in the next few days – which might prove to be an interesting event!

More problems in Perpignan prison
With an 'overpopulation' of 200% feelings are running high at the prison and the Supervisors are at the end of their tether, not helped by several incidents this month. A violent inmate who had already tried to strangle a guard and fractured the nose of another who came to help, was incarcerated again for another case. He was put in isolation and then smeared excrement all over the walls because he wanted tobacco (not entirely sure how this helps ..?). In another incident an inmate started shouting and spitting and then gouged his own face with a broken plate, and in the same week another prisoner (who had already twice set fire to his cell) attempted to stab the supervisor who delivered his meal, with a blunt plastic knife that he had sharpened to a point.
And finally…..
A police patrol noticed a strong smell of cannabis coming from a car parked in a dark area of a car park at 1am last Thursday. When the officers approached, one passenger tried to hide bags containing 2kg of cannabis resin under the seat. The other two passengers had 1900 euros on them. The two passengers said they had the money because they came from Toulouse and wanted to buy a vehicle; the 21 year old driver claimed that he did not know his passengers and only wanted to help them by driving them to an ATM and the first time he saw the cannabis was when the police arrived. They now have the opportunity to explain all this in court.