with Madeleine McMullin
I go out walking with a group of friends most weekends. A lot of the time we are up in the mountains with a picnic when lunch comes around, but we've had a series of landmark birthdays in the group (everything one ending in 0 from 40 to 70) which has led us to investigate walks with restaurants on route and I thought that I'd share them with you. Some are fairly gentle, some are a bit more challenging, and they nearly always involve places that can be easily reached by car for those non-hikers among your friends.
Las Illas to Manrella, La Vajol (2 – 3 hours not including lunch, easy)
Park in Las Illas next to the Trabucayres restaurant, and take the path labelled Chemins de la Liberté that leads in front of the restaurant. Walk up through the wood. At first you will be on a narrow path, skirting a fence and then on more of a track where it levels off slightly. After about 20 minutes you will get to a metal gate. Go through it and in a few yards you will find a track. Here you have a choice, if you are only after a short walk and are feeling hungry, head left down the hill towards La Vajol and the restaurant which is about 20 mins away. If you want a bit more exercise, go right up the track to visit the castle which adds about an hour to the walk.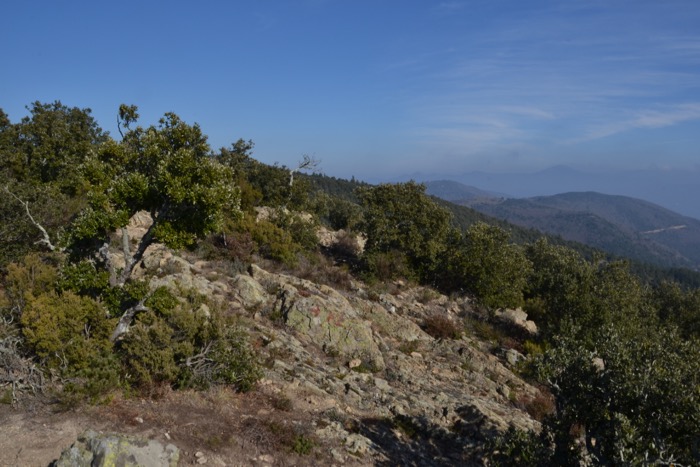 After about 30 mins you will cross a cattle grid and there is a sign post pointing towards variously La Vajol, Darnius, Maçanet, Tapis and Céret. Just past the sign there is a second path through the woods with a sign pointing to the Castell de Cabrera which is about 200m from there. The views from the top are beautiful, although a little hazy on the day that we went and well worth the short scramble up the rocks at the end of the path.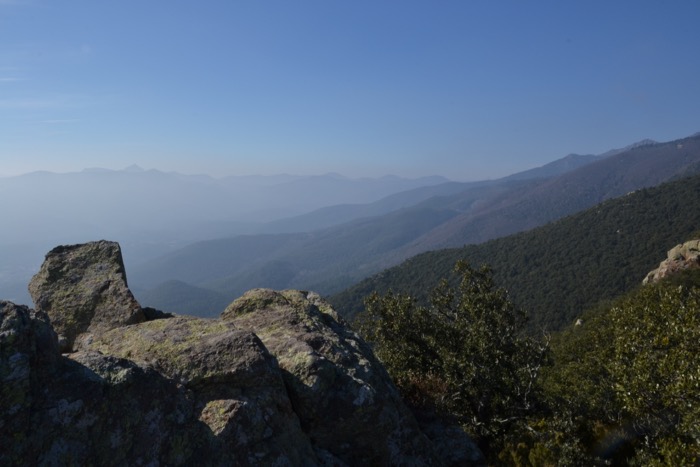 Once you've had your fill of the scenery, return the way you came and follow the track all the way down the hill to the road past a stone built house and the font del cucut (cuckoo in Catalan). Keep left at the one fork that you come to, which is marked with a yellow cross in any case.
Once on the road turn right again, down the hill and the restaurant is on your right about 200 yards away.
Don't forget to book a table as although it is a large place, it is very popular all year round. In summer, take your swimsuit as you can use the pool and spend the day there if you eat lunch.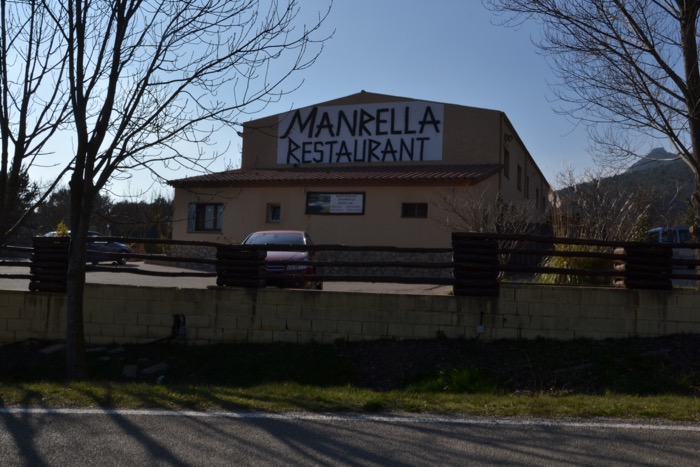 The meal is good Catalan food and plenty of it. The menu of 3 courses with wine, bread and an aperitif included costs €18. They also do seasonal specialities such as calçots, although we didn't try them.
I had snails to start which were succulent and spicy in a rich sauce, but all of the other dishes were also reported as good by my companions. I followed this with a pork cheek which was also delicious. It came in a vegetable sauce and with Spanish style roast potatoes, by which I mean diced small. The others tucked in to lamb, fish, salt cod, boar and veal in a wild mushroom sauce. All plates were clean by the time we'd finished and everybody was very appreciative. The choice of desserts is not huge, mainly consisting of flan and crème catalane, but they are home-made and very tasty.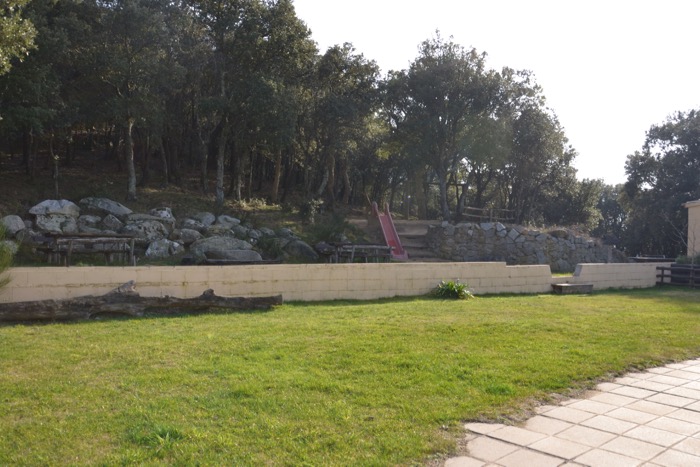 Once you've finished eating and drinking, head out of the restaurant and back up the hill the way you came, probably without the diversion to the castle. It's signposted Las Illas all the way, so difficult to get lost, even if you've over indulged at lunch time.