I felt very much like a puppy in a squeaky toy shop when I visited the Guerido Zoo, (renamed Sud Croquettes) pet shop 'extraordinaire' in Mas Guerido near Perpignan.
Boasting bouncy balls, bowls, baskets and bedding, toys, tugs and chews, for every imaginable kind of pet, Geraud Mathy, owner of this family run business, is not just a confirmed animal lover; he is also a specialist in nutrition for dogs and cats. Passionate in his quest to answer your nutrition questions, he proudly described his new line in healthy, high quality dog and cat food 'croquettes'. Produced by small companies, working only with local farmers, Belcando and Leonardo are totally natural, containing no artificial colouring, flavours or preservatives, no genetically modified products with all meat coming from products that have been declared fit for human consumption. I declined a 'dégustation' but admit I was tempted!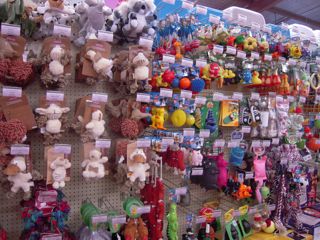 If you're a bit of a softy like me, and want to get that purrrrrfect pressie for you little tiger, or big lion, this is the place to visit!
A shop run by animal lovers for animal lovers!
Pet Nutrition Experts – Sud Croquettes / Guerido Zoo
Mas Guerido, Cabestany – Phone: 04 68 66 02 21