[(I met Jenny Rhodes for the first time in 2008, in their deliciously cosy cottage in the heart of Les Angles, just a five minute walk from the ski slopes. Rosy, fun and delightfully chatty, she explained to me that she was in the middle of pickling everything that moved. I stood very still…. and asked her whether she would be interested in providing a 'gossip in the mountains' type of column for Anglophone-direct readers. She has never looked back!)]
March 12th 2011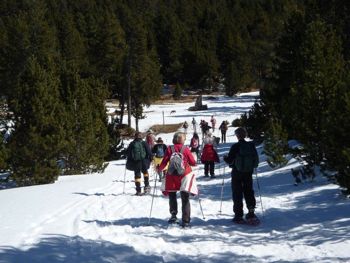 This Mumble is based on hear say and second hand information which has been passed on to me by various methods. I am at the moment laid low with a "bad back". Now let's put this into perspective. Probably 98% of the population have a bad back at some time in their lives. How many times do we hear someone say "oh I've just put my back out" Well all I can say is ………nuts.
My back is well and truly out. I can't walk to the village, it takes three attempts including sitting on the wall twice to get up to the church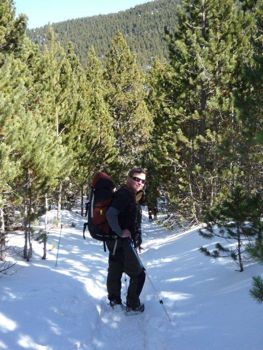 and I feel like I am 120 years old. And it's no joke.
I do keep reminding myself that there are many people much worse off than me but I am a great big "poop" when it comes to pain.
So on to a second hand Mumble. Mike was out on Thursday last week, snowshoeing with a group of folks. They walked up to a refuge which has a BBQ area and they sat and cooked sausages etc in the sunshine. I think all had a great day. Ian and Angela with their family joined in and it sounded like a great time. Ian is an expert in being able to tell if a squirrel is left handed or right handed. It's all to do with the way the pine cones have been eaten so he tells me. Hmmmm These Mountains Leaders do spend a long time learning these unusual snippets of information.
For the last four weeks the village has been putting on an amazing entertainment of fireworks and torchlight descents.
The village has been very busy for weeks now and the snow has held up well, except for a few warm days when the snow has turned a bit slushy in the afternoons. We are expecting snow this weekend so that should freshen everything up nicely.
I am amazed how quickly the road clearers come out, I can always tell when it snows over night because I am awoken by the crash of the snowplough into the side of our house. Every year we think we should have it rendered to make it look a little better but it does seem a bit pointless when it would just get knocked off the following winter. We do have an exceptionally narrow lane outside and we tend to weigh up the pro's and cons of having the road clear or being snowed in. At the minute the road is clear and the wall is holding up OK so I think we will be waiting a bit longer.
This is the time of year when I start making plans for the garden. Well, what I try and call a garden. For five years I have tried to grow plants and shrubs but they just don't like the cold. I have bought plants with labels that say safe up to -20 and at the first sign of frost they curl up and die. Slowly the garden is being covered with decks and fencing to try to protect the plants that have survived but nothing grows profusely. I have a five year old cherry tree that I was promised would be fine but I am still waiting for blossom to appear. I did plant bulbs last year and they are starting to show their tips, I do love June daffs.
Hopefully my next Mumble will be a little more lively with some good bits of info. Hmmmm
So from a pathetic Mumbler I wish you well
March 22nd
Well after my last effort at a Mumble, and such a dreary one at that, I thought I should write something a bit more uplifting. A bit more "not feeling sorry for myself" After reading most of the English papers on line I really don't think I should moan at all.
So yesterday, as it was lovely, bright and sunny I made a start on the duvets and washable items in the barns. It's huge job and one you can only do when the sun is shinning and it fools you into thinking it's Spring.
And thinking of Spring a couple of weeks ago Mike and I went down to Perpignan and were greeted by miles of pink and white blossom balancing on the bare branches of the fruit trees. No leaves just blossom. How clever is that?
It is a totally different world down there. I'm not an expert on blossom and don't know my cherries from my peaches but the flowers are stunning. I read a book many years ago and on the front was a picture of the Canigou mountain with blossom trees in the foreground. And I have to admit I thought it was a staged photo, nothing could be as beautiful, but oh yes it is. There is snow on the mountains and blossom in the valleys what more could the eye and brain want after a long winter.
I have just been up into the village and there are quite a few people skiing even though it is mid week. The café was busy and the market was on so everything looked quite bustling.
I don't know how much cheese the market holders expect people to eat but I did notice a rather large number of cheese stalls. You really have to keep an eye on the prices when buying at the market as some of the cheese can be hugely expensive. And it is easy to be swept along in a flurry of tasting and smiling and remarking on how good it all is and you find you have racked up a bill for 40/50 Euro. You don't want to look like a tight Brit so you smile and pay up. But you learn and you learn fast. That slither you just tasted was probably 15 centimes and he wants his money back, remember you don't get something for nothing. And remember to watch which way you edge your hand when the knife hovers.
Weekends are always busy at this time of year and I enjoy sitting quietly with a cuppa in my own garden. Sad old goat that I am.
The snow still looks very good and I know that I do harp on about how good our pisteurs are, but they do work hard well into the night to get everything wrinkle free for the next day. I sit in an evening and watch their headlights plough up and down the mountain, methodically smoothing out the lumps, bumps and hollows that have been made in the day. Maybe when I "grow up " I can be a pisteur. Hmmmm.
I remember when I was a little girl I wanted to be a bus conductor and dreamt of being able to swing round the pole at the bottom of the stairs just like the lady did on our school bus. Mum and Dad were not amused, and now in my latter years I aspire to be a pisteur. I wonder what they would think of that.
Well I have rattled on long enough and now I am going to make a cuppa, but there is a chill in the breeze so I think I may just sit inside and watch the News. I think I have seen enough 'build your own house' and antiques programmes to last me a lifetime, also enough Marples and Poirots to apply to be their assistant. When will they stop showing repeats? But that's another moan and another Mumble.
Take care all.