MOUNTAIN MAMA IN LES ANGLES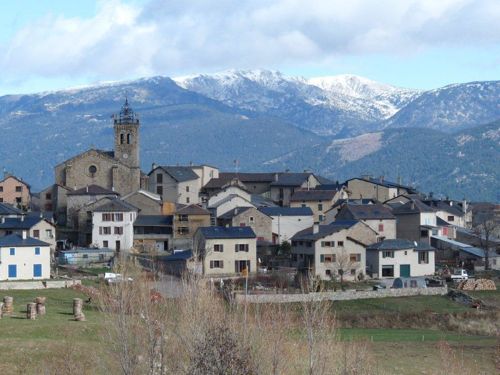 Very slow start to the winter season up here. We had a fall of snow some weeks ago and then beautiful warm weather which melted quite a bit off the lower slopes. Mike gets grumpy about it but I am delighted that I don't have to stagger through the wretched stuff. Now that I can't ski with all the screws and plates in my leg I have turned into an Ebenezer Scrooge and "Bah Humbug" to snow sports. I was never a great skier but did enjoy the odd drift down the hill on a sunny day.
It has been a weird year. Sadly a couple of men from our allotment group passed away and then earlier this month our next door neighbour died. He had been ill for some time and I tend to think his wife was greatly relieved when he left this mortal coil. Not sure of the correct procedure I rapidly e mailed our font of all knowledge, Kate, to ask how to proceed.
Some years ago I lived in the tiny hillside village of Escouloubre. When one of our friends passed away I never thought of the French/English divide and so I changed into smart clothes and went round to see if I do anything to help his sister. I knocked on the door and was asked to go upstairs. This was no surprise as in small villages the cellar is always the ground floor and the living space is upstairs. The house was full of women. Small hesitation: they were all cleaning, polishing and mopping!
Not having much French I gave my condolences to the sister and was then ushered to the bedroom where I was shown the bed with a mighty flourish. It was covered in the most beautifully embroidered white linens and frills. I suddenly realized that I was being shown our friend in all his laying out finery. Not what I had expected so I was, as you can imagine, very wary of how to proceed with my next door neighbours loss.
Fortunately, this did not happen the same way. I found only my poor neighbour very agitated over a pile of papers on the dining table. Apparently as I found out later there is someone at the Marie who will come and help and advice with the paperwork. Which is good to know.
The service was the first Catholic funeral Mike and I had attended and we both tried to sit near the back. The undertaker wouldn't hear of it and we were ushered nearer the front. I have to say it was a beautiful service, the young Catholic priest had a wonderful voice, the congregation were in tune with the responses and it turned out to be something I would not worry about in future.
In fact I found it very moving and amazingly calming at such a sad time.
Moving on to something only slighter brighter, our daughter and grandson were supposed to come down for Christmas and should be here now but as always the car was the problem. She took it into the garage for a service and the wretched thing need a new catalytic convertor. Not such a nightmare in the UK as the part would be just down the road, but on the island of Guernsey it is not so easy. So Saturday ferry missed. Last ferry for France goes on Monday and a loaned car from my other daughter means that Bex should arrive Tuesday evening.
What would we do without our wonderful daughter Emma who unfortunately can't come for Christmas as she works for the prison service and is working her second Christmas on the run. Amazingly she doesn't mind and is quite happy to be on duty. We will Skype etc but it is not quite the same as being together. But then, I'm just her silly old Mum.
So as the Christmases get closer together, and the years get shorter and we get older let's all make plans to fill all of our days with something light, bright and full of excitement.
I am going to try my hand at some sort of art. At the moment I can only draw the curtains so it will be a new adventure.
Have a wonderful time, Merry Christmas to all our fellow Anglophoners
Take care of yourselves
Jen [the Mumbler] and hubby Mike
Also a Happy, Healthy and Peaceful New Year
Jenny's husband, Mike, is a qualified International Mountain Leader/Accompagnateur en Montagne and is one of the most experienced leaders in France, having walked and climbed in the Alps & Pyrénées for over 40 years.
Resident in Les Angles, Mike will give you a day to remember so don't forget your cameras!
For safety reasons the group size is limited, so book your place early
Contact Mike & Jenny Rhodes on 04 68 04 37 28 or email: mike.rhodes@free.fr
If you would like to visit Les Angles, Jenny and Mike offer comfortable accomodation in their delightful barn conversion apartments on the edge of the old village of Les Angles.