New show with old friends
The permanent collection:1915-2020
The winter exhibition at Collioure's Musée d'art moderne is a survey of artists' visions of Collioure over the last hundred years, starting with Augustin Hanicotte's drawing classes for the gosses (kids) of Collioure (1915-1944). He depicts groups of children painting, climbing trees or picking flowers. Movement is also the subject of his drawing of fishermen tugging on ropes, pulling their boats up onto the Boramar beach.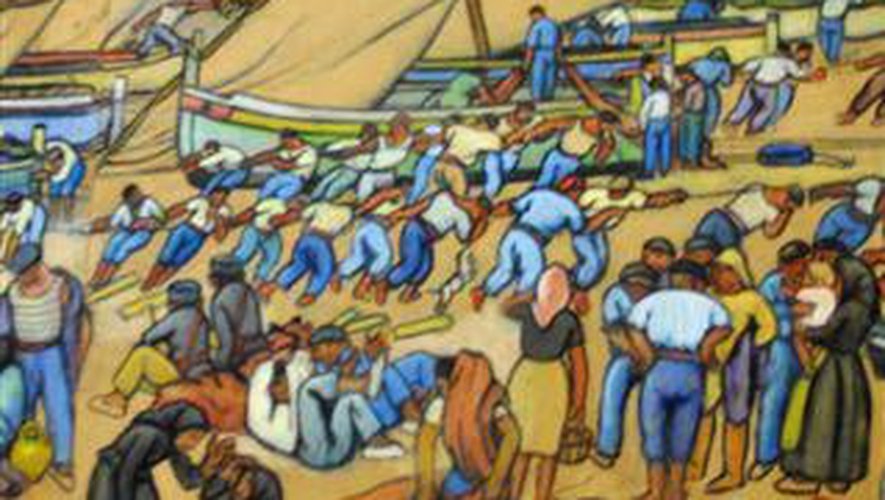 The physical struggle of the fisherman contrasts with Rolande Déchorain's serene view of the village from the Fort Miradou looking down onto a white sea. A visitor discovering Collioure, she was struck by the picturesque: long lines of nets drying on the sandy Faubourg beach or a peaceful street scene with mother and child, drying laundry and a reader. François Bernardi (one of Hanicotte's gosses), who worked on the boats and knew firsthand the hard life of the fishermen, drew their faces, hands and feet scored with dramatic black lines. He paints the vineyards rising directly from the back of the beach, as if crushing the village below.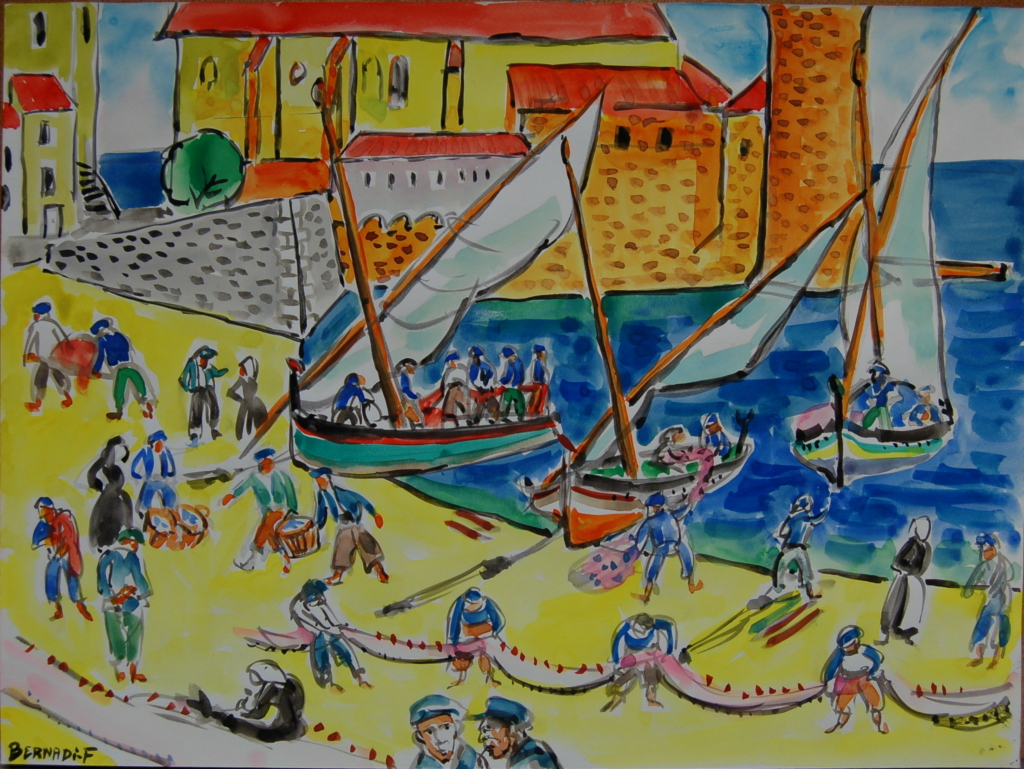 A refugee from the Spanish Civil war, Balbino Giner, whose portraits of the Pous family line the walls of the Templiers bar, is represented by a striking self-portrait and an angular ink drawing of two boats with a wavy line to suggest the mountains beyond.
More recent works are remarkable for experimentation with a variety of size, shape, material and sheer playfulness. Don't miss the 3-D ducks of Joel Desbouiges on a background of motifs from Matisse and army camouflage.
In a collection that takes inspiration from the people, the vines, the boats and the ever-changing moods of the sea, what, you may ask, is permanent?
The exhibition runs from 22 October 2022 to 14 May 2023.
Info: www.museecollioure.com
Watch this space for news of the summer 2023 exhibition which will concentrate on the year 1940 and the response of local artists caught between two wars