Beach grass and sandy mounds flank the straight road that links St. Cyprien and Canet en Rousillon. Take a deep breath to tell all the ways you can go: by car, motorbike, bicycle, roller-blades, boat, windsurf, kite-surf, run or swim the 12.6 km distance.

People scratched their heads and raised their eyebrows, and when I noticed slight curvatures of their lips, I knew that the consensus was that I was barking mad to have walked there. I wanted to defend myself, to point out that I never had both feet off the ground at once. I didn't step on air, although it felt like it at times. Bah! They all missed out. They will never know how good it was.
I took on the role of "Forrest Gump" rather well, as I had no intention of strolling to Canet when I started that day. I kept trundling along, which is the only sensible action when the sun slips through the leaves and invites a body to follow the patterns it throws down on the footpath. Only a few weeks ago I was stopped at the roundabout that leads onto Canet and refused entry as though the Gendarmerie were bouncers in a nightclub. Our world has widened up again. As I write, the 100 km restriction is being removed and will be permitted to go anywhere in France.
When I stood at the roundabout of which one branch goes towards Canet, I wondered if the virus would sweep back in again. I never imagined that I would be stopped from going anywhere, unless I murdered someone, or robbed a bank, which I can't deny hasn't crossed my mind, however I don't generally tend to act on anything that might result in a conviction. Lately, I realise unexpected events can pull the rug out from under our feet. And so, cherishing the pleasures of normality, I let my feet carry me away that day on the road to Canet.
From the roundabout at St. Cyprien, it looks as if one might be embarking across the desert on a road trip to Vegas. Where the sea meets the earth, an assemblage of mid-rise and high-rise buildings align in a straight row. The sun sat high up in the sky and even though it was a certainty that it would cycle its path and drop down behind the skyscrapers later it looked like an immovable fixture for now. I wore my earphones to block out the vibrations of the traffic alongside me thundering up and down the road. Pavorotti can make a walk become a waltz and cyclists coming from the rear were jingling their bells and hollering at me to jump out of my trance and several times I took my leaping heart to one side of the path.
Windblown trees were bent, brittle, shocked looking. A dusty path led me to a large pond fringed by a mountain range. Wooden huts made of reeds make a fishing village, but Covid-19 regulations wouldn't permit me entry and so I passed them by. I read the signs dotted about on the dusty path that informed me if I were a wily forager I might be able to muster up some beer or make mustard as the area is protected. I despair of ever becoming a botanist as all I could spot were clumps of marram grass blowing about on sandy hillocks. Further along, a few youngsters peeked out a slit in the structure of a bird-watching post. I stepped inside to join them. My nostrils flared with the scent of a distinct smell. I am not a botanist, as I mentioned, but they were smoking something that was not marram grass. I backed away, listening to the pond water carrying the giddy sound of them.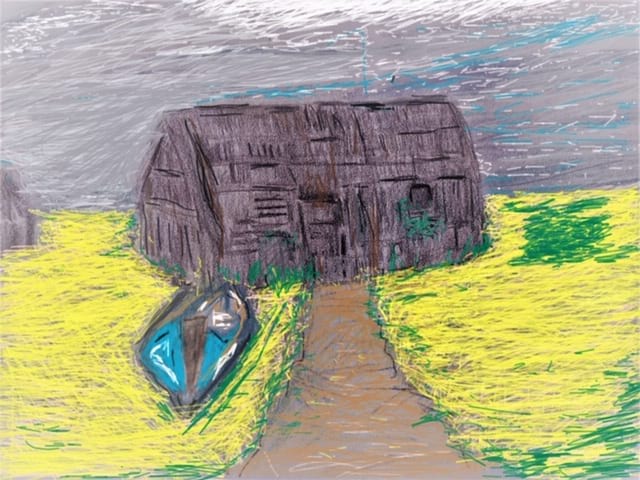 When I arrived at Canet, there were no restaurants or cafes open as the restrictions were still in place. I noticed a construction built to recall the history of "Le Roussilon", a German liner utilised during World War 1. A miniature ship created a play area for children. Next to it, decking leads to a railing that drops down onto the beach. The decked structure has built-in wooden chairs, sun loungers and exercise equipment scattered around. In the centre, there is a smokestack, and when I sat, I felt as though I might, at any moment, slip away on a cruise ship. saw some people go through a door in the smokestack and appear out again up the stairs where they availed of an observation viewer to gaze out at the sand, the sea and the sky. The world made fields of colour, layers of it, from turquoise to desert brown. I don't know that any restaurant in the world could have improved my circumstance as I happily sat there eating my baguette with cheese.
I took the route back by the sea. I strolled across a pathway that runs through the middle of a channel supplying fresh water to the Etang de Canet, the lagoon where I had been earlier. A heron stood in a sandy lido lifting his spidery legs up and down as he tottered through the water. Tiny white birds battled with the relentless wind. Did they too marvel at colourful kites dancing in the sky? Kite-surfers were flitting about in the water. The wind lifted some of them, and they flew in the air, their legs dangling like frogs. Even watching was exhilarating.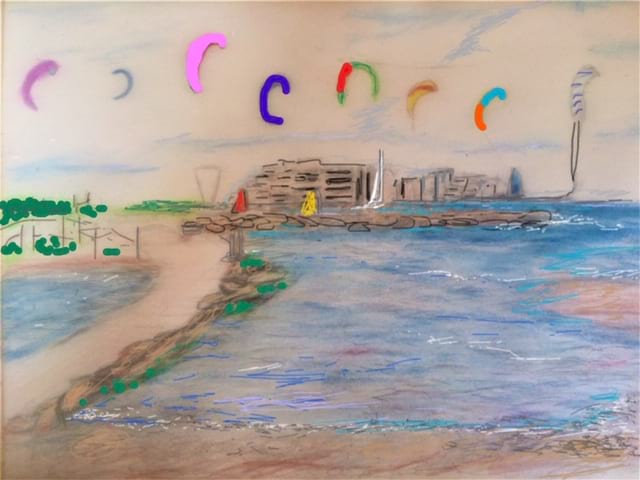 When I came onto the path for the last section to go home, a car pulled up alongside me. The cheeky lad leaned out the window and asked me if I wanted:
"Un massage chez-vous?"
I had a reflex reaction whereby my arm suddenly flew up in the air, and I dismissed him with a sudden outrageous laugh. I walked on pondering if that would ever happen in Ireland. There are wild creatures everywhere I decided, opening the gate into my little sanctuary.
The marina was quiet. The boats were still. uddenly, a fish leapt up into the air as high as the kite-surfers I had seen earlier. It dove back into the water and came up again, soaring into the sky. It was astonishing to see it do it a third time before it disappeared.
I turned the key of my door and thought about the shocks and the surprises of the day. We are free to go out now, get back to our routines, but we never know what to expect when we go outside.