Two weeks ago I tentatively packed my bag to leave Paris mindful that I might not return. Having no desire to lug a heavy bag down south only to bring it back a week later if it all turned out to be a false alarm, I packed and unpacked until I lost all patience with it. Many questions leapt to mind including wondering if I was truly evacuating Paris.
A week earlier, I decided against introducing coronavirus disease as a subject for discussion in my classroom, thinking I might be accused of scaremongering. Only seven days passed and the campus was awash with posters relating to insuring sanitary conditions were maintained. Yet the threat still seemed vague and distant. When a student proffered an excuse for an absent fellow student claiming that she was paranoid about the virus, I sniggered along with the rest of the class.
But I knew something was coming. No need to marvel at my psychic abilities, I wasn't sure. It was my friend who prophesied that within days toilet paper supplies would become a part of the everyday conversation at the boulangerie. It was my friend that instructed me to stock up, buy as much hand sanitizer as I could lay my dirty hands on, don't touch my face and so on. My friend likes to gloat, so the fact that she was the first person to prepare me for the virus will have many anniversaries.
I dithered around the supermarket. I was unsure about how I wanted to spend my time in solitude. Part of me wanted to emerge from the period of confinement as though I was in an Indian retreat and I detoxed into a goddess. But temptation also pulled me in another direction as I mysteriously found myself in an aisle gazing at the local wines on display, the bottle labelled Collioure conjuring up images of the lovely neighbouring township.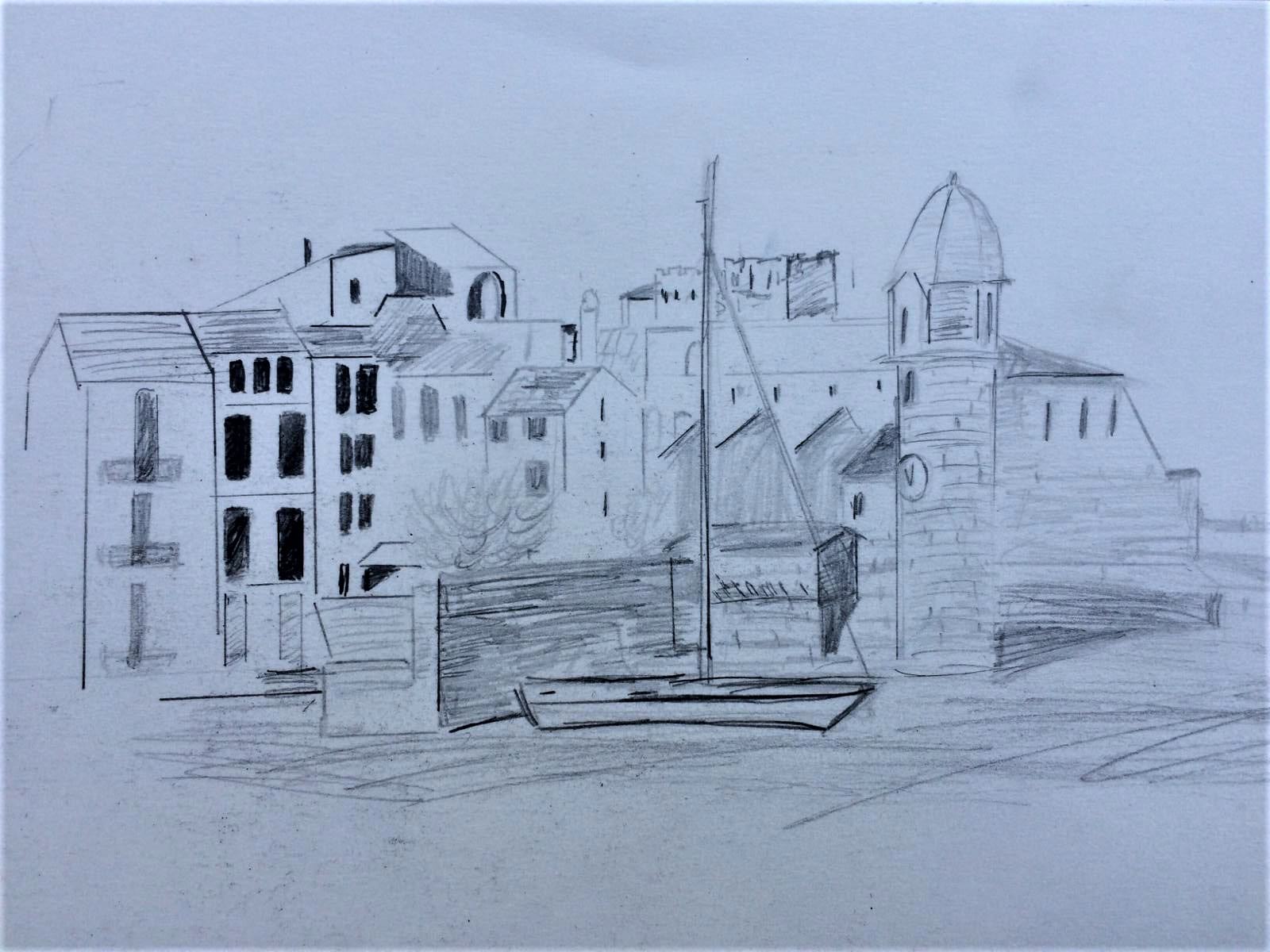 A man appeared and we both stood alongside each other gazing quietly, reverently, as if we were in the Louvre looking at masterpieces and not in Carrefour city looking at the wine. He turned to me:
"Une nécessité," he declared, taking a few bottles down from the shelf, "pour le moral."
I smiled gratefully. My morale, of course! Poor thing! I neglected it for years. No time to waste, I armed myself with a couple of bottles.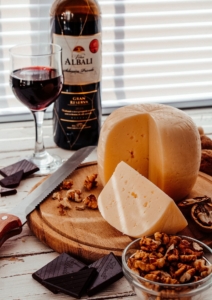 Some denounced the shopping frenzy as disgraceful and greedy and others urged me to dash out and buy as many provisions as I could fit into my apartment. I settled on the bare necessities, buying only what I deemed vital to help triumph in a crisis – coffee and dark chocolate. I bought enough supplies for a month if I was careful, or a week if I was careless. My friend was appeased when I told her I got exactly what I needed.
Things started to rev up. Words on people's lips spread like melting butter, everyone talking about the virus, everyone waiting for the President's first announcement. When Macron declared we were at war, I knew I had another mission. I dashed back to the supermarket the very next day.
When we were obliged to complete a form to permit us to leave our premises, I behaved like a child who believed her nightmare was real. Walking back from the supermarket, I skulked along feeling jumpy and how eerie it all was. I kept telling myself that I was experiencing a moment in history: actually, that part was true, but my imagination was busy convincing me that my surroundings were alien and strange. In reality, it was perfectly normal to see very few people and little traffic on that stretch of road.
By the time the police car pulled up alongside me I was freaked out. Two gendarmes jumped out of the car. One stood in front of me blocking my path, the other directly behind, as though I might make a run for it with my shopping bag. The taller one removed his sunglasses and curtly requested my authorisation. I haven't got it, I thought. This was not true, but, in the presence of a police officer, I am always utterly convinced that I've done something wrong. Had it blown away? Or was sitting on the counter in the supermarket?
Finally, I located it and handed it over for inspection. I was then asked a series of questions – my address, etc. If he had thought to ask me what was in my bag, I was done for. I had narrowly interpreted necessities to mean coffee, chocolate and wine. I was weak, guilty and ready to surrender when suddenly they swooped back into their car and took off, leaving a trail of dust and smoke rising from their car as they raced towards the supermarket. It was rather impressive. The whole scene looked very rehearsed to me: we could have been in a Tarantino movie.
The next day I filled out my written authorisation permitting myself to exercise. Tucking my yoga mat under my arm, I zipped down to the nearby Temple beach, which, by the way, a mere twenty-four hours later, we were banned from going to altogether.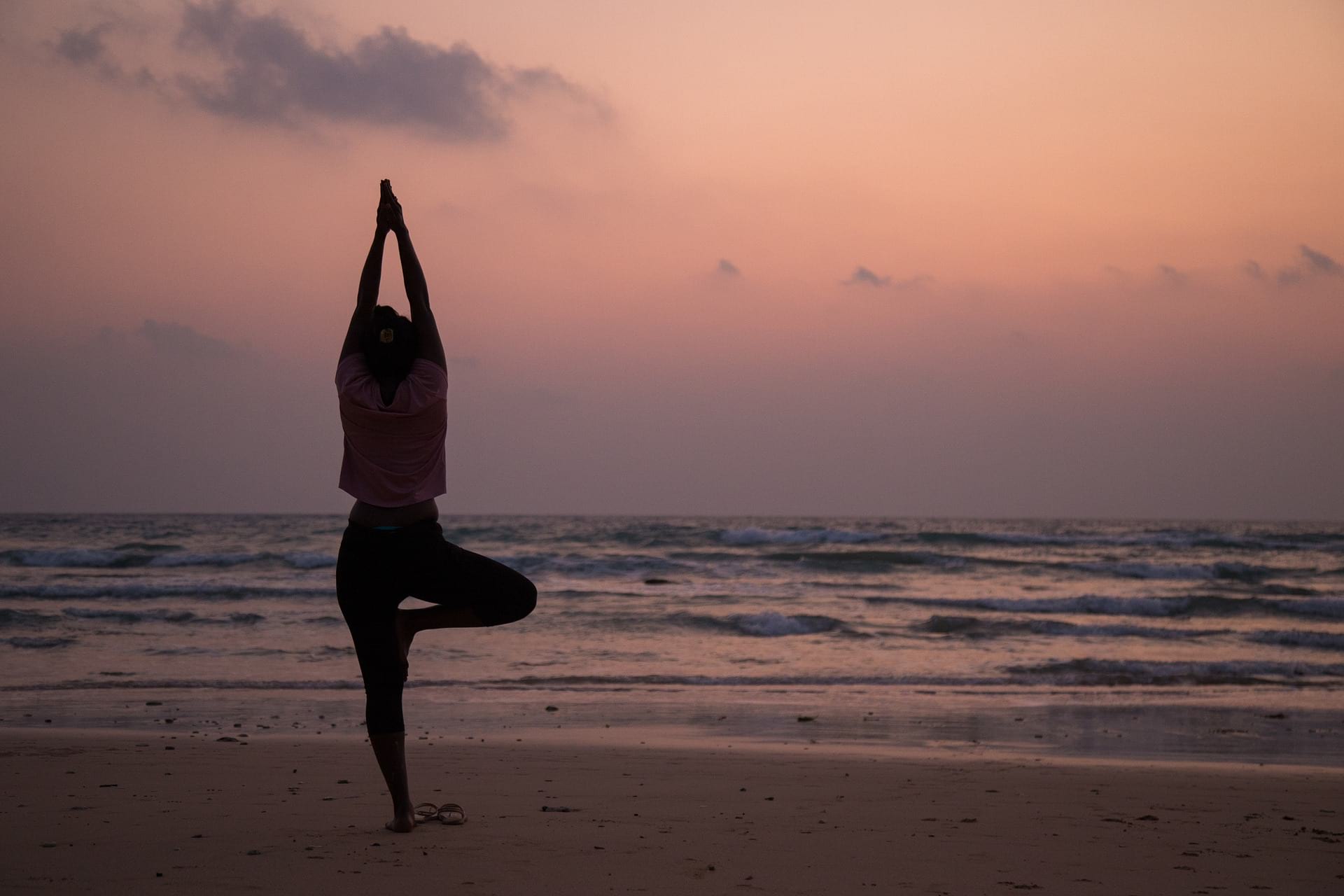 Some people can happily salute the sun in the evening or morning, indoors or out. Others must adhere to rituals. In my case, there is no need for yoga poses at dawn, burning incense, jasmine or musk fragranced candles, but for some reason, my home is simply not the place for it.
Temple beach is an uncomplicated place for one's eyes to rest. There is only sand sea and sky to look at. The baby blue sea had silver droplets glistening like a blanket laid out over the surface. There wasn't even a bird in the sky. The sun shone for my salutations. I began with downward dog, the classic yoga position: hands and feet are positioned at opposite ends of the mat whilst one's derriere is directed up towards the sky: the expression "bottoms up" is a fairly accurate description.
As my head dangled between my outstretched arms, I sensed someone was present. Seeing upside-down now, the tall gendarme from the day before stood directly in the path of the sun's rays which caused his white shirt to dazzle. The next moment, he transformed into a dark shadow. Then his figure illuminated and he flashed back again. I handed him my authorisation. We exchanged a few words and then he indicated that he was satisfied I winked. He flashed a smile back at me.
Now I know it is very likely that it appeared as though I was winking at him directly, when in fact I was blinking because the sun was in my eyes, but the deed was done and any explanation was futile. Incredulous as it may seem to me, even now I am still in disbelief, my eyes followed him as he strode away slowly, confidently, through the sand back from whence he came. I spent a while wondering if I was, once again, in a Tarantino movie.
The next day everything changed, Confined to going out for one hour, one-kilometre distance away was the equivalent to putting me in a cage. I could do nothing but think about travelling, but one can travel in the mind and so, in the confines of my home, I drifted away.
I dreamed about Africa. I revisited Castle Forest Lodge, which sits tucked into the foothills of Mount Kenya. I thought about our first evening when we were there, lounging on the veranda, sipping our drinks and listening to the song of exotic birds down below in the rain forest. Suddenly were interrupted by some kerfuffle coming from the kitchen. The workers were reluctant to go home. They were afraid that there were elephants around. Didn't that happen all the time I thought?
The owner, a Dutchman, approached us to ask if we wanted to accompany him down the avenue to see the elephants. We agreed although I did wonder why he asked us to seek them out when his staff seemed so anxious about it. However, sometimes adventures are spoilt by too many questions and so, we happily accompanied him and his staff down through the path towards where the elephants were rumoured to be.
We were a group of adults sneaking down a hill. Things slowed up and then we started tip-toeing. Some put a finger up to their lips to shush others. We could hear the band of elephants now walking through the trees. The young dark, skinny boys rolled their eyes towards me, the white of eyeballs large with fright.
The Dutchman leaned towards me and whispered:
"Get ready to run. They can smell you for 500 feet."
A pause ensued.
He whispered again: "I was once charged at by an elephant."
A long pause, then a louder whisper: "I didn't go out for 6 months."
And yet, we walked towards the rustling sounds. I was following the crowd, as I do.
Then we all stopped dead.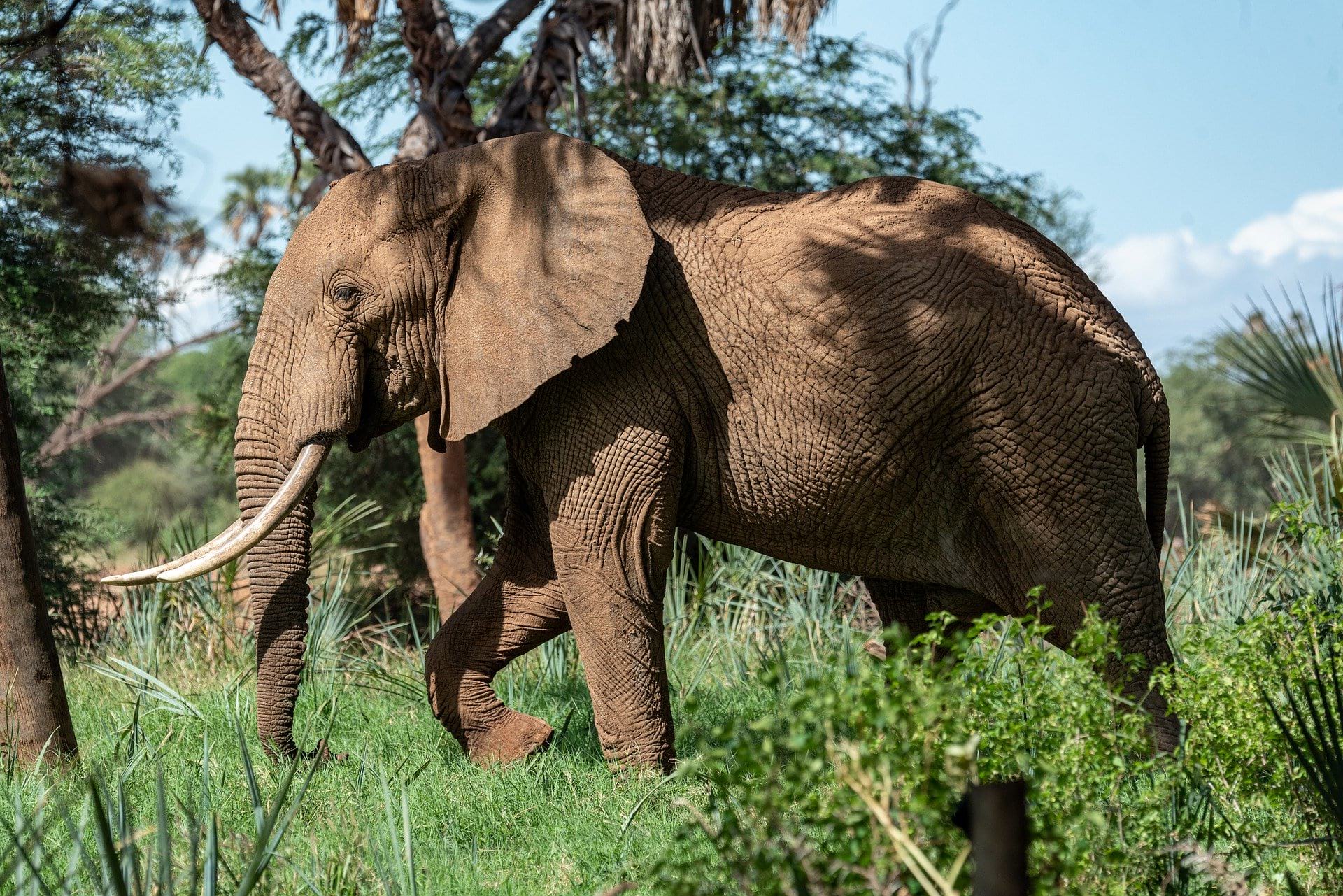 We stood back and witnessed the elephants, their enormous bodies swaying side to side in slow, heavy movements as they strode one behind another right across our path and to the other side of the road where they plunged back into the rain forest.
It was so beautiful I cried.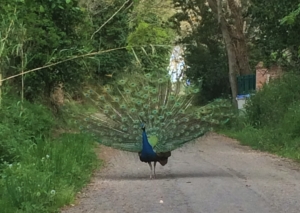 I hadn't thought about that story for years. I am not trapped in my house for six months afraid to leave, I thought. I haven't been charged at by elephants. I immediately put on my sneakers and ran down the road until I got to onto a pathway in a tunnel of tall grass. I turned a corner and saw a peacock in the middle of the road.
I stood and gazed at its loveliness. A tear came to my eye.
I thought about the Dutchman in Africa. Finally, I understood that he didn't want to scare me that day telling it took him six months to recover from being charged at by an elephant. He was standing behind me on a laneway waiting for an elephant and he wanted to express that he had achieved something. And he had. He had recovered. He was telling me that after six months the important point was that he was well enough to go look at an elephant again.
Time is a salve. We need it to heal our wounds and time somehow helps pain subside and life goes back to normal.
Hang in there. This too will take some time. It will all begin again.
ENJOY LEONE'S BLOG? CLICK HERE LET HER KNOW