Wake up and smell the coffee!

France has a reputation for serving great coffee – but you need to know what to ask for!
Ask for 'un café' (s'il vous plait) and it will arrive black, and go down in one gulp. Here is some useful vocab to make sure that you always satisfy your coffee cravings!
Un (grand) café…….
….glacé – iced coffee
….Liègeois – iced coffee served with ice cream (optional) and whipped cream
….serré – extra-strong espresso, made with half the normal amount of water.
Un allongé/américain – espresso with extra water
Un express – plain black espresso
Un (grand) crème – espresso with warmed or steamed milk.
Un noisette – espresso with tiny amount of milk in small cup.
Un déca or décaféiné – decaffeinated coffee.
Un café au lait – milky coffee (would usually be served at home in a breakfast bowl – but would be understood in any café as coffee with milk)
….s'il vous plait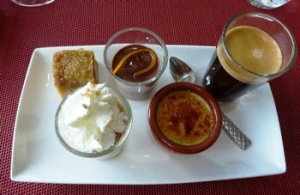 Un café gourmand
Many cafés and restaurant now offer a 'café gourmand' – an espresso served with a selection of 'mignardises' (mini cakes and mousses ).
The first "café gourmand" is believed to have appeared in restaurants in Paris around 2005 and probably runs alongside the shorter lunch. It has become more and more fashionable over past years, often taking the place of the traditional starter, main course, cheese, dessert, and coffee, saving that little bit of time – and it also allows you to test several small desserts in one go.