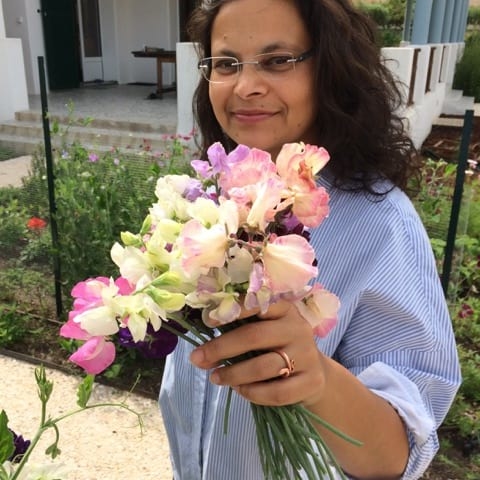 Ansua Dutta-Wystup
Also an avid gardener, Calcutta-born artist, Ansua Dutta-Wystup, loves to paint the simplicity of nature.
Combining her Bengal Art School training of line and form with her own unique blend of impressionism, her works are characterised by calm and serenity.
The artist
Ansua Dutta-Wystup started painting in India at the age of six under the tutelage of Ramanada Bandhyapadhya, whose work is typical of the Bengal School of Art. Although her style does not represent the school's tradition of simple lines and forms, she has been heavily influenced by the style and does incorporate the simplicity of emotions in her pieces.
Painting with acrylic for the last 15 years, having worked with water colour until that point, she takes her time to put brush to canvas. Indeed, she begins to paint only once the idea "has reached full circle… once the idea is complete in my mind and heart".
Inspired by Impressionist greats such as Monet and Renoir, she seeks to create an impressionistic representation of her love for the outdoors. She also takes inspiration from the pioneering artist, Nandalal Bose, who combined traditional Indian mythology with a modern style.
Now based between Sorède and Germany, Ansua also paints commissions, so if you would like a piece created just for you, or prices for existing works, get in touch.
Click the images for optimised view