EXHIBITION: 1st July – 28th August 2016. Les Collections de Saint Cyprien in Saint Cyprien village
Born in 1959 in Bédarieux, painter-sculptor Patrick Chappert-Gaujal studied at the Academy of Art in Perpignan from 1975 to 1980, and settled in La Franqui where his studio is in a large wooden house built into a hillside, looking out over long miles of beach.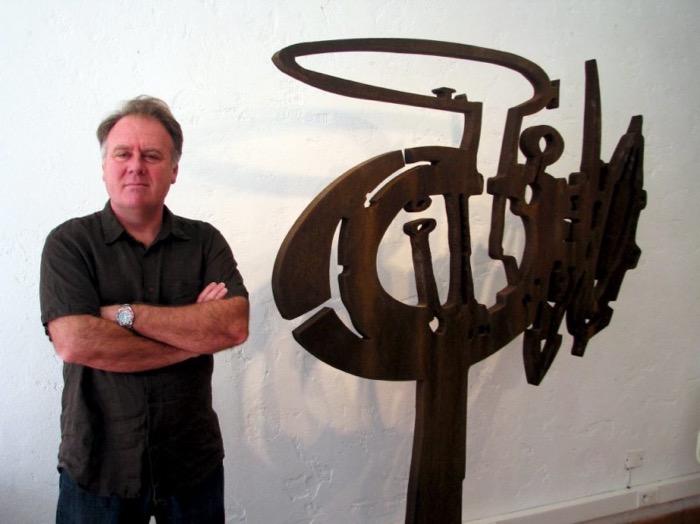 It was on these Mediterranean shores that he developed a passion for the sea, taking inspiration from the driftwood, flotsam and jetsam, and unusual objects washed up onto the beaches.
"Things arrive on the tide", he told Ellen Hall when interviewed. Each form holds happiness. By osmosis with my work, I have become an optimist."
Ellen reports that his workshop/gallery is like an adventure playground. The entrance is cluttered with stacks of driftwood, plastic bottles and buoys, pram wheels and sponges, treasures from the floating world. Boxes of rusting steel, walls of brushes, shelves of paint and rolls of paper line his inner sanctum.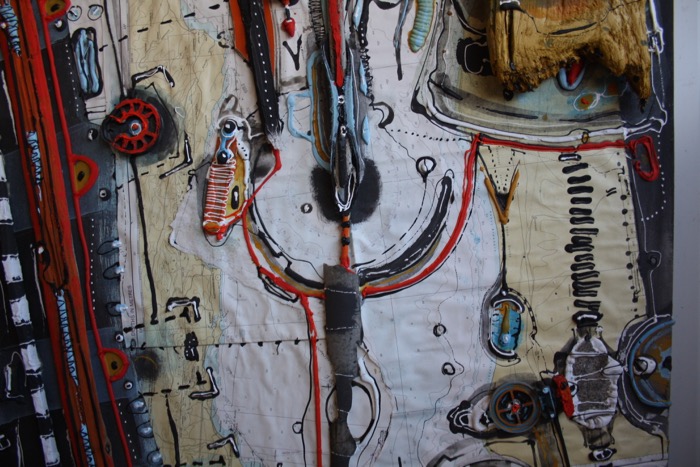 The worktables abound with ink-on-paper designs exhibiting a draughtsman's deft touch and models of the monumental sculptures which seem to levitate between sand and sea at Le Musée du sable along the beach walk at Barcares. She describes his world as exuberant invention and joyous chaos.
Chappert-Gaujal's work feeds on constant innovation and reinvention. From totem painted sculptures made from driftwood washed up by the sea to refined black-and-white drawings, or iron and steel sculptures with clean lines, his choice of materials is diverse and varied, full of contrast. He is an explorer of mediums, an imaginative adventurer.
Dont miss a chance to visit his latest exhibition at the "Les Collections de Saint Cyprien" in Saint Cyprien village.
New, up-and-coming artists regularly exhibit here in this internationally renowned art gallery, and the permanent collection is added to regularly.
As well as the present exhibition of Chappert-Gaujal, there are many works of Desnoyer, (the museums's sponsor) as well as Albert Marquet, Utrillo, Suzanne Valadon, Salvador Dali and many other major artists.