by Ellen Turner Hall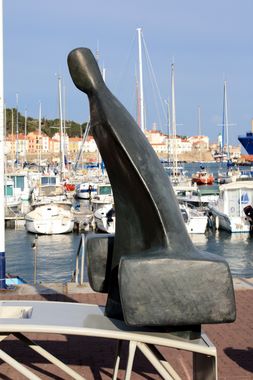 If you have ever walked beside the port building in Port Vendres, you may have noticed a sculpture of a traveller weighed down by two large suitcases. "Le Voyageur", another arrival amongst the many passengers who have disembarked here, is the work of Pierre Content.
Like his sculptures, Pierre seems always to be in motion. His workshop, small, neat and packed with surprises, is a perfect reflection of the artist. On his worktable stands a large figure, half-man, half-double bass, emerging from torn strips of the Indépendant newspaper
Pierre opens a glass-fronted bookcase crowded with palm-size pieces in wood and clay. "These are my models," he says, lovingly stroking the details of a wooden dolphin. "They are my children and they grow with me."
His sculptures of animals and people, in bronze or resin, are 15 or 30 centimetres high. Forms are simplified. Detail is sacrificed in the name of movement. A leaf folded on itself becomes the model for a mother and child, a teapot turned upside down becomes a bird. "There are no rules," Pierre says.
His first contact with sculpture was a life-size polar bear by Pompon in a Dijon park. He also admires the simplicity of certain works by Henry Moore and Picasso. The sketches in his orderly notebooks appear spontaneous, almost cartoonish. His studies in fine arts and architecture sharpened his love of design, but he never could reconcile himself with straight lines. Curves, purity of line and simplicity characterise his work. In 2009, to satisfy gallery demands in Luxembourg, Geneva and Brussels. Pierre started to make bigger pieces than in the past. The papier maché double bassist wrapped around his instrument, for example, will be 80 centimetres high.
His dream project is to produce a life-size orchestra for a public place. Any takers? Contact Pierre by visiting his site.