with Linda Razzell
When we moved to the PO six years ago I was very pleased to find two citrus trees in our garden. I wasn't sure what they were at first. The fruit ripened in December and I could hardly wait to taste them. I wasn't disappointed – they were citrus sinensis, the sweet orange.
Christmas Day was warm and sunny that year. We had freshly squeezed orange juice at breakfast time and set off with a packed lunch to climb the Pic de Neoulos from Laroque des Albères, congratulating ourselves on our choice of relocation – a perfect winter climate, fresh orange juice on tap, and a handy mountain to climb (and send photos home to prove it).
The next day the weather turned as crazy as only P-O weather can. There was a heavy snowfall, followed by a hard frost. We were in shock! A strong tramontane whistled up out of the blue, and the biggest tree split down the middle, dumping half the crop onto the ground; the rest were frozen solid. Oops! We quickly harvested as many as we could, filling the freezer with their juice before they could disintegrate on the ground in the thaw. The lemon tree in next door's garden had suffered the same fate so we did a trade.

With the rest I made 'marmalade', technically a confiture d'orange if you use these oranges instead of the bitter Seville variety, and I much prefer it. The spicy heat of the chillies balances the sweetness very nicely. Makes about 6 jars, depending on the size of the oranges.
Ingredients
6 sweet oranges
3 lemons
6 small dried chillies
2.5 litres water
1.8 kg sugar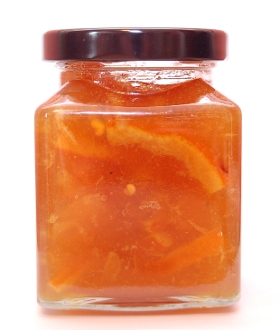 Method
1] Squeeze fruit and keep the pips
2] Slice the skin, and the pulp, removing the pith and putting it with the pips in a piece of muslin to make a bag (half a J cloth will do)
3] Cover the skin, pulp, chillies and the bag with the juice and water and leave for 24 hours
4] Boil for 2 hours, or until the peel is soft
5] Add the sugar, stir until dissolved and boil until setting point is reach (about 15 minutes)
6] Skim and pot into warm jars
For those not afraid of chillies, leave one in each jar. Just don't eat it.