by Hilary Cacchio – Arles-sur-Tech
"If I had three words to describe myself they would be 'passionate about food'. I am a chef, a baker and a Sourdough expert, and over time I have also become an author, a teacher and a food consultant. Seasonal produce is important to me and I like to incorporate this into my work."
You'll love this hummus; packed with texture, colour, satisfaction and flavour! It's my 'superfood'. It keeps well in the fridge, makes a fabulous packed lunch, part of a mezze platter, and accompanies roast lamb, baked fish and chicken superbly.
I sometimes crumble small pieces of Feta into the hummus or swap the Parsley for Coriander.
♥ 200g Organic Carrots, scrubbed (peeling is optional), roughly chopped and tossed in Extra Virgin Olive Oil then roasted until soft.
♥ 1/2 a bulb of Garlic, roasted until soft.
♥ 250g cooked Chickpeas (or tinned)
♥ 50g Lemon juice (approx 1 Lemon)
♥ 30g Tahini
♥ 75g Extra Virgin Olive Oil
♥ Small bunch of Flat Leaf Parsley, roughly chopped.
♥ 1/2 Clove of Garlic, crushed into a paste with a pinch of Salt.
♥ 150g Pitted Green Olives, roughly chopped.
♥ Salt and Pepper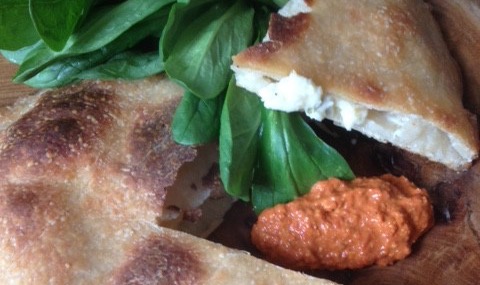 Place the cooled roasted carrots into a food processor.
Cut the end off each clove of roasted garlic and squeeze the soft insides into the food processor.
Add the chickpeas, lemon juice, tahini, oil, parsley and the crushed garlic into the food processor.
Season with black pepper and whizz into a fairly smooth paste.
Drop in the olives and pulse the hummus to chop the olives slightly.
Taste the hummus and season accordingly with salt, pepper and lemon juice.
Allow the hummus to sit in the fridge for 24 hours before electing to add any more crushed garlic as the flavour develops over time.