Simple Chestnut & Pumpkin Soup
Not much beats a sweet chestnut hunt on a bright, crisp, autumn day in the P-O. Delicious roasted, steamed or pureed, chestnuts are gluten free, low in calories compared to most other nuts, and rich in minerals and vitamins.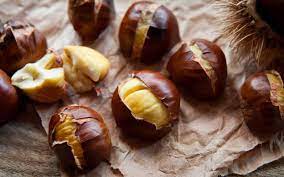 Look out for a 'castanyada' near you, a village festival celebrating the sweet chestnut, traditionally held on the 1st November at Toussaint, but a hot treat on any cold day of the year.
And as Halloween approaches, and the shops are full of pumpkins, why not combine the two and make some soup?
Simple Chestnut & Pumpkin Soup
INGREDIENTS
250g cooked and peeled chestnuts
250g peeled and cubed pumpkin
Chicken or vegetable stock
2 onions, chopped
couple of stalks of celery, chopped
1 – 1½ tbsp chopped fresh herbs (oregano works well)
salt and pepper
good pinch nutmeg
cream
chopped chives

METHOD
Slit chestnuts and boil for 10-15 minutes. Remove outer shell & peel.
In a large saucepan combine stock, chestnuts, pumpkin, onion, celery, chopped herbs.
Bring to boil, reduce and simmer over moderate heat until pumpkin & chestnuts are tender.
Blend until smooth, season to taste with salt, freshly cracked pepper & nutmeg.
Add a little cream into bowl and top with chives.
(Also delicious without blending if you enjoy a thin, tasty soup with chunks!);