On the road in France this summer?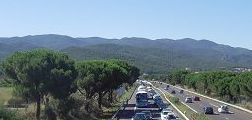 To avoid long waits and traffic jams, try in particular to avoid all Saturdays in July classified as red (travelling from north to south) and 1st & 8th August, which are both 'black days' (circulation extrêmement difficile). Most Saturdays for travel back from south to north in August are red, with the worst weekend being around the 15th & 16th.
Most Saturdays throughout July and August are classed 'red' (circulation très difficile) but nobody is quite sure how traffic trends might change this year as Covid-19 continues to wreak havoc on travel plans.

Check out other periods and hotspots to avoid at www.bisonfute.equipement.gouv.fr or ring 0 800 100 200 for real time info. (0033 892 68 78 88 from abroad)