by Ellen Turner Hall
The Swedes (writers, not turnips) are coming! In fact three Swedish authors are the featured guests of this year's book fair in Collioure,

2-4 September.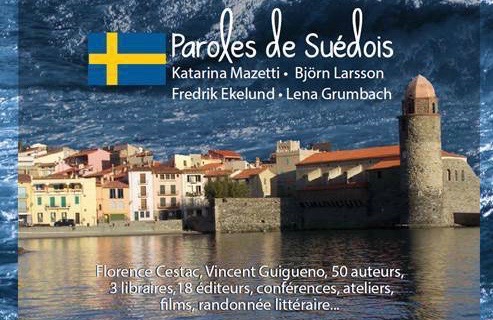 "Paroles de Suédois" proposes three days with Fredrik Ekelund, writer about the fringes of society (published by Gaïa), Björn Larsson, writer about the sea, (Denoël and Grasset), and Katarina Mazetti, well-known to the French public for her novels mixing social criticism and humour in her novels (Gaïa). She will be accompanied by her translator Lena Grumbach, author of a new translation of the novels of the Nobel Prize winner Selma Lagerlöff and the Millenium trilogy by Stieg Larrson.
Saturday will be devoted to contemporary Swedish literature with interviews and round table discussions featuring our four invited guests.
In the evening the film « Millennium: Men who hate women », directed by Niels Arden Oplev, will be followed by a debate: "Which Europe seen from Stockholm?"
The festival opens on the evening of Friday 2 September with the theme of the sea « Des phares et des hommes», (Lighthouses and men) in the presence of Vincent Guigueno, lighthouse specialist and curator at the Maritime Museum in Paris.
Throughout Saturday the 3rd and Sunday the 4th, maritime workshops, bookshops
and Roussillon publishers accompanied by their authors will be on hand to welcome you on la Place du Marché.
On Sunday morning a literary promenade through the streets of village will follow in the footsteps of three authors who lived here (Patrick O'Brian, Jean-Marc Reiser and Antonio Machado). Meet at 8h00 at the Mediatheque in the Faubourg. First stop: O'Brian's house and readings on the theme of O'Brian in Collioure in English and French. To mark the 75th anniversary of the birth of Jean-Marc Reiser, his fellow- artist Florence Cestac will be present.
Sunday afternoon's round table discussions will be devoted to the literature of Roussillon.
The detailed programme is available on Facebook.