CUTTING UP FRANCE TO CUT DOWN PAPERWORK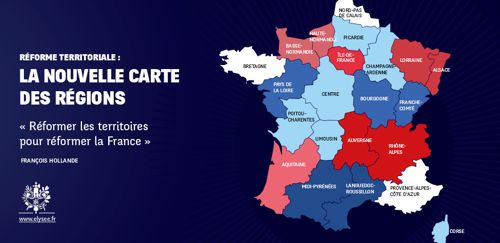 French president Francois Hollande's plan to cut down the 22 administrative regions of France by nearly half, to 14 "super-regions.", has provoked much comment. In a country which is infamous throughout Europe for its mounds of paperwork for the most simple of tasks, orders, applications and requests in triplicate, and a large workforce of 'fonctionnaires' to process it, the aim is to reduce the bureaucracy, as well as creating regions of a size comparable to other European nations.
One problem is that many of the regions to be merged already have their own have strong regional identities, and whilst many French agree that changes are needed, nobody wants to see their own regions affected! For example, Alsace is a relatively wealthy region, whose inhabitants really don't want to join with their poorer neighbor Lorraine, which will apply if this plan is passed.
The colours on the map show the regions to be merged.
Hollande has written "It is time to simplify and clarify so everyone knows who decides, who finances and from where." If it goes ahead, it may well be Hollande's major achievement.