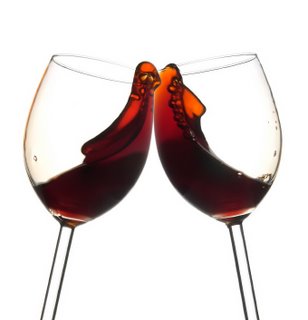 Vins primeurs are the first of the harvest, released on the third Thursday in October.
They are usually bright red or violet, fruity, with a taste of cherry, strawberry, raspberry, freshly squeezed grapes, depending on grape variety, the production method, and the area in which the grapes are grown. Normally, a very light, easy to drink wine (which, by tradition, needs drinking before Christmas).
Jonathan

Healey tells us a little more about 'les vins primeurs'
Vins primeurs arrive in shops with all the ballyhoo of the unveiling of a new car at a motor show.
Except winemakers aren't launching new cars – they're launching prototypes.
Prototypes are fun.
The winemakers play with traditions and find innovative ways to renew them, like trendy labels and lurid cork and cap seal combinations.
We don't care that vins primeurs have not even been road-tested, or that they don't need to pass the appellation's Contrôle Technique.
They rev out of the pits, some still fermenting in their tanks. They may handle unpredictably. Too much acidity and they over steer, giving your tongue whiplash. Too little acidity and they under steer, sloshing across the palate.
Well-balanced examples handle just right, gripping the curves around your tongue for a couple of fruity laps in slick racing tyres.
But vins primeurs will never be 'vintage' like a 1958 Ferrari Testa Rosa. They don't have tread for the long haul. They are one-offs that aren't built to last or to go into mass production.
Wine heritage will not be diminished as you pile up empty bottles. Vins primeurs are peppy prototypes meant to be fun and frivolous. They are not meant to have leather upholstery and cigar box aromas. They are boy racers for day trippers. They cheerfully get you where you want to go.
Tasting Tips
It's difficult to judge a vin primeur by looking at the wine through its bottle, so look at the label and cap-seal instead. Look for the words 'vigneron indépendant' (independent winemaker).
Independent winemakers make vins primeurs to attract your attention, build customer loyalty, and get some quick cash flowing from the vintage.
Of course, cooperatives do the same, but not always with the same passion. You'll be paying € 4-something, not € 3-something, for a Primeur from an independent, but go the extra Euro. Look for a mention of grape variety, too. If you like Merlot, buy a Merlot Primeur.
In your glass the colour should be clear and sustained all the way to the rim, not watery. It should have a simple, fruity appeal on the nose. When it's in your mouth, feel for flavour, body, balance, and length.
But remember, these are easy-drinking, uncomplicated wines, they shouldn't have you reaching for your thesaurus, or doing a Jilly Goolden!